Washington Capitals: Why Hiring Adam Oates Was the Right Move
June 26, 2012

Mitchell Layton/Getty Images
Early Tuesday, TSN reported that the Washington Capitals had hired Adam Oates to be the team's head coach. 
Oates, who has reached at least the Conference Finals in each of the last two seasons as an assistant coach, (Tampa Bay in 2011 and New Jersey in 2012) also happens to be one of the most talented offensive players in franchise history.
The 49-year-old RPI graduate will be the Caps' third coach in less than 10 months, and interestingly, it's the second consecutive former team captain that's been hired by general manager George McPhee. 
In November, it was the gritty fan favorite Dale Hunter who got the call, and now less than eight months later, the same man who succeeded Hunter as Washington's captain in 1999 has been tabbed to replace him behind the bench. 
That's where the similarities end between the two, as they couldn't have been more different as players. Oates, a magician with the puck, was one of the best setup men in the league, helping wingers like Peter Bondra and Brett Hull win goal scoring titles during the 1990s. 
Hunter, on the other hand, was a tough-as-nails grinder, and though he was a decent scorer during the earlier stages of his career, he would not have been regarded as a "skill" player. 
As a coach, Oates' bread and butter isn't much different to what it was during his playing career, as he made the transition from an on-ice power-play catalyst to a special teams specialist behind the bench. 
During the 2010-11 season, Oates helped transform Tampa Bay's power play, which played a leading role in the Bolts' Cinderella run to the Eastern Conference Finals. And this spring, Oates did the same with the Devils, as New Jersey toppled Eastern Conference giants Philadelphia and New York to reach the Finals.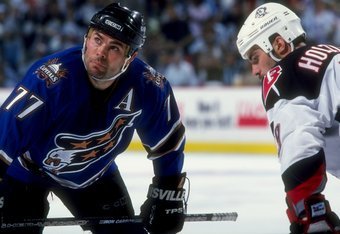 Craig Melvin/Getty Images
From an outsider's point of view, Oates wasn't always a model teammate during his time with the Caps, but part of that may have been due to his unhappiness and disappointment with the team's perennial shortcomings.
However, despite being stripped of his captaincy in 2001, Oates continued to be a productive player and tallied a league-leading 64 assists. 
Oates brings a playing resume virtually unrivaled in the fraternity of NHL coaches and brings some positive attributes to the table that were too attractive for McPhee to pass up. 
First of all, if Oates was able to transform the power-play units of Tampa Bay and New Jersey, shouldn't he be capable of designing a system that has the Caps' arsenal of offensive players firing on all cylinders? And if he's able to do so, how unstoppable would the Capitals be? 
What's potentially even more important is the fact that Oates will command respect from his players, for some of the same reasons Dale Hunter did: Oates and Hunter had the type of careers that most of the Caps hope to have. Both are All-Stars, grizzled veterans of multiple deep postseason runs and passionate players who lead by example. 
Oates' passion and work ethic enabled him to be a relatively productive player until the age of 42, and become the oldest player ever to lead the league in assists. 
That commitment to excellence is what Oates will instill in his players. He won't be as vocal as Boudreau, or as quiet as Hunter, but he'll find his own way of conveying his messages to the players.  Though quiet with the media during his playing career, Oates displayed a fiery side during the 2012 Stanley Cup Finals, as he was caught on cameras in the midst of unleashing a passionate tirade on the officials for a missed call.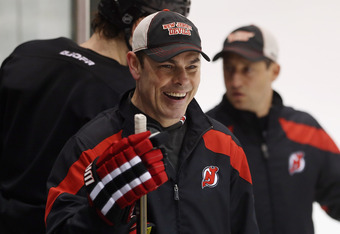 Bruce Bennett/Getty Images
For McPhee, the Oates hiring represents another high-risk, high-reward situation.
If Oates can't turn the Caps' ship around and fix their sputtering offense, while maintaining a commitment to defense, McPhee will face criticism from all angles. Conversely, if Oates succeeds, McPhee will have proven once again why he's considered one of the best executives in the league. 
At least on paper, this looks like a great hiring. Oates' stern tone and icy demeanor will command respect and his on-ice intelligence should translate into well-thought-out game plans intended to ignite the offense. 
Given the quality of the Caps' roster, if Oates is even half as good a head coach as he was a player, the Caps will be coming off a deep postseason run this time next year.