NBA Draft 2012: First-Round Prospects With Best Basketball IQ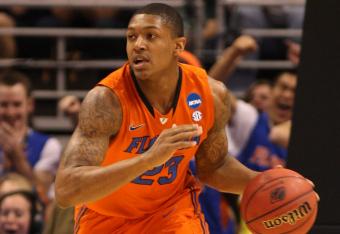 Christian Petersen/Getty Images
NBA draft prospect Harrison Barnes is among the smartest in terms of basketball IQ. However, Barnes, isn't alone in this category. There are several other intelligent options available in the upper half of the first round of Thursday's NBA draft.
Basketball IQ is crucial for rookies trying to succeed at the next level of the NBA. It's something that's hard to teach. Something players develop as a natural "feel" for the game.
When examining the best prospects in the draft, it's foolish to ignore this added dynamic that solidifies a prospect's game. It is, for the most part, an awareness that allows the player to make the right decisions at the right time.
Understanding the game also helps a player act as a coach on the court. This is more crucial in point guards and others who handle the ball frequently, but it is vital for every player.
A random coach asks a player during a timeout, "What are you seeing out there?" The ability to feel the game and diagnose what is happening helps the team and coaching staff make adjustments.
With that said, who are the best of the best when it comes to the 2012 NBA draft class?
Bradley Beal, SG, Florida
Besides his obvious talents like his excellent perimeter game, Beal is also one of the most aware prospects on the court. His knowledge and feel for the game allow him to handle the ball and even run the offense from the point. This is vital in the NBA due to injuries and foul trouble late in games.
His intelligence on the floor makes him a dangerous weapon because he can beat you with his physical game as well as his knowledge.
Tyler Zeller, C, UNC
Zeller may not be a dominant big man down low, and his perimeter game is only serviceable. However, his soft touch around the rim and high basketball IQ make him a very desirable addition to any NBA squad.
Zeller's feel for the game makes him a dynamic big man who can run the floor and make plays in transition. He's a matchup problem for some of the larger, slower big men in the league.
Damian Lillard, PG, Weber State
Lillard is a hardworking point guard who plays as efficiently as you can from the point guard position. His ability to navigate offenses will make him a very appealing choice for teams looking to add a floor general to better their squad. His smarts help him to penetrate defenses to create for teammates and for himself off the dribble.
Jared Sullinger, PF, Ohio St.
Sullinger has come under some scrutiny about his work ethic and size. His 6'9" frame is small in comparison to the NBA talent at center, his preferred position.
However, his basketball IQ—specifically in the post—and his long wingspan may make up for his physical limitations. Sullinger knows how to operate and free himself up down low—an essential facet of any low-post player's game at the NBA level.
Harrison Barnes, SF, UNC
Barnes is perhaps one of the best scorers of the bunch in the 2012 NBA draft class. His fundamentals are among some of the best out there. However, he has been tabbed as one-dimensional by several scouting agencies out there.
This, fortunately for Barnes, simply isn't true.
His presence on the court is amplified by his grasp of the game. He may not be polished and ready to be the NBA MVP in his rookie season, but he's smart and gifted enough to eventually get there.
Follow Mike on Twitter @BigHoagowski
This article is
What is the duplicate article?
Why is this article offensive?
Where is this article plagiarized from?
Why is this article poorly edited?