Blake Koch Walks by Faith Through NASCAR Struggles, Offers Hope to Young Racers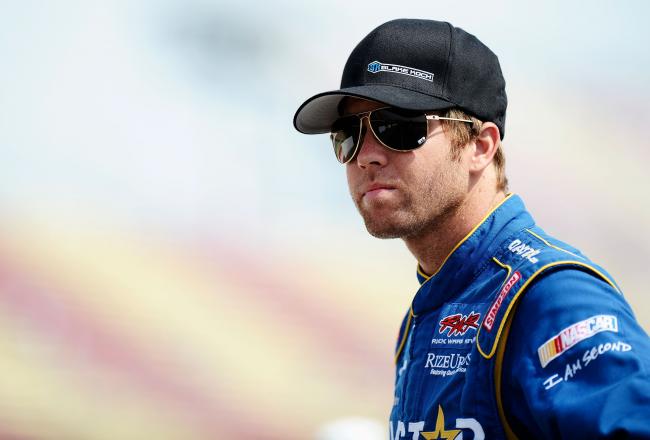 Blake Koch hopes to turn around his rough start to the season
Jared C. Tilton/Getty Images
It's easy to be overshadowed these days in NASCAR.
With sponsorship being at a premium in a sport driven by fame and fortune, many talented drivers are often overlooked in today's racing world.
Even at the second-tier NASCAR Nationwide Series, where shadows of popularity are often cast by drivers such as Danica Patrick, Ricky Stenhouse Jr. and Elliott Sadler, young talent can often be hidden in the dark.
Such is the case for 26-year-old Blake Koch, a racing treasure lost outside the spotlight that shines so brightly on the stars of the Nationwide Series.
A lot of race fans don't know much about Koch which is why I was pleased to be granted the privilege to talk to him and help the world know a little bit more about the West Palm Beach, FL native.
After finishing 18th in the NASCAR Nationwide Series standings and second to Timmy Hill in the Rookie of the Year race in 2011, Koch made the move from Macdonald Motorsports to be Hill's teammate at Rick Ware Racing for the 2012 season.
The move was great for Koch at first, but things started going badly for him after just a few races.
"After three races we were Top 10 in points, so the season started off real good," Koch recalls.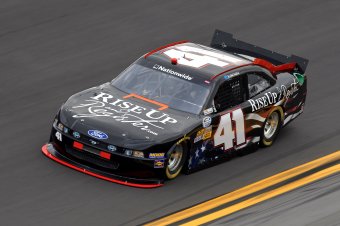 Blake Koch had a sponsor...until an unfortunate flap with ESPN caused him to lose it
Matthew Stockman/Getty Images
Then came a sponsor flap with ESPN.
When Koch's sponsor "The Rise Up and Register Campaign," which was designed to educate NASCAR fans on the importance of being registered to vote in the upcoming elections, wanted to run an ad on ESPN, the network denied the ad due to "politcal and religious overtones" on Koch's website.
The flap caused Koch to lose his sponsor, and he's been searching for sponsorship help ever since.
"I'm not sure if [the season has gone] downhill or what it is," Koch says, "but I know it's been different than how I expected it to be originally."
Still, Koch says he feels "blessed to be a part of the sport," but admits that the lack of sponsorship has made things difficult.
"It's a week-to-week thing for me," Koch says of racing with limited-to-no sponsorship. "I've just been doing this start-and-park thing to stay in the game and make ends meet."
With Koch and his wife Shannon expecting their first child in the coming months, making ends meet now becomes more critical than ever.
"That's a big reason why I have to make it work and why I have to make it happen," Koch says of his expected child. "[Racing] is the career my wife and I decided [for Koch] to pursue, and so I'm not going to stop."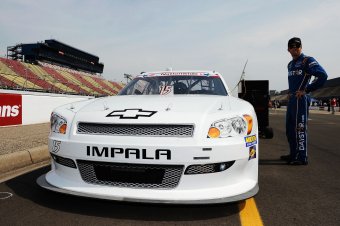 Koch has had to run several races in 2012 with a blank hood
Jared C. Tilton/Getty Images
Though Koch admits he wishes he could just "show up to the track and focus 110 percent on driving," he is more than willing to adapt to whichever way the sport is going and feels he'd be a great catch for sponsors.
I think I'd do a great job promoting somebody's company and being a spokesperson for that. I feel like I do well with interviews and television appearances. I feel like I drive the race car pretty good, and I feel like if I had the right chance, I could run up front and be competitive.

I feel like both sides of what I need to have to be a successful racer, I do have. I'm just waiting for that opportunity and waiting for that shot to make it happen.
In the meantime, Koch has needed to find ways to make it through his struggles as a race car driver. And it probably comes as no surprise to those who know Koch well where he looks for strength during these times.
"If racing were the number one priority in my life, my life wouldn't be going very well right now," Koch laughs. "I know that racing isn't the biggest priority in my life. The biggest priority in my life is my relationship with Jesus Christ and second is my family."
Koch especially noted his wife, whom he called "awesome," as well as the new baby who is on the way.
"My personal life is awesome. My racing life is terrible," Koch continues. "So my life isn't dependant on whether I win races. It's about whether I serve Christ and grow in my relationship with him on a daily basis."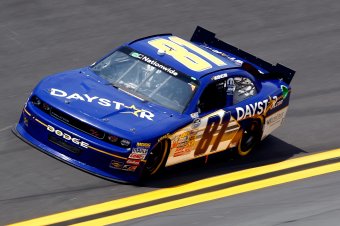 Koch will reunite with his former team for the upcoming Nationwide Series race at Daytona
Jeff Zelevansky/Getty Images
Koch also went on to say that while his faith doesn't make the racing part any easier, it does make it so that his life "isn't fully dependant on racing," though his desire to win races is still very present.
Koch's best shot at winning one of those races could come as soon as his next full race at Daytona (he plans to start-and-park at Kentucky), where he will be reunited with Macdonald Motorsports and drive the team's No. 82 Silver Saver Dodge.
"Realistically, I can win Daytona. It's anybody's race," Koch says. But as far as what a good run or a win there may do for Koch's future, he's unsure.
It's unrealistic to think that if I go out and win Daytona, I'll have a full-time ride the next weekend because the sponsorship's still not there. [But] if the right person is watching that race and I won that race and they think I'd be a good spokesperson for their company, that could be a career-changer.
Koch also dished a little bit on how he got started in racing, which surprisingly did not happen until he was 20.
Though he raced dirt bikes when he was younger, Koch says he did not even sit in a race car until he was almost 21, when he got his start driving Pro Trucks in his home state of Florida.
After 10 pro truck races, Koch went on to run 10 late-model events before moving into the NASCAR K&N West Series as part of the Richard Childress Racing development program and then into the Nationwide Series.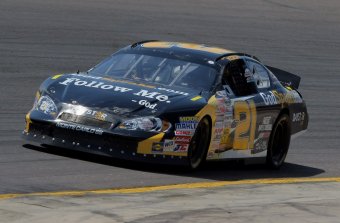 Koch did not drive a race car until he was almost 21
Doug Pensinger/Getty Images
In fact, Koch went on to say that he has more starts in a NASCAR Nationwide Series car than any other type of car he's been in, making his 18th-place points finish in lower-budget equipment a year ago all the more impressive.
In other words, for those aspiring racers who feel they're too old to live out their dream, Koch says it's "entirely possible" to jump into racing, even at an older age, and offered some earthy advice on how to make it happen.
My advice to everybody is to pray hard, work hard and never give up. If you pray about something and you feel like you're led to do it, go do it. Don't let anybody tell you you can't and don't let anybody stop you.

Just pray about it first and if you've got a feeling that you're suppose to do it, you've gotta work hard. Nothing is given to you. Don't give up.
Along with his good friends Trevor Bayne, Michael McDowell and Josh Wise, all three of whom he noted specifically, Koch is one of those rare finds in the sports world who is equal parts athlete and role model.
Lost among the shadows of Patrick, Stenhouse and others is the man, or at least the type of man, every young athlete should aspire to be.
For Blake Koch, life isn't just about winning. Though he understands he has a job to do, Koch also realizes there are things far more important than any piece of hardware he may find in Victory Lane.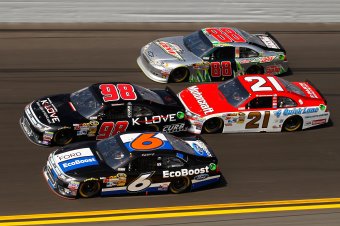 Michael Mcdowell(98) and Trevor Bayne(21) are among Koch's best off-track friends
Streeter Lecka/Getty Images
Though, if given the right opportunity, he'll earn his fair share of that, as well.
All quotes from this article were obtained via phone interview unless otherwise noted. Koch also wanted me to mention that if any young racer, or anybody, would like to talk to him about anything, he can be reached on Twitter @BlakeKochRacing.
I would like to personally thank Blake for doing the interview with me and wish him the best in his racing endeavors.
This article is
What is the duplicate article?
Why is this article offensive?
Where is this article plagiarized from?
Why is this article poorly edited?