Fantasy Football 2012: Head-2- Head Tony Romo vs Philip Rivers
June 26, 2012

Ezra Shaw/Getty Images
Imagine you're in a 10-team league and you've picked up a couple of running backs, receivers and a tight end. You're at the end of the fourth round or the beginning of the fifth. You are willing to grab a quarterback later on, but it turns out that Tony Romo and Philip Rivers are on the board at this point. 
One (Rivers) is a former stud who had some concerns last year with turnovers, and if he could ever cut down on them, he would be a top-five option at his position. The other (Romo) also has a problem with turnovers, but everyone swears that "this is the year" for his offense to finally reach it's potential.
Which one do you take?
Both of them are being taken outside the top 50 this year, according to FFC. I find this absolutely outrageous, given their potential and past production.
Let's take a look at the tale of the tape. In terms of weaponry, Romo is literally "Miles" ahead of Philip Rivers. With Miles Austin, one of the better tight ends around in Jason Witten and a potential third-year breakout star in Dez Bryant, Romo is certain to exceed the 31 touchdowns he had last season.
Rivers, on the other hand, has lost his top wideout, Vincent Jackson, to free agency. New face Robert Meachem is expected to come in and help shore up the deep-threat role, with an increased emphasis on Malcom Floyd as well. He hopes Vincent Brown can take a big step forward and Antonio Gates can stay healthy.
While none of those names sound promising, we remember just a year before his interception-laden season last year, Rivers had thrown for more than 4,700 yards and 30 touchdowns, while missing Jackson for much of the year on a holdout.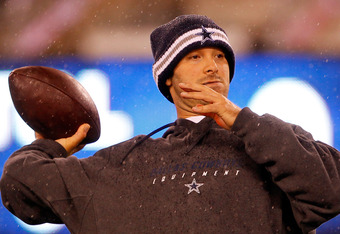 Rich Schultz/Getty Images
He delivered touchdown strikes to anybody, including Floyd, Seyi Ajirotutu and the hot dog guy. This guy was a stud his whole career, and we don't doubt that he can make any receiver look good. He'd never had more than 15 turnovers a year (he had 25 last year).
Both stand to deliver tremendous value if they can keep the turnovers down. Can Romo throw just 10 picks again with the improving defenses of the NFC East? We'll see. Then again, Rivers has finished as a top-five scorer at his position. Romo has not.
Verdict
I believe Romo is the safer pick with the weapons he has. But given his track record and taking into account that last year could have been an anomaly, Rivers has more upside in terms of yardage (Romo has never thrown for more than 4,300 yards).