Projecting Starters for the 2012 Philadelphia Eagles Roster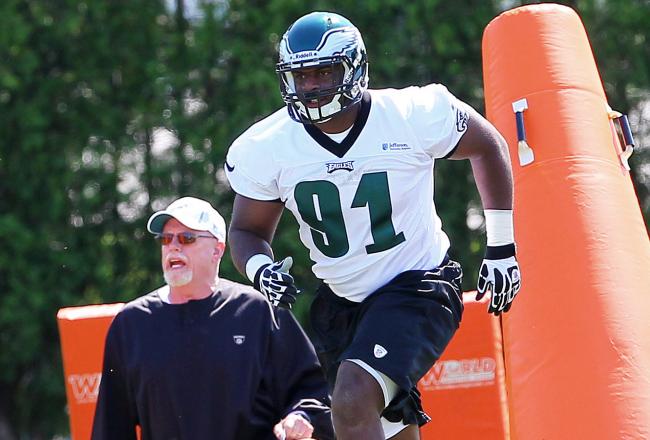 Rich Schultz/Getty Images
With Philadelphia Eagles training camp beginning in less than four weeks in Bethlehem, Penn., let's begin to look ahead to potential positional battles by forecasting the Week 1 starters, along with key backups (in brackets).
Quarterback: Michael Vick (Trent Edwards)
I'm going out on a real rickety limb here, because Mike Kafka and Nick Foles were drafted one year apart and have yet to have a chance to prove themselves, so it's highly unlikely either gets cut. That said, I really think Philadelphia has to eventually give Edwards some legit practice reps. He's better prepared to back up Vick than Kafka or Foles are.
A trade for Colt McCoy would be a worthwhile move too.
Running Back: LeSean McCoy (Dion Lewis)
Lewis looked pretty solid in a limited sample size last year. I don't think Bryce Brown or Chris Polk are ready to steal the backup job from him, especially considering that Andy Reid says he's going to spell McCoy more often this season.
If I had to bet on which back would get cut, I'd go with Polk. However, the Washington product probably has a higher ceiling too.
Fullback: Stanley Havili
The seventh-round pick from 2011 was named the starting fullback by Andy Reid last month. With Owen Schmidt gone, he faces virtually no competition in training camp.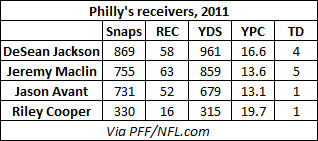 Wide Receiver: DeSean Jackson, Jeremy Maclin (Jason Avant, Riley Cooper, Marvin McNutt)
Some are wondering if the Eagles might take the leap with Plaxico Burress or another veteran between now and the start of the season. But I really don't think they want to fix what ain't broke and risk screwing with the momentum they've been building on offense. Jackson is finally happy with his contract, and Maclin is having a fantastic offseason.
Cooper could get more reps in his third year, but Avant should hold both him and McNutt off to keep the No. 3 receiver spot.
Tight End: Brent Celek (Clay Harbor)
Celek fell two catches short of leading the team in receptions last season. Despite leaving something to be desired in the consistency department, he's locked in as the starter. And Harbor's backup job is also secure. He was a fourth-round pick in 2010, so his prime should be ahead of him.
After giving up 32 sacks with Jason Peters last year, how may will Philly surrender in 2012?
Offensive Tackle: Demetress Bell, Todd Herremans (King Dunlap, D.J. Jones)
Bell will have the first chance to replace the injured Jason Peters on the left side, while Herremans is locked in on the right side. There are concerns about Bell's consistency and proneness to injury, which could mean that Dunlap gets a crack early.
Beyond that, there's rookie fifth-round pick Dennis Kelly, as well as undrafted youngsters Jones and Thomas Welch. It's crazy, because Jones and Welsh are essentially fighting for a roster spot, but it also wouldn't surprise me to see either of them earn playing time early.
Guard: Evan Mathis, Danny Watkins (Julian Vandervelde, Brandon Washington)
This one's pretty straightforward. It would take either an injury or a colossal letdown for either Mathis—arguably the league's best guard—or Watkins, last year's top pick, to succumb to Vandervelde or Washington, who were late-round picks the last two years.
Center: Jason Kelce (Steve Vallos)
They'll likely pick between Vallos and Dallas Reynolds here so that they at least have a quasi-experienced backup who can also swing to other positions along the offensive line. I'll give Vallos the nod since he has actual starting experience in Seattle.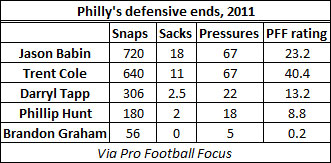 Defensive End: Trent Cole, Jason Babin (Brandon Graham, Darryl Tapp, Vinny Curry)
Cole and Babin are entrenched as starters, but look for Graham to gain a more significant role in the rotation in his first full year back from injury. Tapp was extremely productive on 306 snaps last year, according to Pro Football Focus, but I'd still expect that number to shrink by about 100 as Graham ups his snap count from only 56 to about 200.
Those are just guesses, but reps like that would indicate that Graham and Tapp would split the third "spot" while Curry is eased in as a rookie.
Defensive Tackle: Mike Patterson, Fletcher Cox (Cullen Jenkins, Antonio Dixon)
Believe it or not, the strongest position on this Philadelphia team might actually be defensive tackle, where four starting-caliber players reside. I'm not necessary suggesting the Eagles would fully bench Jenkins, whom they paid a $5 million roster bonus to earlier in the offseason, but I get the feeling the rookie Cox will emerge to earn more reps.
Dixon, who was extremely productive in 10 starts in 2010 before missing much of 2011 with a torn triceps, has the ability to again play a large role, especially if Jenkins fades. Jenkins gets more attention, but Patterson was the best defensive tackle on this team last year. Cox and Dixon will give the former Packer a run for his money as well.
Outsider Linebacker: Mychal Kendricks, Keenan Clayton (Brian Rolle, Casey Matthews, Akeem Jordan)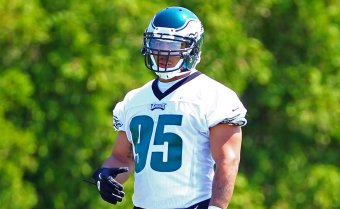 Rich Schultz/Getty Images
Rookie second-round pick Kendricks appears to be an obvious starter right now, but beyond that, the team has a bit of a quantity-over-quality situation on its hands.
I'm going with Clayton over Rolle because Rolle lacks size. At 6'1", Clayton should make up for what they lose on the other side with the 5'11" Kendricks. What's more, he's a surer tackler than Rolle, who missed 13 of 'em in 2011. He does have to improve against the run, and a sports hernia is keeping holding him back this offseason, but I still think he might be the best option opposite Kendricks.
Matthews was dreadful for the majority of 2011, but he played his best game as a SAM in Week 15 against the Jets. I highly doubt Juan Castillo trusts him enough to start early, but the 2011 fourth-round pick will likely serve as a jack-of-all-trades backup behind Kendricks, DeMeco Ryans and whoever starts at WILL (I'm guessing Clayton).
Many believe Jordan won't make the final roster, but he brings experience and is superb on special teams. I think the Eagles keep him over Moise Fokou.
Inside Linebacker: DeMeco Ryans (Jamar Chaney)
Ryans comes from Houston and takes over without a challenge, especially because there are few other options beyond him. Chaney was terrible last season, but the Eagles have probably seen enough of Matthews in the middle, and no one else makes sense. By default—and maybe because he was decent in 2010—Chaney keeps his roster spot.
Cornerback: Nnamdi Asomugha, Dominique Rodgers-Cromartie (Brandon Boykin, Curtis Marsh, Joselio Hanson)
It wouldn't surprise me to see Hanson get cut if he loses the nickel job to Boykin. But I do think he'll probably stick around so that they can maintain some experience among the reserves after trading Asante Samuel away (although if Brandon Hughes can emerge, it could be lights out for Hanson).
Either way, Boykin has the ability to gain nickel reps from the get-go, while Marsh—an often overlooked third-round pick from 2011—has the tools to become the next-best outside corner beyond Asomugha and DRC.
Which Eagles safety will play a bigger role this year?
Safety: Nate Allen, Kurt Coleman (Oshiomogho Atogwe, Jaiquawn Jarrett)
Allen got much better late in 2011 and should become a solid starter this year. The problem is that I don't believe the team trusts Coleman or Jarrett, which is why Atogwe was signed last week to provide insurance. Coleman will certainly begin the season in the starting lineup, but the leash might be short. And if or when he gets yanked, I'm almost certain that Atogwe, not Jarrett, will take over.
Kicker: Alex Henery
The fourth-round pick made 24 of his 27 field goals as a rookie. He's as safe as a kicker can be.
Punter: Chas Henry
I debated long and hard (at last 120 seconds' worth of debate) about giving this job to Ryan Tydlacka, since Henry struggled a bit as a rookie in 2011. Definitely a training camp competition to watch closely.
This article is
What is the duplicate article?
Why is this article offensive?
Where is this article plagiarized from?
Why is this article poorly edited?

Philadelphia Eagles: Like this team?