Wimbledon 2012 Results: Latest Scores from All England Tennis Club
June 26, 2012

Clive Brunskill/Getty Images
We're midway through Day 2 at Wimbledon, and the All England Tennis Club has seen some terrific results. So far, we haven't seen the kind of upsets that we saw yesterday, as the favorites are holding up their end of the bargain on this fine Tuesday.
Yesterday, Roger Federer and Novak Djokovic dominated their opponents, cruising to the next round.
Today, Rafael Nadal—the No. 2 ranked player in the world and favorite to reach the men's final—struggled a bit in his Round 1 matchup with Thomaz Bellucci. In the end, Rafa managed to win the match in three sets, 7-6, 6-2, 6-3.
Rafa's ability to win on his first serve and his incredible defense are what caused him to overcome this early test. He won 75 percent of his first serves, and his defense led to 29 unforced errors on Bellucci's part. He'll need to play better going forward, though, if he is going to make it to the men's final.
Jo-Wilfried Tsonga cruised to the second round against Lleyton Hewitt, winning 6-3, 6-3, 6-4. His serve was incredibly potent, as he managed to pile on 21 aces against Hewitt. As a result, he won 82 percent of the time on his first serve.
That's tough to beat, and Nadal will have his hands full if the two of them meet up later on in the second half of the men's draw.
Last year's women's champion, Petra Kvitova, didn't have any trouble with her Round 1 opponent, Akgul Amanmuradova, winning the match 6-4, 6-4. She scored an incredible 81 percent of the time on her first serve, which didn't allow Amanmuradova the opportunity to get much going in the way of break points. 
Kvitova will need to cut down on her errors going forward if she has a hope of repeating, though. She made five double faults and amassed 20 unforced errors in her two sets.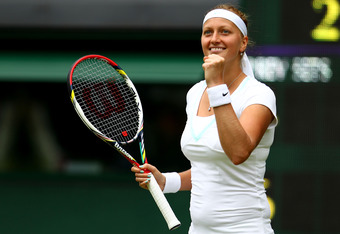 Clive Brunskill/Getty Images
My personal favorite on the women's side, Serena Williams, had no issues in her Round 1 matchup against Barbora Zahlavova-Strycova, winning the match 6-2, 6-4. 
It was a workmanlike effort by Williams, as she and Zahlavova-Strycova weren't far apart on most of the match statistics. She simply outworked and outlasted her opponent. Williams will need to sharpen up her overall game to continue making her way through this tournament. 
Stay tuned to Bleacher Report for more scores and analysis, as Day 2 at Wimbledon still has a ton of tennis left to offer.