NBA Draft 2012: How Anthony Davis Compares to NBA Legends
June 26, 2012

Andy Lyons/Getty Images
From his trademark brow, to his once-in-a-generation shot-blocking ability to his 89.5" pterodactyl-like wingspan, presumptive No. 1 pick Anthony Davis is one of the most exciting NBA prospects of the last decade.
The 6'10" power forward thoroughly dominated the SEC this past season and led the Kentucky Wildcats to a national championship at the tender age of 19.
After just one season of college ball, the 2012 National Player of the Year declared for the draft and immediately became the apple of every general manager's eye.
With the New Orleans Hornets set to take the shot-blocker extraordinaire with the top pick, analysts, media and fans have all speculated about what type of player the freshman phenom will grow into.
Blessed with a truly unique blend of athleticism, length and defensive skills, Davis has the chance to be a revolutionary player at the power forward position.
Size
Much like future Hall of Famer Kevin Garnett, Davis will enter the league as a long, lanky kid.
But with a few years in the weight room, there's no doubt he'll become a dangerous, dangerous man.
At just 19 years of age, Davis already stands 6'10", 221 pounds with a freakishly long 89.5" wingspan, according to official NBA draft combine measurements (via Hoopsworld.com). When Garnett entered the league straight out of high school, he measured 6'11", 217 pounds, according to DraftExpress.com.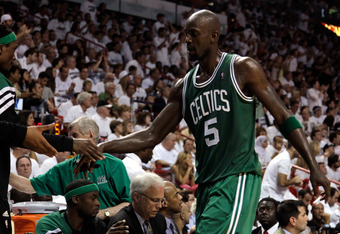 Mike Ehrmann/Getty Images
Much like Garnett, Davis utilizes his length as a tenacious defender and a great finisher at the rim.
Although Garnett clearly lost some of his trademark athleticism over the past few seasons, his length and size still allow him to be one of the top defenders in the game.
Because Davis is so young, he has time to grow into his massive frame and become a monster.
Shot Blocking
It's not often that a player can dominate a game with just six points.
Then again, not many players can match that number in blocks.
Despite scoring a single basket in the championship game, Davis dictated the matchup by doing what he does best: playing defense.
Kentucky's best weapon stunted Kansas' attack by blocking six shots and altering many more. In 40 games, Davis averaged an astounding 4.7 blocks per game. He never failed to block less than two in a game and had at least six in 14 of them.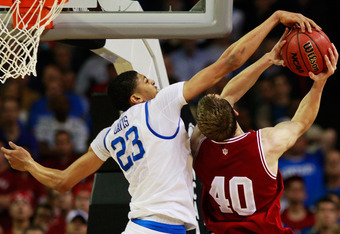 Kevin C. Cox/Getty Images
Defensively, Davis compares favorably to Hall of Fame center Hakeem Olajuwon.
Known at the University of Houston as Akeem Olajuwon, "The Dream" wasn't a great offensive force in college, but he was a legendary defensive presence. During his 100-game college career, Olajuwon blocked 454 shots, a number similar to the 186 Davis posted in 40 games. 
Besides Serge Ibaka and Dwight Howard, there isn't a truly dominant shot blocker in the NBA.
Once Davis steps on the court, there will be a third.
Offensive Skills
It's tough to make a direct comparison with other players based on Davis' offensive skill set.
The tools are there, but there are questions about how good he'll end up being.
"I'll tell you exactly what Anthony Davis is—he's a young Bill Russell...And Russell was by far, and will always be, the most valuable player ever in sport," Bob Knight said in an article by Bethlehem Shoals of ESPN The Magazine.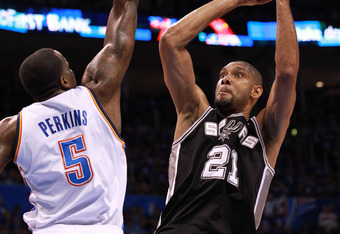 Ronald Martinez/Getty Images
But is that good enough?
It's a harsh criticism of an 11-time NBA champion, but when it comes down to it, Russell was a legendary defender and just an above-average offensive player. In 13 seasons, he averaged 15.1 points and never exceeded more than 18.9 in a season.
Shaquille O'Neal and Tim Duncan, two players former No. 1 overall picks, combined elite defense with incredible offensive skill. However, Shaq was simply bigger, stronger and meaner than most of his opponents, and Duncan developed a gorgeously reliable bank shot to go along with great post moves.
As a freshman, Davis averaged 14.2 points per game to go along with 10.4 rebounds. Those are solid marks, but how much more is he capable of?
Based on his work ethic and rare physical tools, he definitely can grow into a more refined offensive player.
Dwight Howard has proven that it can take a couple of years to develop the footwork and shot arsenal to become a great post player. It took the top pick in 2004 four years till he hit the 20-point average mark. Before that time, he got by because of his stellar rebounding and shot blocking.
Davis should take a similar path, but because he has elite athleticism and natural ball-handling skills, he could emerge as a hybrid of Garnett, Howard and Duncan.
Not bad for a 19-year-old.