Maria Sharapova: 4 Reasons Why Sharapova Will Notch 2012 Wimbledon Victory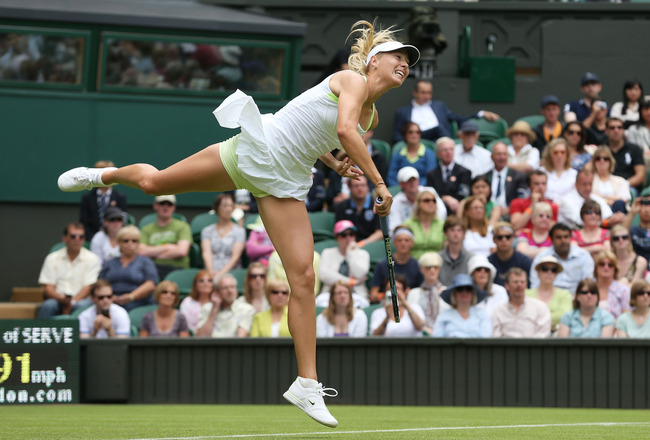 Julian Finney/Getty Images
Maria Sharapova is coming off of recent victory at Roland Garros and is set to clinch the 2012 Wimbledon title. Sharapova now has four Grand Slam titles with her win at the 2012 French Open, and she is ranked as the No. 1 female tennis player in the world.
Not a bad track record to start off her run at the 2012 Wimbledon.

So, there are several reasons why Sharapova will notch the Wimbledon victory.
Sharapova on Top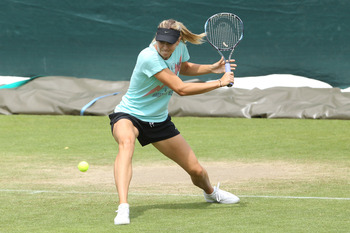 Dan Kitwood/Getty Images
Sharapova is going into the 2012 Wimbledon as the top seed and the tournament favorite. The 25-year-old star has clinched a Wimbledon victory before. So Sharapova knows the feeling.
In 2004, she claimed her first Wimbledon title at age 17. Now several years stronger and wiser, Sharapova has more playing experience at her disposal.
She won her recent Grand Slam title on clay, the most difficult surface in tennis. With the lustrous turf lawns at Wimbledon, Sharapova should feel more comfortable and confident to breeze through into the finals.

(via news.com.au).
Easy Breezy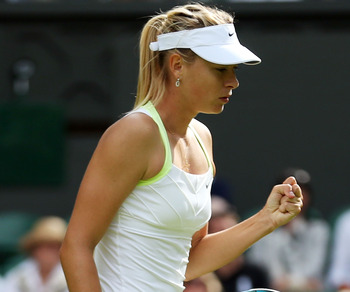 Julian Finney/Getty Images
If the opening singles match is any indication, then Sharapova will have no problem clinching the 2012 Wimbledon title. According to Alan Baldwin from The Chicago Tribune, Sharapova demolished her first opponent, Anastasia Rodionova, with a 6-2, 6-3. The Kansas City Star reported of seeing Sharapova's first round play,
"She had little trouble getting past Rodionova...on Centre Court, breaking the Australian five times—although she was broken once in each set...she seized her next chance...clinching the victory with an ace,".
As Sharapova prepares for her next opponent Tsvetana Pironkova in the second round, she should have no trouble breezing by this one too.
Looking at the Mechanics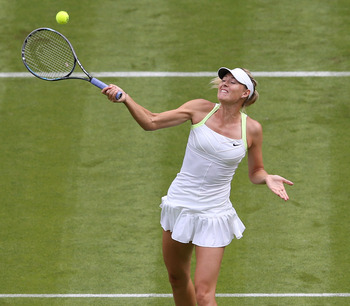 Julian Finney/Getty Images
Sharapova is the princess of professional tennis, and the Russian beauty is seeing much prettier play on the court. She is playing faster and cleaner than her previous years. And after her shoulder injury, this is quite an impressive recovery.
According to Richard Copeman of the dailymail.co.uk, Sharapova is set for the 2012 Wimbledon with:
"A clean bill of health, an improved serve and a seismic improvement in her movement along the baseline...she looked fluid enough on Centre Court as she dispatched Australian Anastasia Rodionova...so all looks well for the 25-year-old".
Grunt Away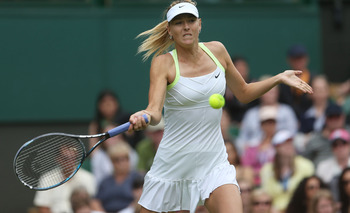 Julian Finney/Getty Images
Maria Sharapova is known to be a "grunter" on the court. Her high-level shriek has been called everything from distracting to amusing. But let's look behind the grunt.
Sharapova's on the rise right now. She is riding her recent wave of success and her consistent popularity in all the right ways. Sharapova is set to win her fifth Grand Slam title and her second Wimbledon title.
Sharapova has that fire—that spark that opponents and fans can already see from her opening match. She needs to take this high and run with it as she plays towards the peak of her career.
Sharapova recently regained her world No. 1 ranking, and by notching the 2012 Wimbledon victory, she's going to make sure it stays that way.
Keep Reading