NBA Draft 2012: 5 Rookies Who Will Be Max-Contract Players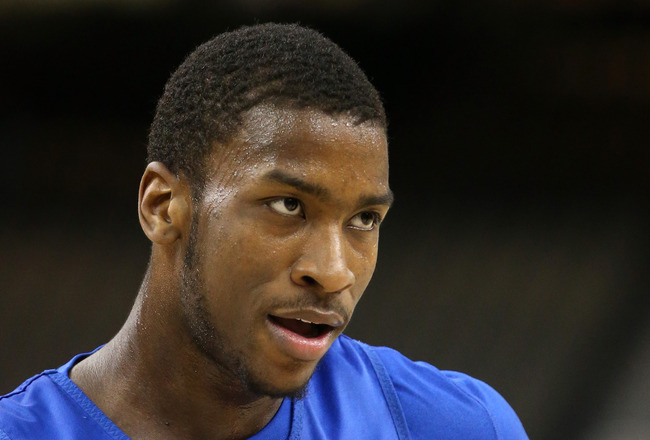 Michael Kidd-Gilchrist is in line for a huge payday.
Ronald Martinez/Getty Images
The 2012 NBA draft is just a few short days away, and while teams are gearing up to select the next "future of the franchise," the prospects are gearing up for the biggest payday of their young lives.
The maximum amount players can earn is contingent upon their service time, accomplishments and total salary of the team.
For example, a player in his first through sixth seasons can earn a maximum of $9 million, or 25 percent of the team's total salary cap.
In his seventh through ninth seasons, he can earn a maximum of $11 million, or 30 percent of the total salary cap.
After 10 or more seasons, the maximum salary increases to $14 million, or 35 percent of the cap.
There are at least five guys in this draft who have the potential to earn that type of money.
Michael Kidd-Gilchrist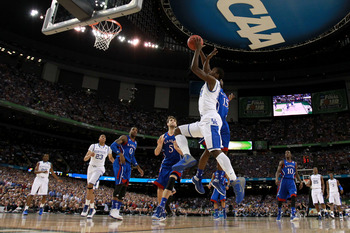 Ronald Martinez/Getty Images
Michael Kidd-Gilchrist has all the tools necessary to be a force in the NBA for years to come.
Bjorn Zetterberg of SwishScout.com describes him as:
"[A] tough, 'do-it-all' forward with superb athleticism, play making ability, defensive instincts and versatile skill set that makes him a safe bet to be a promising NBA swingman."
That athleticism and defensive instinct helped to make him one of the nation's best defenders last season. He averaged 1.0 steals, 0.9 blocks and 7.4 rebounds per game.
He scored 11.9 points per game last season as well, but he'll have to work on finding some consistency with his jump shot if he wants to improve.
If he does that, the NBA should look out.
His defensive prowess coupled with his offensive firepower makes him an ideal candidate for a max-contract, as a similar player, Andre Iguodala, was a few years back.
The Philadelphia 76ers rewarded the solid play of Iguodala with a max-contract, and Kidd-Gilchrist could very easily follow in his footsteps.
Bradley Beal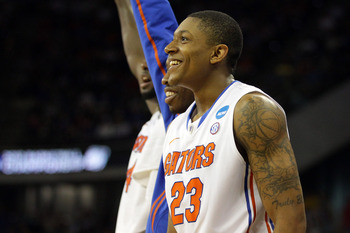 Doug Pensinger/Getty Images
Bradley Beal is one of the most NBA-ready prospects in the draft class.
He already possesses NBA range and accuracy on his jump shot, and he has a basketball IQ that would suggest that he'll be able to adapt quickly to the NBA game.
Last season with the Florida Gators, Beal averaged 14.8 points per game while dishing out 2.2 assists per game.
He is a true scoring guard who should be able to repeat his success from college in the NBA. He'll likely receive significant minutes from the onset of the 2012-13 season, so we'll be able to witness his ability to put the ball in the basket early on.
If Beal pans out, he could be the next Ray Allen—a reliable jump shooter with the ability to drain threes with regularity.
That type of a player isn't very easy to come by, and his skills could warrant a max contract very early on in his career.
Moe Harkless
Jim McIsaac/Getty Images
Moe Harkless is one of the most talented players in the draft. He has great athleticism, solid perimeter play and the skills to play above the rim.
He scores and rebounds with regularity, and his 7' 2" wingspan makes him a strong presence on defense.
His jumper is consistent up to about 20-feet, as he struggles to find consistency from beyond the arc.
While he may have benefitted from another year at school, there's no denying the fact that he's a special talent and that he will likely be a great wingman in the NBA for years to come.
He'll likely deserve a max-contract at some point in his career, as Josh Smith, a player very similar to him, is a borderline candidate for one at this point in his career.
Both have great length, can run the floor and finish above the rim. While neither shoots exceptionally well, both of the skills necessary to succeed in the NBA.
Smith may never receive that max-contract, but Harkless has the potential to make max-money as soon as he becomes a free agent for the first time.
Tony Wroten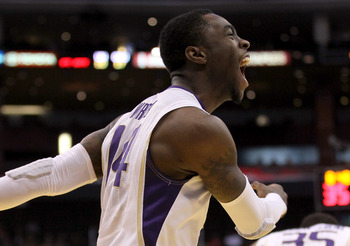 Stephen Dunn/Getty Images
I'm a huge fan of Tony Wroten. He has the size at 6'6" and the passing ability to be one of the game's next elite point guards.
He averaged 16 points and 3.7 assists per game in his final season at the University of Washington.
While shooting may not be his forte, setting his teammates up with wide-open looks is his speciality. He is very skilled at orchestrating an offense and is capable of providing a team with instant offense because of his court vision and passing skills.
When I think of Wroten, I think of Rajon Rondo—a creative point guard who knows how to set up his teammates.
Neither shoots particularly well, but both know how to get to the basket and draw in defenders.
Rondo is almost guaranteed to receive a max contract when he becomes a free agent. His production and skill set warrant the maximum amount of money a team is allowed to give him.
Wroten is a little bigger than Rondo, making him better suited as a shooting guard, but his skill set translates to that of a point guard.
When Wroten reaches his full potential in the NBA, he'll be a lock for a max contract.
Meyers Leonard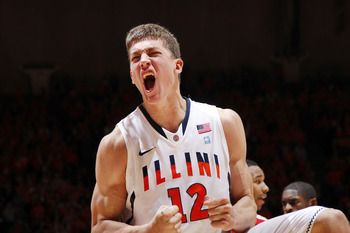 Joe Robbins/Getty Images
Meyers Leonard, a guy who many consider to be the draft's second-best center prospect, will end up being the best center of the class—mark my words.
He had a great sophomore season at Illinois, scoring 13.6 points per game while grabbing 8.2 rebounds per game.
A true seven-footer, Leonard has the unique ability to step out and shoot a jumper if there's nothing available in the post. He's very athletic and is also a great shot-blocker.
Dominant big men are hard to find in today's game, and Leonard has the potential to join a group that really only includes Dwight Howard, Andrew Bynum and Al Jefferson.
It may take some time for Leonard to develop, as he has a relatively short basketball career up to this point. Given the right amount of time, he could blossom into a superstar.
With that superstar status, he'll likely command top dollar when it's time for him to get paid.
Keep Reading