Why Anthony Davis Isn't the Next Kevin Garnett
June 26, 2012

Jeff Gross/Getty Images
The hyperbole surrounding projected No. 1 overall pick Anthony Davis is starting to get ridiculous. The Kentucky product is going to be an excellent player, but comparisons to Kevin Garnett are both premature and incorrect.
While both Davis and Garnett are among the best defensive players in the world, that's where the similarities end. 
Anthony Davis is a shot blocker. As a freshman, he led the nation in blocked shots with a staggering 4.7 per game. 
That has never been Garnett's style. He has a career average of 1.5 blocks per game and has never averaged more than 2.2. What makes Garnett special defensively is his remarkably high basketball IQ. He is always in the right position. He defends the pick-and-roll as well as anyone in history, and protects the rim like a guard dog.
Davis' defensive profile is far closer to Marcus Camby's. Like Davis, Camby was a ferocious shot blocker, averaging 3.9 per game in his final year at UMass in less minutes than Davis, en route to breaking several conference and national records. 
Davis and Camby also share a similar body type, both having massive wingspans but lacking bulk. Despite his 6'10'' height, Davis weighs only 220 pounds. As a point of reference, his 6'4'' college teammate Doron Lamb (a shooting guard) weighs in at 210 pounds. 
This can likely be attributed to the growth spurt Davis had in high school, He grew eight inches between his freshman and junior years. While that allowed him to become the star big man he is today, it also means that his body is less equipped to add bulk. This is a big reason Kevin Durant hasn't been able to add much muscle since college, despite critics saying he should.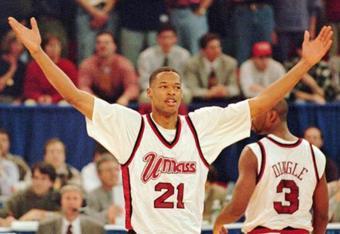 Kevin Garnett is simply bigger. He weighs 253 pounds, and while that alone doesn't make him a better defender it means he plays with a different style than the skinnier Davis. You wouldn't expect a 210-pound running back to run the same way as a 240-pounder. It's the same with big men.
While Davis is a very good rebounder, he isn't nearly on Garnett's level. While he averaged an excellent 10.4 boards per game, it must be noted that he didn't play with any other real big men. 
While both Terrence Jones and Michael Kidd-Gilchrist are solid rebounders, both are projected small forwards. The only other true big man in Kentucky's rotation was Kyle Wiltjer, who averaged less than two rebounds per game.
In the NBA, Davis will likely play power forward next to a true center. This is going to hurt his numbers. He's also going to play against much better competition. Only one other SEC big man (Mississippi State's Arnett Moultrie) is projected to go in the first round. 
Garnett's rebounding numbers eclipse Davis', and he has done it at the NBA level next to true centers. KG has matched or exceeded Davis' pure rebounding stats nine times in his career, but that doesn't completely reflect Garnett's superiority. 
Davis had a defensive rebound rate (an approximation of what percentage of available defensive rebounds a player gets) of 18.2, which is excellent, but nowhere near what Garnett has done. In his 17 year career, KG has beaten Davis' rate 15 times.
He has topped Davis by more than 10 percent six times, and has topped 30 percent three times. While Davis has excellent potential as a rebounder, he still has a lot of room for improvement. Davis makes up some of the difference on the offensive end, but that is mainly because of their differing scoring styles.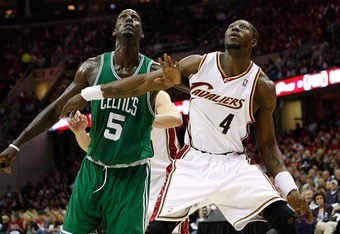 Gregory Shamus/Getty Images
Anthony Davis spends most of his time around the basket. Many of his points come from putbacks and easy dunks, which partially explains his 62.3 field goal percentage and completely explains his higher rate of offensive rebounds. 
Garnett is a completely different offensive player. He likes to spend most of his time in the high post shooting jumpers. This explains part of the disparity in their field goal percentages, but the biggest reason Davis was able to shoot such a high percentage is the difference in their usage rates.
Usage rate is a stat that estimates the percentage of plays a team's offense runs through them. Anthony Davis had a usage rate of 18.8. In the NBA, that would have been good for a five-way tie with Tyler Hansbrough, Charles Jenkins, Vince Carter and Tobias Harris for 146th. 
In his entire career, Garnett has had a lower usage rate exactly once. In every other season of his career, he has exceeded Davis' rate by at least 2.5 percent, and has been 25 percent or higher 10 times. 
His low usage rate and high field goal percentage implies that Davis is not an advanced offensive player. Most of his shots were easy; his offensive repertoire is limited mainly to dunks, layups and putbacks.
Garnett put up much better offensive stats with a far higher degree of difficulty. While Davis may be at least somewhat comparable to Garnett on the defensive end, there are virtually no similarities on offense.
Finally, Kevin Garnett is by any estimation one of the five best power forwards of all time, one of the 10 best defensive players of all time and one of the 25 best players of all time.
How has Anthony Davis, someone with only one year of college under his belt, earned comparisons to such a decorated player?
While Davis projects to be an elite NBA defender and a potential franchise cornerstone, calling him the next Kevin Garnett is simply unfair. The two have very little in common in terms of playing style and no rookie deserves comparisons to a Hall of Famer.
Davis will be an excellent player, but don't call him the next Kevin Garnett.