Hockey History: Picking an All-European Hockey Team of All-Time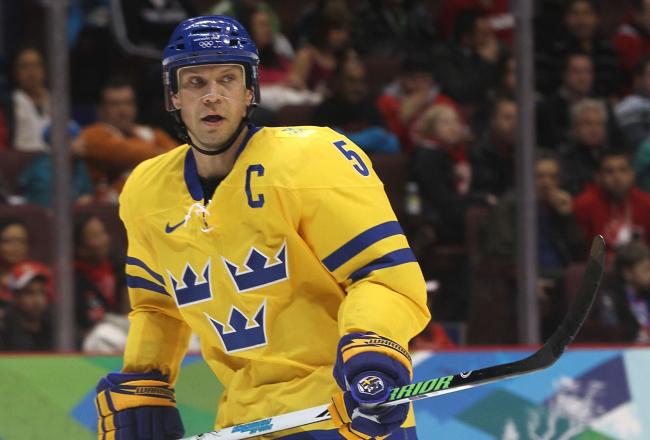 Bruce Bennett/Getty Images
Hockey is widely regarded as being a game that is predominantly a North American game. For decades, the NHL was made up almost entirely of Canadians.
Today, even though Canadian and American players are still the majority of the league, European players make more and more of a difference with their teams than ever before.
Recognizing the great additions to the game that many European players have brought, we're going to put together a roster of the greatest European imports in NHL history.
There will be four lines of forwards, three defensive pairings, and three goalies. Not everybody's opinion on this will be the same, so any additions are welcomed in the comment sections.
Line 1:
Valeri Kharlamov - Peter Forsberg - Jaromir Jagr
Khalramov never played in the NHL, but this skill and ability are undeniable. So much so that he was posthumously inducted into both the IIHF and Hockey Hall of Fame despite never playing in either.
Peter Forsberg is simply the most dominant Swede ever to play the game of hockey. His hockey IQ and ability to see the game were unmatched.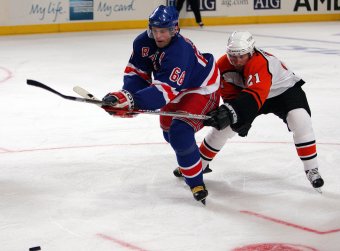 Chris Trotman/Getty Images
Forsberg has also helped to shed the image of the soft Swedish hockey player that relies more on finesse and can't adapt to a physical game; he was more dangerous physically when he had the puck. The brevity of his career was tragic, but the brilliance of it earns him a spot on this team.
Jaromir Jagr might be the best European player ever. His size, ability and smoothness with the puck helped him win Stanley Cups in Pittsburgh.
Though he isn't thought of as a physical player, his strength and ability to protect the puck frustrated defenders for years.
This line would be scary to see in action.
Line 2:
Jari Kurri - Peter Stastny - Teemu Selanne
Jari Kurri is best known for his days with the Edmonton Oilers dynasty of the 80s playing on a line with Wayne Gretzky, which I'm sure he didn't mind.
Kurri won five Stanley Cups during his time with the Oilers and still holds the NHL record for most goals scored in a single postseason, with 19. The amazing part about that, is he scored those 19 goals in only 18 games.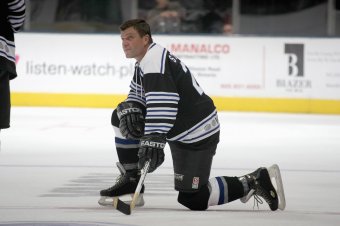 Bruce Bennett/Getty Images
Kurri is also the first Finn to be inducted into the Hockey Hall of Fame.
Peter Stastny was a long-time captain of the Quebec Nordiques and earned immediate notoriety in the hockey world as being the first major name to defect from the Soviet Union to play hockey in the NHL.
Stastny was a prolific scorer in the NHL and is a member of the Hockey Hall of Fame. He once scored 14 points over the course of two games.
Teemu Selanne is one of the most beloved players of our time, and could give Kurri a run for the best Finn of all time.
Selanne's speed and amazing shot has made him one of the league's top scorers throughout his storied career.
Line 3:
Sergei Fedorov - Stan Mikita - Pavel Bure
Sergei Fedorov was such a dangerous player in so many ways. He was fast, a scoring dynamo, and one of the best defensive forwards of his time.
Stan Mikita was the first ever Czech-born player to play in the NHL, and was he a sight to see. A prolific scorer who had 1467 points in 1394 games.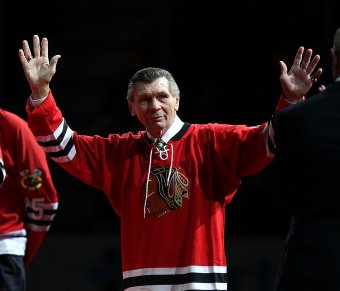 Jonathan Daniel/Getty Images
Pavel Bure was a frighteningly good scorer who became famous during his time with the Vancouver Canucks. Bure twice tallied 60 goals and broke 50 three other times in his career.
Line 4:
Esa Tikkanen - Mats Sundin - Peter Bondra
Esa Tikkanen was one of the first Finns to come into the NHL and become famous for being a pest.
Tikkanen spent his best days with the Edmonton Oilers where he was part of four Stanley Cup-winning teams, and he later added a fifth as a member of the New York Rangers.
Mats Sundin never won a Stanley Cup, but might have been the best power forward to come out of Sweden.
Sundin is the only Swedish player to score 500 goals and is the first to hit the 1000-point mark. He deserves a spot on this team.
Peter Bondra was a great scorer for the Washington Capitals for a long time. Bondra is a former 50-goal scorer who spent most of his career over the 30-goal margin.
He played for some bad teams in Washington, but always managed to score his share of goals.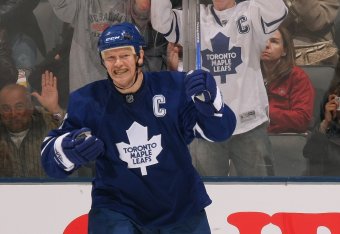 Dave Sandford/Getty Images
Defensive Pair 1:
Niklas Lidstrom - Zdeno Chara
The thought of these two guys on a back end is scary. Which side do you choose? Either way you're going to lose.
Defensive Pair 2:
Borje Salming - Vladimir Konstantinov
Borje Salming was one of the first Swedes to play in the NHL and is given the most credit for changing the perception of European players.
Think he isn't tough? Just look at this picture. He also managed to chip in with some solid offensive skills as well.
Vladimir Konstantinov didn't put up a lot of offensive numbers, but was one of the best hitters of his time.
His career was tragically cut short after he was paralyzed in a horrific limousine accident.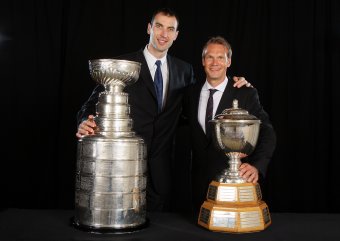 Jeff Gross/Getty Images
Defensive Pair 3:
Teppo Numminen - Sergei Zubov
Teppo Numminen was the best of the Finnish defenders that came into the NHL and made a name for himself with his hard-nosed play.
Sergei Zubov, you might be surprised to know, is the top-scoring Russian defender of all time. Not only that, but his career rating is a plus-148.
Goalies:
Dominik Hasek - Vladislav Tretiak - Pelle Lindbergh
Dominik Hasek gets the top nod in this, but just barely. He was so dominant and acrobatic in net that it seemed teams just couldn't beat him.
No matter how out of position he was, or how absolutely impossible a save seemed, Hasek always found a way to make it.
Tretiak gets honors here the same way his former Soviet Union teammate Kharlamov did. His play was so great that had he been allowed to leave Russia for the NHL, he easily could have dominated.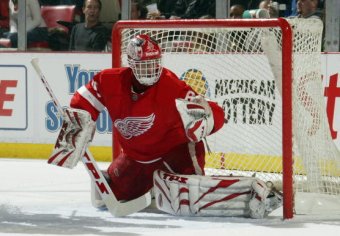 Dave Sandford/Getty Images
Tretiak was the first ever Soviet player inducted into the Hockey Hall of Fame without having ever played a game in the NHL. He's one of the best.
Pelle Lindbergh was a promising young Swedish goalie that was rising to stardom in the Philadelphia crease. He won the Vezina Trophy as the league's best goalie in 1985.
Lindbergh's promising career was cut short, however, when he tragically lost his life late in 1985 in a car crash.
He had the makings of a great goalie and was only 26 when he died.
So there we have it. This is the all-European team of all-time.
Some names were no doubt left off the list. That does not mean that any of those players didn't deserve to be included.
The European influence in the NHL has become a fantastic one, so please feel free to mention any other players that could be considered for this list.
This article is
What is the duplicate article?
Why is this article offensive?
Where is this article plagiarized from?
Why is this article poorly edited?