NBA Trade Rumors: Kyle Lowry Is Exactly What Kings Need to Become Contenders
June 26, 2012

Streeter Lecka/Getty Images
Tyreke Evans needs to go.
The combo guard has regressed since his memorable rookie campaign and it's clear he'll never develop into the superstar that he seemed destined to become. The Sacramento Kings must trade Evans for a much-needed roster shakeup and Kyle Lowry is a player that'd take them to another level.
Ailene Voisin of The Sacramento Bee reported earlier this offseason that Kings would place Evans on the trade block.
Chad Ford and Marc Stein of ESPN also reported that the Kings have talked with the Houston Rockets about swapping the No. 14 and No. 16 selections with the fifth overall pick in Thursday's NBA Draft. Houston has thrown Kyle Lowry's name around as bait in order to move up into the top 10. 
If the Rockets do indeed offer their pair of mid-round picks and Lowry for the No. 5 selection and Evans, Sacramento should pull the trigger.
Evans spent time playing out of position at small forward last season and it didn't work. He averaged a career-low 16.5 points per game. Of course, he played point guard his first two seasons in the NBA, which isn't his natural position either.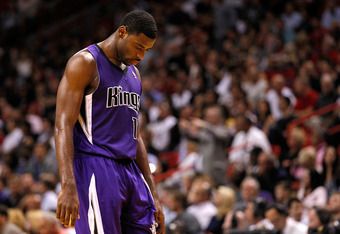 Mike Ehrmann/Getty Images
While Evans is best suited at the two, he can't shoot. He shot a pitiful 20.2 from downtown last season. Marcus Thornton is the more talented scorer as he led the Kings with 18.7 points per game.
Where does that leave Evans? Exactly nowhere. Sacramento should trade him while he still has value and Lowry is exactly what they need.
Isiah Thomas is a solid point guard, but he has a score-first mentality. Lowry is a superior playmaker to Thomas, but more importantly, he'd add a defensive toughness that the Kings need more than anything this summer.
Sacramento finished dead last in points allowed per game last year and Lowry just so happens to be one of the league's top defenders at the point guard position.
Now, as much it would hurt to lose the No. 5 pick, Sacramento would still be able to do damage in the middle of the first round. They'd be in position to fill their hole at small forward by selecting Perry Jones or Moe Harkless and upgrade the power forward spot with Terrence Jones or Arnett Moultrie.
If one move possesses the potential to catapult the Kings into playoff contention, this would be it.
David Daniels is a featured columnist at Bleacher Report and a syndicated writer.