Amanda Beard: US Swimmer Too Busy to Focus on Olympic Comeback?
June 26, 2012
Nick Laham/Getty Images
Regardless of her 100- and 200-meter breaststroke finishes during the U.S. Olympic Trials in Omaha this week, four-time American Olympic swimmer and seven-time medalist Amanda Beard just might be too busy to effectively compete in London. 
Still in excellent physical shape, Beard qualified for the 100 breaststroke at the U.S. Olympic Trials with a time of 1:7.49, which ranks third among the Olympic-hopeful American women, trailing just Annie Chandler and Rebecca Soni.
Swimming in the 16th heat, she is in prime position to qualify for her fifth Olympics. But if and when she arrives in London, will she be ready to beat the elite?
In a Yahoo.com article, Beard recently stated that competing for the 2012 Olympics will be "completely different, and for all the most amazing reasons."
Speaking to Yahoo, she cited the birth of her son and motherhood as having cast swimming aside for the top spot in her life life.
Now, I never have enough time. So my priorities now have shifted. It's all about my son and taking care of him and his health and making sure everything is running smoothly in his life, and then trying to squeeze my stuff in in between.
Motherhood has given Beard a new perspective and drive, and she doesn't seem to have achieved the never-say-die perseverance of California native Dara Torres, who has competed in five Olympic Games dating back to 1984 and, at age 41 and the proud mother of a toddler in 2008, was the oldest swimmer ever to have made Team USA. Torres ended up with three silvers in Beijing.
At age 30, Beard may still have a degree of youth, but she's gone through more than enough for a memoir.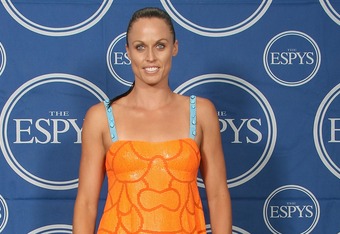 Frederick M. Brown/Getty Images
Of course, she has already written a memoir. Beard's tell-all text describes her battles with mental illness and how she used swimming as an outlet for depression.
She also appeared in Playboy, undermining, according to the executive director of USA Swimming, "the progress elite female athletes have made toward being appreciated for their abilities, regardless of appearance."
At the time, boxer Marlen Esparza went so far as to accuse Beard of "giving women a bad name."
All that time spent battling demons and moving on with her life—collectively deemed "distractions"—has translated into Beard being left behind in the Olympic world. 
Beard has not improved upon her personal bests since the 2004 Summer Olympics in Athens, where she won gold in the 200 breaststroke.
At the 2008 Games, where she did not advance to the semifinals of the 200 breast, Beard blamed her misfortune on both a lack of execution and a lack of concentration, admitting that she never felt all that comfortable in Beijing to begin with.
U.S. teammate Soni won the 2008 final in a world-record 2:20.22. Beard's personal best of 2:22.44 was set in 2004.
In other words, while Torres continued to set personal bests and American records—such as her 24.07-second silver medal performance in the 50-meter freestyle at Beijing—Beard fell off the pace.
Is she back on pace in 2012? While many enthusiasts and columnists have high hopes for the lessons-learned Beard, there is still much cause for skepticism.