2012 NHL Draft Grades: Biggest Reaches in First Round
June 26, 2012

Justin K. Aller/Getty Images
We do it every year. Five minutes after the NHL Draft concludes, we begin doling out grades for the best and worst draft classes, best and worst value picks, trades we loved and players we think will make the quickest impact in the NHL.
Never mind that we can't truly grade a draft class for another four or five years. We need instant analysis. Why?
Because it's fun.
We all have ideas about how our own draft boards would shape up, and we all are discouraged or delighted with how the board falls as our team is about to select. We know the draft isn't an exact science, but we'll disagree and dismay if things don't fall as we think they should.
With that in mind, I've identified three picks I thought were major reaches in the first round at this year's draft based on my board. Let's see if you agree.
Anaheim Ducks: Hampus Lindholm, D, Rogle (Allsvenskan)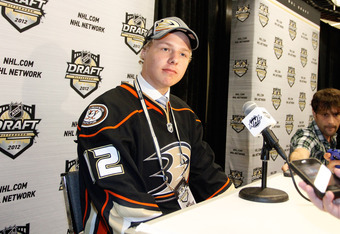 Justin K. Aller/Getty Images
I've got no problem with the Ducks targeting Lindholm. My issue is that they could have either traded down and still gotten him, or selected defensemen I had rated higher such as Mathew Dumba or Jacob Trouba with the pick.
Dumba has star potential written all over him, while Trouba is an all-around performer with a ton of potential.
I don't doubt Lindholm's NHL upside. I just think the Ducks reached here with more talented defensemen available, and could have landed Lindholm down the board.
Pick Grade: C-
Philadelphia Flyers: Scott Laughton, C, Oshawa Generals (OHL)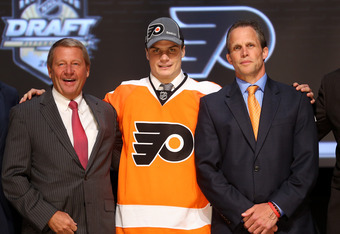 Bruce Bennett/Getty Images
I was really hoping the Flyers were going to add to the defense with this first pick, especially with Olli Maatta still on the board. And even if that was never the plan, I really liked Brandon Gaunce at center, who I didn't expect would be available with the 20th pick. 
Laughton isn't chopped liver, and wasn't a gigantic reach with the 20th pick. But with other needs and (in my opinion) more talented centers available, the Flyers didn't maximize value here.
Pick Grade: C
Phoenix Coyotes: Henrik Samuelsson, C, Edmonton Oil Kings (WHL)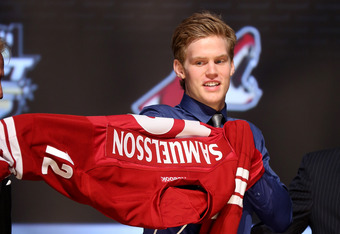 Bruce Bennett/Getty Images
Notable players who were still available with the 27th pick whom I graded higher than Samuelsson: Matthew Finn, Brady Skjei, Stefan Matteau, Sebastian Collberg, Pontus Aberg and Dalton Thrower, who I thought would climb higher on boards after an excellent 2011-12 season for Saskatoon.
Samuelsson's pedigree certainly makes him attractive—he's Ulf Samuelsson's son—but I think the Coyotes could have gotten greater value with this pick.
Once you hit the end of the first round, the distinction between prospects becomes less pronounced, but there were a lot of very intriguing players the Coyotes let go by the wayside in selecting Samuelsson.
Pick Grade: C-
Hit me up on Twitter—my tweets hit the mark more often than Spain's passing.