Portugal vs. Spain: Players Who Will Key a Semifinal Victory
June 26, 2012

Michael Steele/Getty Images
If Portugal has any hope of toppling Spain in the semifinal, Cristiano Ronaldo—Portugal's captain, most expensive player and best scorer—is going to have to be all that and more on Wednesday.
However, it'll take more than the scoring prowess of Ronaldo as Portugal's defense must stop Spain's potent attack.
For Spain, the tale of the tape is in the play of its incredibly talented midfielders.
Their unique passing skills play well with the always dangerous Fernando Torres.
Let's take a look at five players who will play pivotal roles in Wednesday's matchup.
Cristiano Ronaldo, Portugal
The list begins and ends with the man Diego Maradona labeled "The best player on the planet." (via Goal.com)
The 27-year-old Ronaldo will be facing some of his teammates from Real Madrid, but club ties will be severed come match time.
Portugal's best player and perhaps its only hope at an upset will have to play at 110 percent.
The owner of 112 goals in 101 league appearances with Real Madrid has the rare ability to take over a game at any second.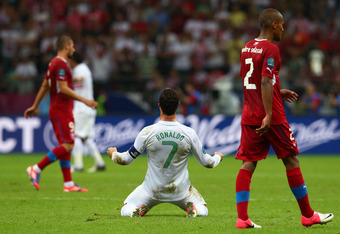 Alex Grimm/Getty Images
With three goals in the tournament, Ronaldo has been good, but not great.
Hopefully he saved his best performance for the semifinal. If not, Portugal's run will end.
Raul Meireles, Portugal
Although he doesn't have the penchant for scoring like Ronaldo, Raul Meireles is nearly as important to his team as the high-priced striker.
His presence will be vital as the team will be without Ronaldo's partner in crime Helder Postiga, who will miss the game with a thigh injury.
Meireles is noted for his versatility, as he is able to line up at any spot in the midfield.
Although he often plays more of a defensive role, without Postiga in the lineup, Meireles could be counted on more to spark Portugal's attack and set up Ronaldo for scoring opportunities.
Andres Iniesta, Spain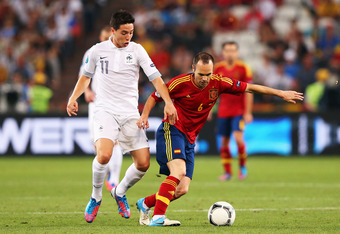 Alex Livesey/Getty Images
With only one assist and no goals scored, it seems Andres Iniesta has had a quiet tournament.
In this case, the stats don't tell the whole story. 
Iniesta has arguably been Spain's best player thus far.
His pinpoint passing and field leadership have kept last year's champions in a position to repeat.
According to the Castrol Edge Index on the Euro Cup's official website, Iniesta ranks as the fifth-best player in the entire tournament, just .05 points behind teammate Xabi Alonso.
Ronaldo, of course, is the top player. But for Spain, no player is more valuable or reliable than Iniesta.
Xabi Alonso, Spain
The other half of Spain's dynamic duo, Xabi Alonso gives opponents nightmares with his precision passing.
He doesn't wow anyone with his scoring stats, but the 30-year-old midfielder showed why he is among the world's greatest players in Spain's 2-0 victory against France.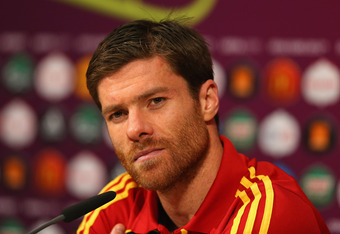 Handout/Getty Images
Playing in his 100th appearance for Spain, Alonso provided a fitting performance for the century mark, scoring both goals in the quarterfinal matchup.
His terrific play earned him world player of the week honors from Goal.com and plenty of accolades from media around the globe.
With Alonso and Iniesta playing some of the best soccer of their careers, it's hard to count out the defending champs.
Fernando Torres, Spain
Spain's version of Ronaldo comes in the form of striker Fernando Torres.
While he's definitely a notch below the world-class striker, Torres is a very capable scorer in his own right.
After netting two goals against Ireland, Torres has been shut out in Spain's last two games.
The owner of 182 goals in 452 career club appearances will have to rediscover his scoring touch in the semifinal.
If he can find a way to put the ball in the back of the net, Spain will once again be in position to capture the Euro Cup title.