NBA Free Agents 2012: Who Can Replace Eric Gordon for Hornets If He Leaves?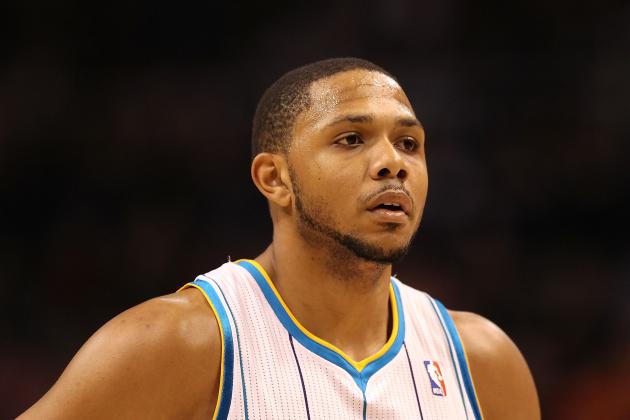 Christian Petersen/Getty Images

After being traded to New Orleans in December 2011, Eric Gordon played only two games for the Hornets before an injury to his knee was discovered, shutting him down for three months.
Though Gordon only playsed in nine games for the Hornets, his 20.6 points and 1.4 steals averages during those nine games were enough to convince the Hornets that they needed to bring him back the following season.
Gordon will become a restricted free agent on July 1, and though some have questioned Gordon's desire to stay in New Orleans, the Hornets have indicated that they would be willing to pay whatever it takes to bring Gordon back to the Big Easy, even if that means paying him the maximum contract of $80 million over five years.
The Hornets would be able to afford this after recent salary cap clearing moves, namely trading Emeka Okafor, and the expected move to buyout Rashard Lewis's contract.
While it is likely that the Hornets' determination to bring Gordon back will result in him playing in New Orleans next season, the front office may decide that their salary cap space could be better used in other ways, namely signing a center to replace Emeka Okafor or making an upgrade at the point guard position.
If Gordon and the Hornets decide to part company, the team has several options that they would almost certainly explore to replace him as starting point guard.
Begin Slideshow

»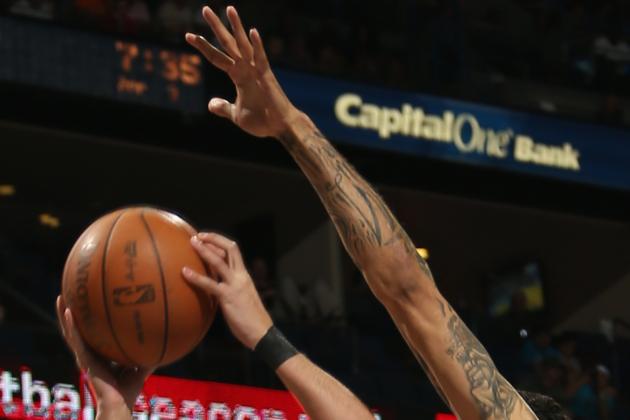 Chris Graythen/Getty Images

Marco Belinelli is a free agent this offseason, after averaging a career-high 29.8 minutes per game last year. He also racked up career-high averages in scoring (11.8 points per game) and rebounding (2.6 boards per game).
Belinelli told Tuttosport that he would like to stay in New Orleans, and that playing for a team with the potential to win a title is important to him.
With the organization under new ownership and the likely arrival of two lottery picks on the horizon, it's an exciting time to be a Hornet, and that could be attractive to Belinelli.
Belinelli isn't the scorer that Gordon is, and though he's slightly better from the three-point line, his career field goal percentage is 28 points lower. Gordon is also much better defensively, and at 23 years old, he has more upside.
The Hornets would clearly prefer to have Gordon as their starting shooting guard, but there are far worse options than Belinelli.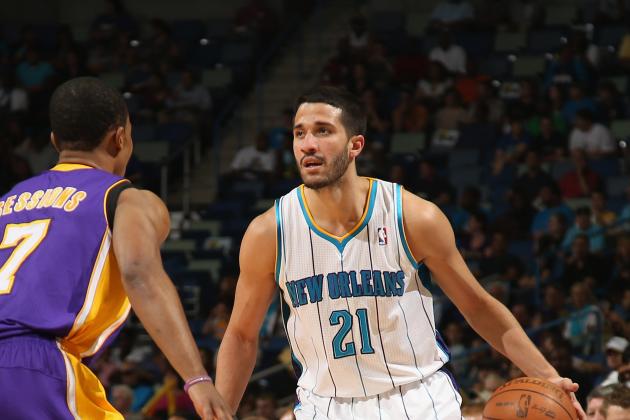 Chris Graythen/Getty Images

Greivis Vasquez was initially slotted for a backup role on the Hornets after the Memphis Grizzlies traded him to New Orleans in December, but after starting point guard Jarrett Jack was hurt, Vasquez ended up starting 26 games.
Over the season, he averaged 8.9 points and 5.4 assists per game, while playing an average of 25.8 minutes.
Though Vasquez is a natural point guard, he's 6'6" and weighs in at 211 pounds, it's easy to imagine him making the transition to full-time shooting guard.
He's a ways off from Gordon's career 18.2 points per game, but with the extra minutes that would come with being a full-time starter and being allowed to play with less of a pass-first focus, Vasquez would be a plausible and significantly cheaper option.
Streeter Lecka/Getty Images

Unless they trade it away, the Hornets have the No. 10 pick in the draft in addition to the No. 1 pick. New Orleans will likely look to use the pick to draft a center to replace the recently traded Emeka Okafor.
The Hornets could decide to find a center through free agency or by moving Jason Smith to the position, and could instead use the No. 10 pick to take the best player on the board.
That player could end up being Austin Rivers.
HoopsHype projects Rivers to be drafted No. 11 by the Blazers, and NBADraft.net has him going at No. 10 to the Hornets. Rivers is a talented ball-handler with a high basketball IQ and great work ethic, and the thought of him making plays for Anthony Davis is surely appealing to the Hornets.
HoopsHype reports that the Hornets have been "enamored" with Rivers.
Finding a center is the top priority for the Hornets, but Rivers might just be too appealing to pass up. Even if Gordon stays in New Orleans, there would be an important role for Rivers on the squad.
If Gordon left, Rivers' arrival would certainly help soften the blow.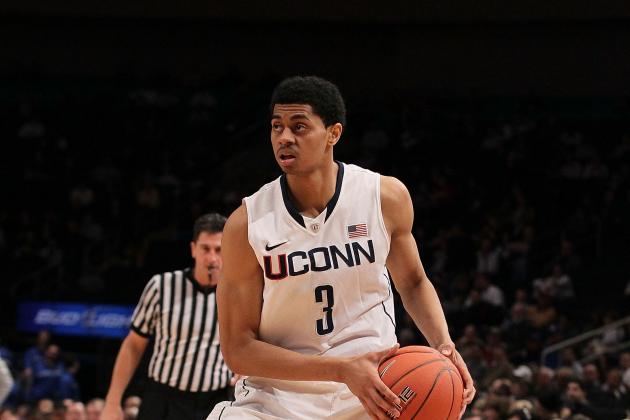 Jim McIsaac/Getty Images

If the Hornets plan to find a center outside of the draft and Austin Rivers is scooped up before the Hornets pick 10th, another possibility they will surely explore is Jeremy Lamb. HoopsHype believes Lamb will be gone by the time it is New Orleans' turn to pick, but other mock drafts have him being drafted between Nos. 10-20.
Lamb declared for the draft after spending two seasons with the Connecticut Huskies. Lamb was not quite the scorer that Gordon was in college, but he produced similarly to Gordon in college.
In his sophomore year, he averaged 17.7 points, 4.9 rebounds and 1.2 steals per game, while shooting .478 from the field and .810 from the free-throw line. In his sole year at Indiana, Gordon averaged 20.9 points, 3.3 rebounds and 1.3 steals per game, while shooting .433 from the field and .834 from the free-throw line.
Lamb is scrawny for an NBA shooting guard, and will have to put on bulk to survive the wear and tear of the pro game.
He can also demonstrate passivity at times, willing to dish the ball to a teammate or shoot an ill-advised jump shot rather than attack the basket.
Still, he's a good shooter with a lot of overall skill, and the Hornets should consider investing in his future.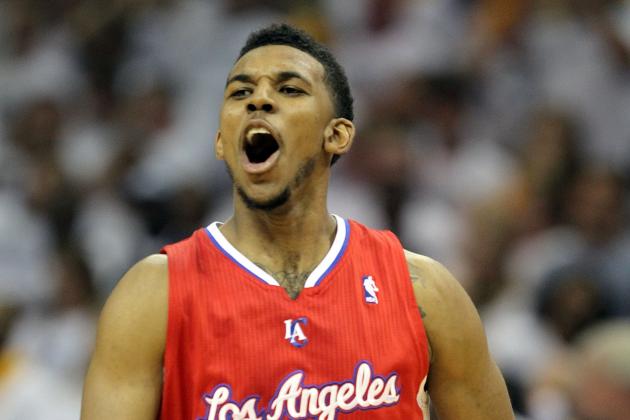 Andy Lyons/Getty Images

There aren't a lot of guards in the league who have averaged 22.9 minutes and less than one assist per game over their careers, but Nick Young has accomplished exactly that. Young passed the ball even less upon joining the Clippers, dropping to half an assist per game.
He can also show a frustrating lack of interest in playing defense and rebounding.
Yet despite his lack of interest in making plays for teammates, Young has a lot going for him. His career field goal percentage is nearly identical to Eric Gordon's, and his career three-point percentage is 41 points higher.
Young hits free agency this offseason, and though he'll likely want to stay with his hometown Clippers, he is a scorer, which the Hornets would need if Gordon departs.
With Anthony Davis in the paint, the Hornets are going to want to find someone who can make plays for the big man as well as score on his own, and there are no options in free agency as suited to that role as Eric Gordon.
If the Hornets are content to let their point guard make plays for Davis and are willing to have their shooting guard serve as little more than a scorer, Young is a credible option for the team.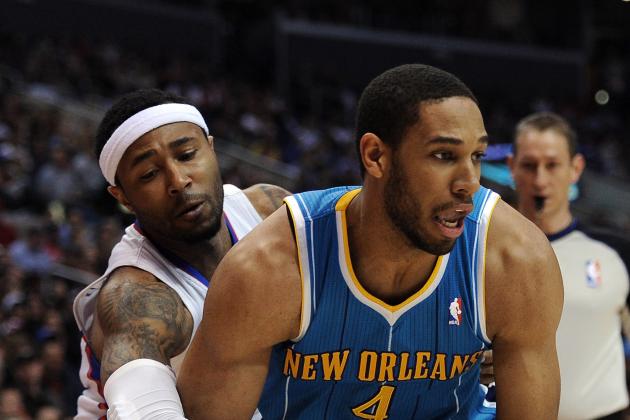 Harry How/Getty Images

A lot of people had high expectations for Xavier Henry when the Grizzlies drafted him No. 12 overall in the 2010 NBA draft. Though it's too early too call him a disappointment, Henry has yet to live up to the potential he demonstrated in his sole year at Kansas.
Henry started 16 games in his rookie season with the Grizzlies and played in 22 others, averaging just 4.3 points and one rebound per game. Henry was traded to the Hornets, and in 2011-12 he averaged more minutes (16.9) despite serving entirely as a bench player.
Henry's still young (21) and could develop further, but it seems that he isn't long-term NBA material. The Hornets surely won't consider him as a solution to the shooting guard position if Gordon leaves, but he could be a temporary stopgap while they search for someone else.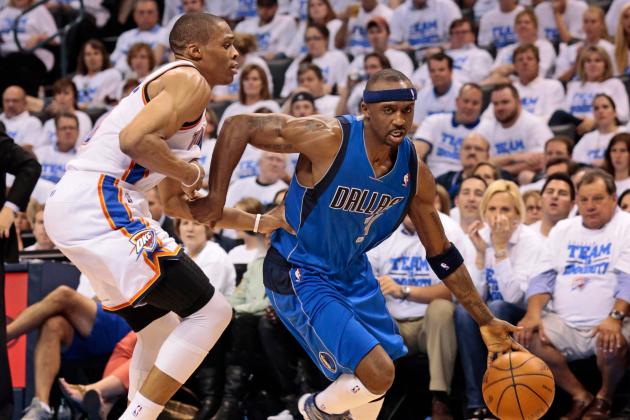 Brett Deering/Getty Images

The Hornets have clearly expressed an interest in focusing on youth in their rebuilding process, and 34-year-old Jason Terry is 11 years Eric Gordon's senior.
Though he isn't the Hornets' long-term solution, there is no one better suited to replace Gordon immediately than Jason Terry.
Terry is one of the best shooters in the game, shooting .448 from the field and .380 from the three-point line. He has averaged 16.1 points per game over his career, and has shown no signs of falling off, scoring 15.1 points per game last season.
He's a good passer, a capable if unspectacular defender, and grabs as many rebounds as Gordon.
Terry has begun to show signs of age, which could lead the Mavericks to balk at granting him the multi-year deal he has requested. The Hornets have the salary cap room to sign Terry, but would likely hesitate to commit to several years to an aging player.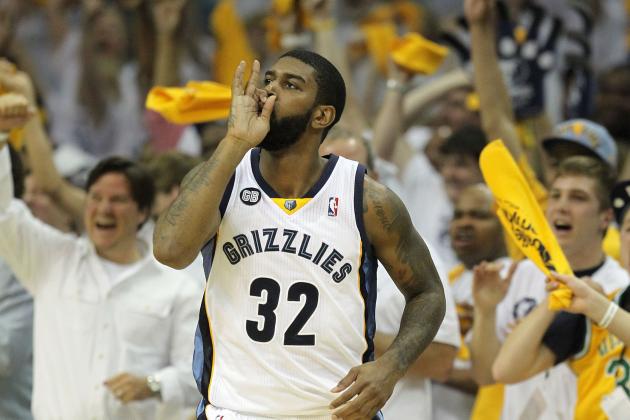 Andy Lyons/Getty Images

The Hornets have shown interest in Mayo in the past, nearly executing a trade for him before backing out at the final hour. Mayo is still young (24), and though he hasn't become the superstar that many in the basketball world thought he would, he has become a solid scorer and an above-average defender.
Mayo has averaged 15.2 points per game in his career, and his scoring has dipped only slightly despite moving from starter to sixth man.
Mayo made a career low 736 field goal attempts last year, down from a personal high in his rookie season of 1,283, and if moved back to a starting role it's easy to see him making up for most of the scoring that would be lost by Gordon's departure.
Gordon is a more complete player than Mayo, but Mayo is better than many are willing to give him credit for, and because of his youth and scoring ability, he would be one of the best options to replace a departing Eric Gordon.