Louis C.K. Suggests Sex Tape for Lolo Jones and Tim Tebow on Tonight Show
June 26, 2012

Streeter Lecka/Getty Images
Lolo Jones stopped by The Tonight Show for a bit on Monday night, and all hell broke loose. Granted, it was a hilarious and beautiful hell. 
Uber-funny comedian Louis C.K. was also on the stage and served as the perfect counterweight to Lolo Jones and the subjects she delved into. 
Yes, I am talking about her virginity. 
For those who haven't seen the hilarity, you can see the video at the official NBC page. 
The video starts with Jones talking about new technology that will help her stave off another hurdles' nightmare like the one she suffered in 2008. 
It involves tiny sensors that blah, blah, blah...we all knew the conversation would land at virginity's doorstep, so we take you there now. 
Jones starts it all by issuing an expletive about when and where she tweets, which immediately warms the room and starts the party.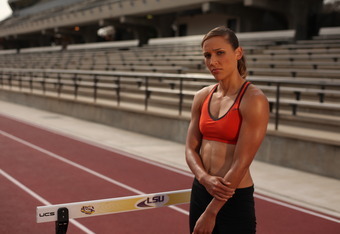 The Olympic hurdler then claims there is backlash for her being a virgin, which beguiles the red-headed jokester. Then he offers: 
I think it's nice, I think it's good. You've got something to look forward to. You're going to like it.
If you thought mention of her virginity was obvious, you are riding on the same train track we are and no doubt saw Tim Tebow coming a mile away. 
Jones mentions she might just invite Tebow to church, which would be the easiest date. 
Picking up the low-hanging fruit, Louis C.K. says that might be a fairly popular video. Hmm, gross understatements are fun. 
As Jones mentions, she offered up information on her virginity months ago, but the news didn't really become a national craze until HBO featured her in a Real Sports with Bryant Gumbel episode. 
It's all in good fun as the nation no doubt loves Jones, but that is about to hit an all new level as she competes for gold in London. 
Follow me on Twitter for more fun and frivolity.