NBA Draft 2012: With the 48th Pick in the Draft, the New York Knicks Select...
June 26, 2012

Jim McIsaac/Getty Images
It's that time again kids, and your New York Knicks are on the clock.
The NBA draft is fast approaching and Newark, NJ is preparing to host the event for the second straight year on Thursday. If you listen really carefully, you can hear Walt "Clyde" Frazier advising the Knicks front office to not be loosey goosey, no stumblin' and bumblin' and that it's time for some movin' and groovin' and wheelin' and dealin'.
All the scouting, working out and interviewing that GM Glen Grunwald and the New York Knicks have conducted is over, and the next big step towards building a championship team begins in about 48 hours.  
Knick fans can rest assured with Grunwald at the helm as this isn't his first time to the rodeo.  Despite the fact that the interim GM tag was only lifted in April of this year after the departure of Donnie Walsh, he has been with the Knicks in a basketball operations capacity since 2006.
While Grunwald's occupancy in the GM role has been brief, he has already made some terrific moves. He executed the three-team sign-and-trade which brought Tyson Chandler and his undeniable champion-caliber defense to a team that drastically needed that identity.  And who can forget about the foresight he showed in signing Steve Novak and Jeremy Lin.  Novakaine only injected three's into the Garden last season like it was nobody's business, while Linsanity injected life, hope and belief into a team, city, and hungry but cautiously pessimistic fan base.  
Just as New York City is always moving forward, the Knicks need to do the same, as last season is in the rear-view mirror.  Grunwald's first "what have you done for me lately?" moment will come in the 2012 draft and his continued success rests on his ability to bring in the right complimentary piece.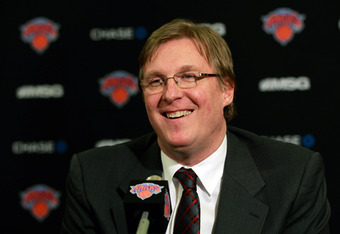 Chris Trotman/Getty Images
He and the Knicks were originally penciled in for the 16th overall pick in Thursday's draft.  If you think back to two years ago, that was all nullified when then GM Donnie Walsh traded away Jordan Hill, Jared Jeffries and this year's 2012 first round pick to the Rockets in exchange for the expiring contract of Tracy McGrady.  
Every Knick fan understood that the motivation and significance of that trade was to create space for the chance to grab LeBron James, Chris Bosh or Dwayne Wade in free agency for the impending 2010-2011 season.
We all know how that turned out.
As the organization focuses its energy on who to take with the 48th overall pick on Thursday night, there are two players I can see fitting in with the Knicks very well.  
One kid that should be high on their board is William Buford, the 6'5"  215-pound shooting guard out of Ohio State.  He's a four-year player like Landry Fields was, and he proved to be a very solid complimentary player to ex-Buckeye and current Philadelphia 76er Evan Turner and fellow draft prospect Jared Sullinger.  Buford's size, strength, basketball IQ and proven ability to play with stars in college would translate very well to this current Knicks team.  
The other kid I like coming out of this draft is Mt. Vernon, NY stud turned West Virginia Mountaineer Kevin Jones.  He's not a sexy pick, but he stands 6'8" 280 pounds, has tremendous hands around the basket and will go get you four to five offensive rebounds a game. Since it became clear last season that Amare Stoudemire can't bang bodies down low anymore and Chandler and Jeffries need some help, Kevin Jones could fit in very well.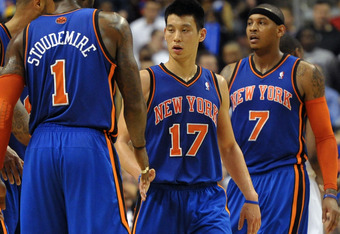 Drew Hallowell/Getty Images
The Knicks already have the sexy marquee players in Carmelo Anthony, Amare Stoudemire, Tyson Chandler and recent sensation Jeremy Lin.  Now they need to focus on combining those talents with smart players that either posses a high basketball IQ or guys who can positively affect the game without the ball in their hands.  
In addition to their anticipated draft choice, the Knicks have also been on the free agent wishlist of veterans like Steve Nash, Jason Kidd, Randy Foye and O.J. Mayo.  And don't forget about Knick neophyte Iman Shumpert, who is scheduled to return by January after having suffered a torn ACL in these past playoffs.
The Knicks front office has a lot of pieces to consider this offseason. Hopefully their magic touch from last year hasn't run out.  
Ultimately, it begs the question to Mr. Grunwald and Mr. Dolan, "what have you done for me lately?"