NHL Free Agency 2012: Start Date, Latest Rumors and More
June 26, 2012

Christian Petersen/Getty Images
An exciting summer of player movement will commence July 1 when NHL free agency begins, when teams will compete for the signatures of the best players available on the market.
Even though there is a chance that next season could be affected by a lockout, any possible work stoppage won't affect the start of free agency since the current CBA doesn't expire until September 15.
Let's look at everything you need to know for free agency, including the latest rumors on the best talents available.
When: July 1 at 12:00 p.m. ET
Top Targets (UFAs)
Zach Parise, LW, New Jersey Devils
Ryan Suter, D, Nashville Predators
Alexander Semin, RW, Washington Capitals
Ray Whitney, LW, Phoenix Coyotes
Shane Doan, RW, Phoenix Coyotes
Dennis Wideman, D, Washington Capitals
Dustin Penner, LW, Los Angeles Kings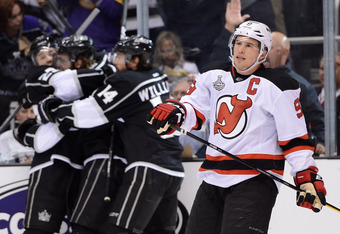 Harry How/Getty Images
Latest Rumors
Ryan Suter might be the answer to the Penguins' woes on the blue line since the team is reportedly interested in his negotiating rights, according to Rob Russo of the Pittsburgh Tribune-Review.
Told #pens are looking into rights to Ryan Suter. They tried similar with Hamhuis 2 years ago #nhldraft

— Rob Rossi (@RobRossi_Trib) June 23, 2012
Veteran forward Jaromir Jagr might not return to the Flyers after an impressive season offensively for Philadelphia. Here's the latest from TSN's Darren Dreger.
Jaromir Jagr enjoyed Phildadelphia, but plans on testing free agency. Also plans to change training to shed some lbs and get faster.

— Darren Dreger (@DarrenDreger) June 18, 2012
Peter Mueller will hit free agency, according to Adrian Dater of the Denver Post, but he will be a risky signing given his injury history.
Defenseman Aaron Rome's tenure with the Vancouver Canucks will likely end, according to Vancouver News 1130.
Epp not surprised no interest from Van but excited about Rome being available on July 1st.

— News1130 Sports (@News1130Sports) June 25, 2012
The Penguins seem to be one of many teams interested in Zach Parise this summer, according to Rob Russo of the Pittsburgh Tribune-Review.
#pens will make play for Parise if they can move Martin, just was told ... Team trying to clear space to find Crosby a winger

— Rob Rossi (@RobRossi_Trib) June 23, 2012
Young defenseman Jordan Schultz will be one of the most coveted players when he can be signed as a free agent.
Justin Schultz becomes UFA at midnight Sunday night. Blue-chip D prospect to meet with agent(s) in Toronto on Tuesday. Will field offers Wed

— Bob McKenzie (@TSNBobMcKenzie) June 23, 2012
Where will the top free agents play next season? Let your opinion be heard in the comment section below.