Are the New York Giants Really "Robbing" Osi Umenyiora?
June 26, 2012

Jed Jacobsohn/Getty Images
Former New York Giants teammate Michael Strahan thinks Osi Umenyiora was "robbed" by the Giants when he signed a one-year, $6 million contract earlier this month. Strahan isn't the first observer to make such a claim—his has been a popular opinion in league circles the last four weeks—but I have a hard time seeing it that way. 
Let's break it down.
Umenyiora will be 31 years old this season. He missed a large chunk of 2011 due to knee problems, missed all of 2008 after damaging cartilage in his other knee and wasn't himself in 2009. In other words, he's probably beyond his prime and has been affected significantly by injuries in three of his last four seasons.
Additionally, Umenyiora bluffed unsuccessfully at the team last year, threatening to hold out long-term before showing up for training camp late. There was no reason to believe that Umenyiora would conduct himself any differently this year, especially considering the heavy fines attached to missed camp practices under the new collective bargaining agreement.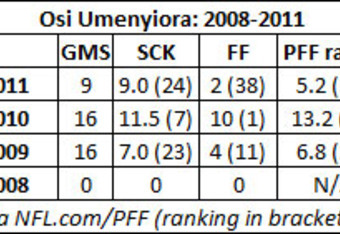 In other words, Umenyiora, who was still under contract for 2012, lacked leverage entirely. 
And yet with those circumstances in mind, the Giants still decided to do the right thing and give Umenyiora a raise of approximately $1.8 million for this season alone, allowing Umenyiora to enjoy more financial security as well as a chance to earn a more lucrative long-term deal as a free agent in 2013.
Who robbed whom?
The Giants could've take a hard-line stance again. They had the aforementioned leverage, and they clearly have the defensive line depth to survive without Umenyiora. But they know that they're better off in 2012 with Umenyiora healthy and happy. They knew they could have him either way, but they still paid him.
We hear over and over again that this is a business. And while it's almost impossible to compare this scenario to the "real world," I can't imagine many companies would be willing to give an employee in Strahan's position a 38 percent raise.
Reigning defensive player of the year Terrell Suggs is younger and less prone to injury (recent Achilles problem notwithstanding), and yet he's only slated to make an average of $6 million over the next three years. 
Jason Babin's a year older than Umenyiora, but a lot fresher, has less baggage and has been more productive recently. And yet Babin is getting less than $6 million per year from Philadelphia. Umenyiora will make more than him this season.
Cameron Wake is younger than Umenyiora and, according to Pro Football Focus, has been the most productive pass-rusher in the NFL over the last three seasons. He had the leverage and got a long-term deal from the Dolphins, and yet Wake's still making less than $7 million a year. 
The reality is that, with his baggage, a guy like Umenyiora isn't worth Tamba Hali money or Jared Allen money or DeMarcus Ware money. 
So is a one-year, $6 million deal for an older, leverage-deprived, injury-prone Pro Bowl pass-rusher really an example of football robbery?
Strahan and Umenyiora's agent, Tony Agnone, both believe that Umenyiora is worth more, but one's value is relative not just to his performance, but also to his circumstances. 
Strahan claimed that Umenyiora "just didn't take advantage of it at the times when he should have." In other words, he should have played hardball. And sure, had Umenyiora stuck to his guns and held out for a longer period of time last year, things might have been different.
And if that's the case, Osi robbed himself.