Austin Rivers: Finding the Perfect Home for the Talented Guard
June 26, 2012

Streeter Lecka/Getty Images
Austin Rivers is one of the more curious players entering Thursday's NBA Draft.
What do I mean by curious?
You could argue he's one of the most over-hyped players because he'll probably be selected in the top 15. He's coming from a well-respected basketball program and has a nice jumper. His game winner against UNC last season was obviously huge. But you have to wonder if his stock is somewhat inflated because of one shot.
And the fact that he's coming from Duke says it all; there's as much upside to him as there is reason to believe he'll never pan out to be a real winner in the league.
Head coach Mike Krzyzewski began coaching Duke in 1980 and has had only two players over that span of 32 years go on to win an NBA title. One was Danny Ferry with the Spurs in 2003, and the second was this month with Shane Battier taking one home with the Miami Heat.
It kind of says it all about Austin Rivers; he could be a good player in this league, but for various reasons. it's hard to imagine him playing at a level for an elite team that would win him a championship. He's as much a ball hog as he is a terrific ball-handler.
So if he's not a winner, why do most mock drafts have him going as high as No. 11 to the Portland Trail Blazers?
On one hand, he'll develop a nice jumper in the NBA and should be seen as more than just a spot-up shooter because of his ball-handling skills. But he's not a point guard yet and, because of his size at 6'4", is seen more as a combo guard than a true shooting guard.
If he can become a true point guard, much like Russell Westbrook is being asked to do in Oklahoma City after spending his college career doing anything but running the point, Rivers will be a steal.
Since most mock drafts have him going to Portland with the No. 11 pick, let's first take a look at how he'll fit in to their system.
First off, Portland's two main guards, Raymond Felton and Jamal Crawford could very well be gone from the team next season.
Crawford is testing free agency and seems to want more money than the $5 million the Blazers would offer him. Felton has expressed interest in a number of teams, including a possible return to this New York Knicks, however unlikely that may be, and seems intent on leaving the Trail Blazers during the offseason.
So it makes sense that the Blazers would be looking for another guard who could either fill in for Crawford at shooting guard or potentially run the point if Felton takes off.
Rivers no doubt has the potential to fill either roles. Playing with LaMarcus Aldridge is no doubt going to make him a better player. Aldridge commands a double team and will open spaces for his teammates, and Rivers will be able to either come off a high screen from the big and pull up for the jumper or cut to the rim with his impressive speed.
With Crawford perhaps on his way out, the Blazers will look to Rivers to score in bunches, much like Golden State asked Stephen Curry to do in his rookie year.
The Blazers make sense for Rivers, and going there could be a make-or-break situation for him in his rookie season. It's one of the rare instances in the draft where, despite all of the questions surrounding a player, the team that's supposed to draft him could in fact make all the difference.
He could be one of the best players in his class if Crawford and Felton use their free agency to go elsewhere. On some nights, it's very possible that the team will rely on the rookie as their primary source of scoring.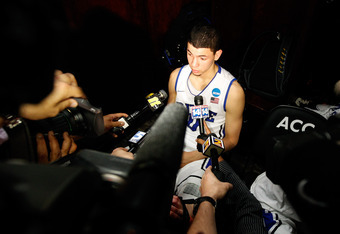 Streeter Lecka/Getty Images
The Blazers might not have a shot at getting him, though. The Hornets own the pick right before the Blazers and could use it on Weber State's Damian Lillard but could take Rivers instead.
New Orleans just traded Emeka Okafor and swingman Trevor Ariza for Rashard Lewis and the $23.7 million owed to him next season. If the Hornets are smart, they will buy him out for a fraction of that price and free up some cap space, instead of making Lewis the second highest paid player in the league behind only Kobe Bryant.
But Rivers won't get as much of an opportunity to shine in New Orleans for two reasons. For one, he'll be in the shadow of No. 1 overall pick Anthony Davis. In both his personality and his playing style, Rivers can be a bit of a me-man, meaning, for better or worse, he loves the spotlight.
Also, while he was definitely the man at times at Duke, he'll have to take a backseat to other guards like Eric Gordon, Jarrett Jack and maybe even Greivis Vasquez if he gets more minutes this season. It wouldn't be an ideal situation for Rivers if he hopes to make an impact right away.
The team will be focusing on developing Davis and running the offense through him, and Rivers will have to see himself as just another role player who would spend a lot more time warming the bench than if he were in Portland.
If New Orleans and Portland passes on Rivers, look for Dallas to take a look at him. 
I love Jason Kidd. He's one of my all-time favorite players to watch. But he's approaching 40 and even he probably knows he probably shouldn't be playing starters' minutes anymore, for his own sake and for the sake of the Mavericks. It's a fact of life that makes those of us who watched him in New Jersey fly down the court on the fast break feel pretty old.
But Dallas could very well land Deron Williams for next season. It would still make sense for the Mavs to draft Rivers because it'd be a long-term investment. Kidd won't be in the pictures in a few years from now, perhaps beyond next season, so Rivers could be a backup to Deron.
It'd be an amazing opportunity for the rookie to be the disciple of two of the best point guards in the game, but if that situation pans out, then look for Rivers to be buried on the bench for next season, possibly even longer if the Mavs keep Delonte West and Roddy Beaubois. 
I think Portland is the best scenario for Rivers. Then it would be New Orleans, but there are questions there with how he'll handle taking a back seat to the spotlight on Anthony Davis.
In Dallas, it'd be a long-term investment, but he could be the shooting guard of the future for the team or a Sixth Man of the Year candidate if he can truly transition to point guard duties and possibly even back up Deron Williams.
Drafted by the right team, he could prove his doubters wrong immediately. But teams need to consider whether Rivers' love for the spotlight is a good or bad thing and whether his fit will be a detriment in the team's rebuilding phase.