Urban Meyer Gets Player Discipline Right While Notre Dame's Brian Kelly Does Not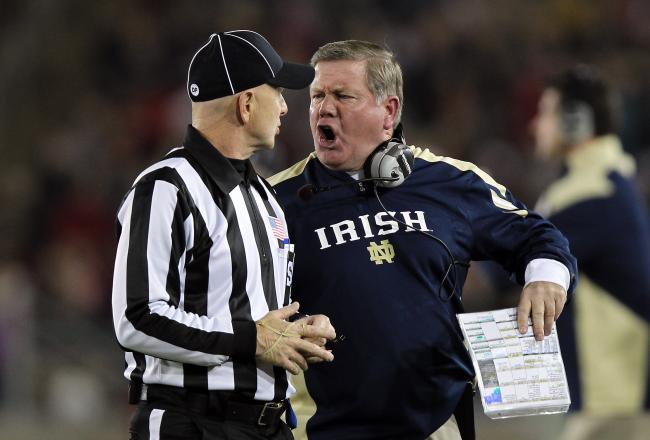 Ezra Shaw/Getty Images
Brian Kelly made waves in the college football community when he responded to the offseason arrests of backup quarterback Tommy Rees and linebacker Carlo Calabrese in a physical altercation with police by revoking the two players' scholarships for the summer and making them earn their way back onto the team by fall.
Meanwhile, Urban Meyer surprised nobody with his lax approach to discipline by letting Jack Mewhort and Jake Stoneburner come back to the team for practice. Meyer defended the move by saying the two players were seniors and they didn't resist arrest, so it wasn't that serious.
Wait, wait, wait, hang on, we got that one all wrong. It was Brian Kelly who cleared his two arrested players for to summer practices, per ESPN.com on Tuesday, while Urban Meyer stripped his offense's two senior leaders of their scholarships and took them out of the program for the summer.
Which coach did the right thing for his players?
So can this be true? Can Urban Meyer, he of the lawless Florida regime, at notorious Ohio State, seriously be taking his players' offseason arrests more seriously than saintly Notre Dame?
Yes, Rees and Calabrese are both innocent until proven guilty. This is America, after all. But Rees is facing four misdemeanor charges for his role in the altercation, and Calabrese is in hot water for allegedly making threatening comments to the police.
Those are far bigger deals than sprinting away from the scene of what we'll call "unlicensed grass hydration," getting charged with interference with official acts and pleading guilty to disorderly conduct, which is how Mewhort's and Stoneburner's legal progression went. It's outright idiocy on their part, for sure, but it utterly pales in comparison to what allegedly went on in South Bend.
There are justifications for Brian Kelly's soft approach to Rees and Calabrese, of course. Think of the kids! They've never been arrested before! The South Bend Police Department is a joke! All of those are valid in their own way.
And if you don't have a higher moral code to uphold, you can use those reasons and probably dozens of others (depending on your imagination) to get yourself to the point where Rees and Calabrese should be back on the field.
And yet, Notre Dame is supposed to be the school with that higher moral code. And Urban Meyer and Ohio State are supposed to be the two entities that win at all costs—damn the message it sends. So what this proves is that "supposed to do" always loses to "actually doing," and what Ohio State and Notre Dame have actually done with their offseason arrests tells us everything we need to know about Brian Kelly and Urban Meyer.
And if anyone can tell us what those "Notre Dame values" actually are anymore, with evidence, that'd be great, because there probably isn't another program in college football that's let more stuff slide in the last few years than the Fighting Irish, and it's time to acknowledge that.
This article is
What is the duplicate article?
Why is this article offensive?
Where is this article plagiarized from?
Why is this article poorly edited?

Ohio State Football: Like this team?