Hakeem Nicks and Fantasy Gambles That Will Ruin Your Season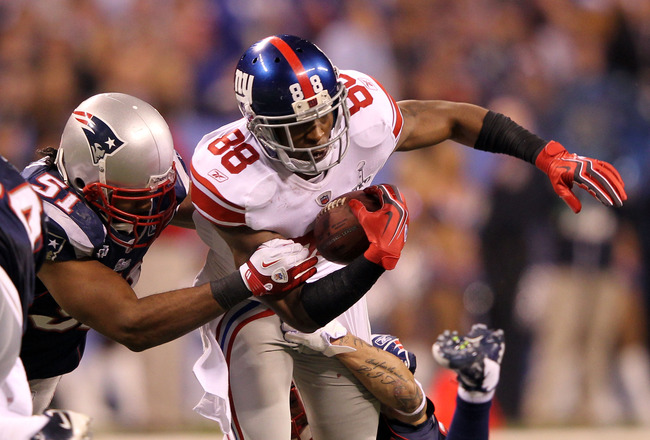 Jamie Squire/Getty Images
Just as is the case every season in fantasy football, there are a number of prominent players this year that carry with them both significant risk and the potential for significant reward, making the selection of one or more of these players the sort of gamble that can define a fantasy season.
For some of those players, however, the chances are just too great that they will suffer a disappointing season to justify using an early round selection on them, and here's a look at a handful of such NFL stars.
Hakeem Nicks, WR, New York Giants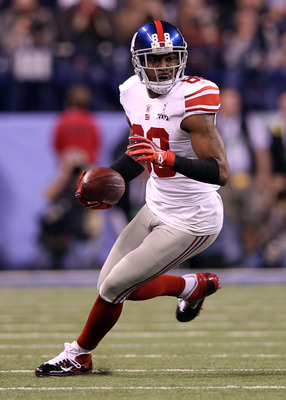 Elsa/Getty Images
New York Giants wide receiver Hakeem Nicks enjoyed his second straight rock-solid season in 2011, racking up 76 catches for 1,192 yards and seven scores en route to finishing the season as fantasy football's 12th-ranked wide receiver.
However, a foot injury suffered in organized team activities has cast a cloud of doubt over Nicks' fantasy football value for the upcoming season.
It was originally reported that Nicks could miss up to 12 weeks, which would have put his availability for the beginning of the regular season in doubt. However, Nicks recently told WFNZ Radio in Charlotte via Sports Radio Interviews that he will "definitely make training camp," which begins next month.
If Nicks can fulfill that optimistic prediction and get back on the field for camp, he may well work his way off this list.
That said, as things stand today, Nicks is being selected as the fourth wide receiver off fantasy draft boards according to MyFantasyLeague.com, and it's an awfully big risk to not only assume that Nicks will be fine but also that he will significantly outperform last year's fantasy finish.
Drew Brees, QB, New Orleans Saints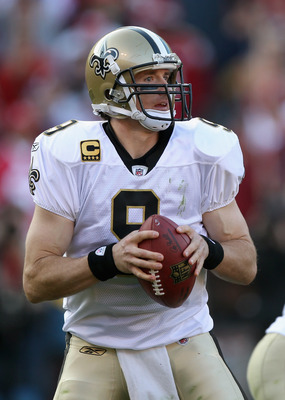 Jed Jacobsohn/Getty Images
After throwing for an NFL-record 5,476 yards last year, quarterback Drew Brees and the New Orleans Saints have suffered through a nightmarish offseason, as the "Bountygate" scandal that rocked the team has served as a monstrous distraction that still hangs over the team.
That's not the only distraction facing the Saints either. Brees has to this point balked at signing his franchise tag tender, skipping OTAs and minicamp while pursuing a long-term contract extension with the club.
Granted, in all likelihood, either a deal will get done or Brees will sign the tender, and as Brees demonstrated last year, the 12th-year veteran is more than capable of posting big numbers after an abbreviated offseason.
However, after a record-setting campaign such as 2011, a statistical regression is likely, and Brees' contract impasse just makes that regression even more probable.
Brees is presently being selected early in the second round of fantasy drafts, and that's a mighty steep price to pay for Brees given all the uncertainty hanging over him and the Saints right now.
Darren McFadden, RB, Oakland Raiders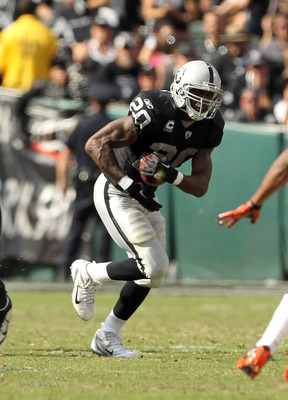 Ezra Shaw/Getty Images
Through six games last season Oakland Raiders running back Darren McFadden seemed to set to pick up right where he left off in 2010. The fifth-year pro averaged over 125 total yards per game over that stretch, scoring five touchdowns.
However, McFadden went down in Week 7 with a foot injury that would linger before finally sidelining him for the rest of the season.
Therein lies the rub with the McFadden. Sure, the talent's there, as evidenced by his back-to-back top 10 finishes among running backs in fantasy points per game.
Durability is always a huge question mark with McFadden though, as the former Arkansas star has yet to make it through a full 16-game schedule in his NFL career.
Despite this risk, McFadden is being taken as the seventh running back off fantasy draft boards ahead of the likes of Adrian Peterson of the Minnesota Vikings and Jamaal Charles of the Kansas City Chiefs.
The latter duo may have suffered more severe injuries than McFadden did last year, but they also don't have his rather extensive injury history either. That history makes McFadden quite possibly the riskiest of the top 10 running backs in fantasy football this season.
Rob Gronkowski, TE, New England Patriots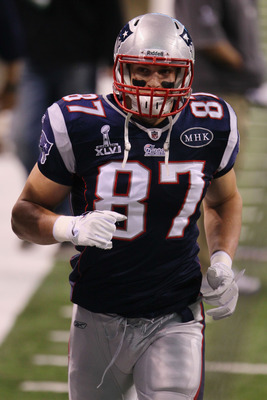 Jeff Gross/Getty Images
To call Rob Gronkowski's second season in the National Football League a success would be an understatement almost as massive as the New England Patriots tight end himself.
Gronkowski exploded for 90 receptions and 1,327 yards in 2011, setting an NFL record for touchdown receptions in a season by a tight end with 17 and finishing as fantasy football's top tight end by a sizable margin.
However, fantasy owners drafting Gronkowski early in the second round are setting themselves up for disappointment.
Whether it's his surgically repaired left ankle, the improvements made to the Patriots' wide receiver corps or the statistical regression that almost always follows such a gaudy season, there are a number of reasons to think a backslide is in order for Gronkowski this year.
Should that backslide occur, many fantasy owners will be left grumbling about Gronkowski was a "bust" in 2012, when in actuality he is a prime example of the fantasy risk involved in chasing last year's numbers.
Maurice Jones-Drew, RB, Jacksonville Jaguars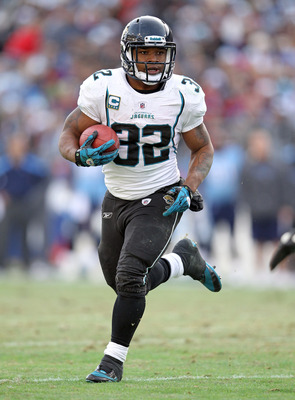 Andy Lyons/Getty Images
Jacksonville Jaguars running back Maurice Jones-Drew led the National Football League in rushing in 2011, rumbling for 1,606 yards and eight touchdowns on the way to finishing the season as fantasy football's fourth-ranked running back.
However, there are a number of reasons why selecting Jones-Drew as a first round pick and top-five running back in fantasy drafts this summer is a risky proposition at best.
First, there's the matter of the fact that Jones-Drew has now accrued over 1,750 career touches, is battling chronic knee issues and will be the saddled with the task of trying to move the ball on the ground for quite possibly the worst offense in the NFL this year.
Even at 100 pecent, Jones-Drew would be hard-pressed to back up last season's production.
It's entirely possible though, that Jones-Drew won't be at 100 percent, at least early in the year. The seventh-year pro has skipped OTAs and minicamp and wants a new contract.
If you'd like an example of what effect a protracted holdout can have on a player's fantasy production you need look no further than Tennessee Titans running back Chris Johnson, who had far and away the worst season of his four-year career after a very similar situation last year.
Keep Reading