Germany vs. Italy: Predictions For Massive Semifinal Clash
June 26, 2012

Alex Livesey/Getty Images
Only four teams are left standing at Euro 2012. For Germany and Italy, that means a long-awaited rematch in a major semifinal.
Fabio Grosso sealed victory in extra time for the Italians last time, but what can we expect to see in this outing?
Both sides have made wholesale changes to their squads since that day in 2006.
Philipp Lahm, Miroslav Klose and Lukas Podolski are the only returning starters for Germany, While Gianluigi Buffon and Andrea Pirlo are the sole survivors for the Azzurri.
The stage is set.
Will Joachim Loew lead his men to their second consecutive Euro final appearance? Or will another Pirlo masterclass propel the Italians to glory?
Only time will tell, but here are a few predictions of what may happen on Thursday.
Marco Reus will start for Germany
The 23-year-old Reus made his Euro debut in Germany's comprehensive 4-2 thrashing of Greece in the quarterfinal last week.
His tricky play on the wing left Greek defenders in knots, and his ability to fashion numerous chances in and around the box made him my man of the match.
It was his first start for the national side, and surely there will be many more to come.
He marked the occasion with an emphatically struck finish and dangerous play throughout the 90 minutes in Warsaw.
Thomas Muller will be left wondering how and where he went wrong, but at the end of the day, it's all about who's in the best form at these tournaments.
Pirlo will chip Neuer on a penalty
The German defense has looked far from secure at Euro 2012 thus far, and conceding a penalty to the twinkle-toed Italians is not out of the question.
I see Mario Balotelli charging into the box and just as he is about to pull the trigger, Holger Badstuber sweeping his legs from under him.
From there, Balotelli will turn to the referee and give him one of his classic death stares. The official (in fear) will have no other option but to point to the spot.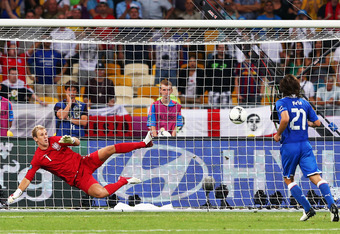 Alex Livesey/Getty Images
Up will step Pirlo to pit his wits against one of the top goalkeepers in the world right now in Manuel Neuer.
Skeptical of Pirlo's audacity to pull off the chip again, Neuer will dive to his left, and watch hopelessly as the ball slowly balloons into the back of the net.
Italy will win 2-1 in extra time
After going behind to a typical thumping Mario Gomez header, the Italians will swing the momentum in their favor for majority of the second half.
In the 85', Pirlo will have his moment.

Things will remain tense for a good portion of the two 15-minute periods of extra time, until the deadlock is finally broken in the 115' by "Super Mario" Balotelli.
Can we expect to see any emotion in his celebration after such a monumental goal?
That is left to be seen, but let's hope his teammates won't have to cover his mouth this time.