Lamar Odom Rumors: Dallas Mavericks Wise to Allow Troubled Star to Shop Himself
June 26, 2012

Stephen Dunn/Getty Images
Unless the Dallas Mavericks can convince Lamar Odom to push back the deadline, the franchise has until June 29 to decide to either pay the full $8.2 million the former Sixth Man of the Year award winner is owed for 2012-13, cut him for $2.4 million, or find a willing suitor in the trade market.
In order to facilitate the latter, Mike Fisher of DallasBasketball.com is reporting that the team has given Odom and his agent permission to find an organization interested in bringing in the troubled player.
im told that in working toward #Mavs move of deadline, theyve given Odom permission to shop himslf (#Clippers, others)

— mike fisher (@fishsports) June 26, 2012
It will certainly be tough for the Mavs to find any takers, as Odom is due an absurd amount of money compared to his production during the 2011-12 season. He played in just 50 contests and averaged 6.6 points per game and 4.2 rebounds per game, which are below half his career averages.
GMs around the league also know they will have a chance to sign Odom in free agency for a cheaper cost, as there is simply no way the Mavericks would want to pay $8.2 million to keep Odom around after parting ways with him in the midst of their title defense. He's a locker room cancer and will certainly be gone, trade or no trade, by June 29.
The one and only team that should have any interest in trading for the disgruntled forward is the Los Angeles Lakers.
According to David Lord and Fisher, if Odom agrees to push his buyout date back from June 29 to some point after June 30 (when the 2011-12 regular season officially ends), he can be traded to L.A. If he does not consent to the new buyout clause, Odom would have to wait until December to rejoin his former franchise.
Considering that the Lakers bench was sorely lacking, and the team faltered in the postseason once again in 2012, bringing Odom back might not be such a bad call.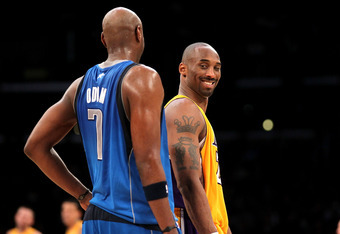 Stephen Dunn/Getty Images
The move would give Kobe Bryant a familiar teammate that knows how to thrive with a roster that has not changed much since his departure in December of last year.
Dallas has to be hoping that the Lakers are one of the organizations that Odom decides to reach out to over the next few days. They are likely the Mavericks' only hope of finding a trade before having to eat the $2.4 million buyout.