NBA Draft 2012: 1 Tempting Mistake Each NBA GM Must Avoid in 2012 Draft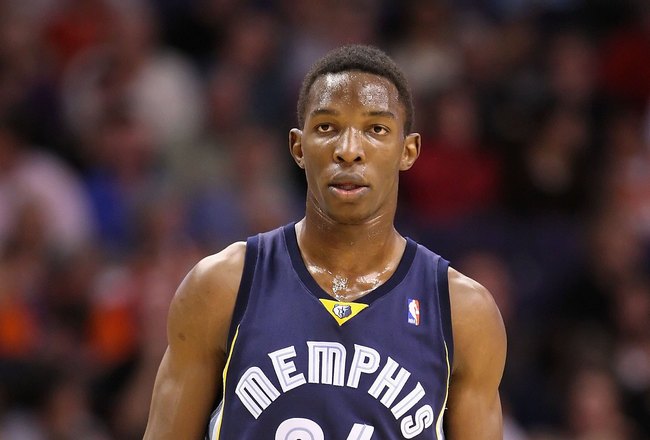 Have you seen this man?
Christian Petersen/Getty Images
Every NBA team enters the draft with a goal or two in mind.
Some are short-term, some are long-term, all of them are dependent on the team's current situation, record, roster, cap space, goals of ownership or place in the previous season's standings.
Drafts are interesting situations.
After all the scouting, all the rumors, lists of players, talks about talent and potential and workouts. After all of that, once the draft starts, things can change quickly.
A trade, an unexpected offer, a player unexpectedly dropping down the draft board.
Things can change, but each team's general manager has a mission and needs to stay focused on that mission.
On draft night, here's one potential pitfall that each NBA general manager needs to be wary of, and ultimately must avoid.
Atlanta Hawks: Danny Ferry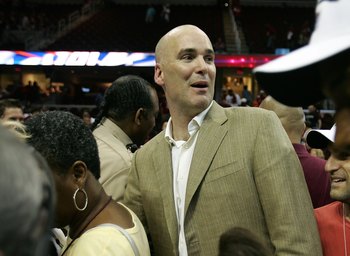 New Atlanta Hawks general manager Danny Ferry doesn't have much time to prep for Atlanta's Draft.
Jonathan Daniel/Getty Images
Don't be tempted by "potential."
Yes this could be applied to nearly every team. Except in Atlanta, there's some recent bad history, and quite frankly, the team is good enough that finding a solid player to come in and play right away may have far better implications than waiting on some sort of great "talent."
In the 2005 draft, the Hawks were tempted by the hype surrounding freshman forward Marvin Williams from the University of North Carolina.
That temptation caused them to lose sight of the team's more specific, pressing need at point guard. Selecting Williams at No. 2 rather than choosing either Chris Paul or Deron Williams is a mistake the team still has not fully recovered from.
With the No. 23 pick this year, Atlanta won't have access to players with the type of raw talent that they were in 2005, but the same warning still applies.
The Hawks don't need to grab some sort of under-the-radar superstar at this point; they just need to stay focused on the more short-term goals.
The Hawks were an injury-plagued team that lost in the first round of the NBA playoffs last season; next season, with health and some new productive players, they could be poised for a deeper run.
Boston Celtics: Danny Ainge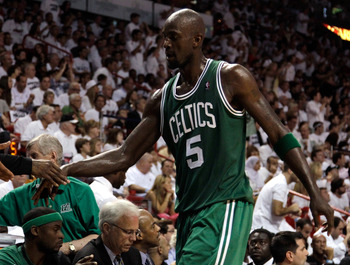 Kevin Garnett might not be back next season. That doesn't change what the Celtics' greatest need is.
Mike Ehrmann/Getty Images
This team needs rebounding regardless of Kevin Garnett's status.
Kevin Garnett came up huge in the 2012 playoffs. He was a leader for the Celtics on and off the court. Garnett was the team's leading rebounder and one of the top rebounders in all of the NBA for the postseason.
Even with those impressive accomplishments, it doesn't change one key fact.
The Celtics were a terrible rebounding team last season.
They were last, dead-last in the NBA in rebounds per game. They even finished below the Charlotte Bobcats in that statistic.
There are many things that Kevin Garnett's potential retirement will impact next season, and Danny Ainge is right to want to take KG's future into account when making roster moves.
None of that changes the fact that Boston needs to get more rebounds next season no matter who is wearing green and white.
Brooklyn Nets: Billy King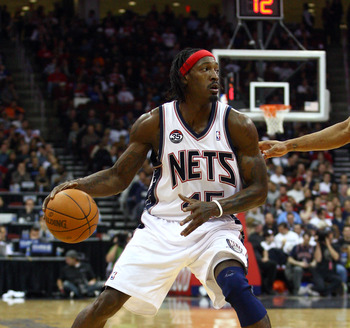 Gerald Wallace is a big reason why the Nets don't have a first round draft pick this year.
Chris Chambers/Getty Images
Don't get antsy sitting on the sidelines.
No one likes to sit on the sidelines watching the top basketball prospects in the world be picked by every team but their own.
The Brooklyn Nets don't have a first-round draft pick this season. That's a result of several trades, the most recent and relevant one being the March of 2012 deal that brought forward Gerald Wallace to Brooklyn (New Jersey at the time) in exchange for the Nets' lottery pick.
The pick was protected, but only if the Nets were able to land in the top three. Instead, the Nets landed at No. 6 and the pick went to the Blazers.
There will be other drafts; in fact, there will be another one every year. Don't overpay to get into the first round of the current one. On draft night, everyone loves having a top pick, but the path to a top pick is paved with losses.
Overpaying to get into the draft late in the game could have serious long-term consequences, and Nets general manager Billy King needs to focus on making immediate improvements.
Charlotte Bobcats: Rich Cho
Charlotte Bobcats owner Michael Jordan will need to be patient as his team rebuilds.
Streeter Lecka/Getty Images
You can't rebuild in one draft.
Even if the NBA draft lottery had gone as planned and the Bobcats had won the first pick in the draft. Even if Anthony Davis was as good as signed, sealed and delivered to Charlotte.
Even under those ideal circumstances, the Bobcats would in all likelihood be back in the draft lottery again next season.
With that in mind then, perhaps trading down in this draft isn't the worst decision in the world.
Bradley Beal, Thomas Robinson and Michael Kidd-Gilchirst are all solid NBA prospects, but none of them are taking the Bobcats to the playoffs next season.
New general manager Rich Cho must not fall in love with any one specific player. Davis is the only truly unique talent in the draft. His shot-blocking ability alone will make him an impact player on defense from the outset of next season.
Davis isn't coming to Charlotte, though, so maybe trading down isn't the worst idea.
Chicago Bulls: Gar Forman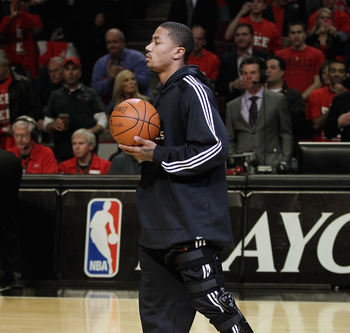 Bulls superstar Derrick Rose is injured, but he'll be back.
Jonathan Daniel/Getty Images
Derrick Rose will be back; prepare accordingly.
Even if Derrick Rose's recovery from ACL surgery is not going as well as recently reported. Even if he misses the entire 2012-2013 season. He will be back.
Rose is a talented, driven, under-the-age-of-25, former MVP winner. There's no reason to panic. You don't need to give up something of value merely to acquire a point guard that the team won't need after next season.
In 1996, the San Antonio Spurs lost their best player, David Robinson, to a series of injuries, first a bad back, and then a broken foot.
It was a lost season for the Spurs. It didn't seem so "lost" when they won the draft lottery and ended up selecting Tim Duncan, who would go on to lead the Spurs to four NBA titles.
The Bulls have a bright future regardless of how the 2012-13 season pans out.
Cleveland Cavaliers: Chris Grant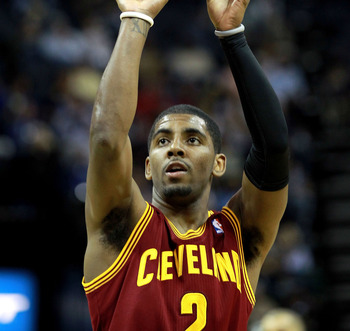 Cleveland is on the right path with Kyrie Irving at point guard.
Andy Lyons/Getty Images
Don't be tempted to trade up.
Maybe Bradley Beal is going to be a superstar in the NBA? Maybe not, though. In fact, it's not even dead certain that he'll be selected by either Charlotte or Washington, the two teams that pick ahead of the Cavs in Thursday's draft.
What does appear certain is that Cleveland may be open to trading its two first-round picks to move up and select Beal.
Beal probably isn't going to be a bust. Then again, he's not a total can't-miss prospect either. In a deep draft, being able to select two players in the first round could very well end up being a huge score for the franchise.
Putting all your eggs in one basket might not be the best idea this season.
Dallas Mavericks: Donnie Nelson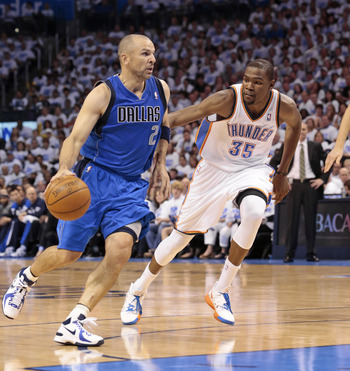 Jason Kidd's free agency will leave the Mavs with a serious and immediate need.
Brett Deering/Getty Images
Don't draft a point guard this year.
The NBA is currently in a golden age of point guards.
The list of great point guards is as talented as at any other time in NBA history.
As a result of free agency, the Dallas Mavericks are without a point guard. Jason Kidd and Delonte West are both free agents. Even Jason Terry, who is not a natural point guard, is on the free-agent market as well.
If Dallas were in a rebuilding mode, then perhaps picking point guard at No.17 would make sense.
For a team that just won the NBA title in 2011 and has an aging, but extremely talented future Hall of Fame forward named Dirk Nowitzki, the time to win is now, or at least in the next few years.
It's very hard to find a point guard to step directly into the NBA and lead a team. It's nearly impossible to find that player at No. 17 in the draft, especially when you're drafting to improve the team in the short-term.
Dallas will be one of the teams at the top of free-agent star point guard Deron Williams' list of potential destinations. Even if they don't end up with Williams, there are other options out there, and all of them will come with more NBA experience than a player selected in the draft.
Denver Nuggets: Masai Ujiri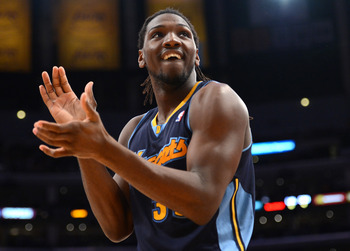 Nuggets G.M. Masai Ujiri scored a gem at No. 22 last year with Kenneth Faried.
Harry How/Getty Images
Don't deviate from last year's formula.
Last year, the Denver Nuggets had the No. 22 pick in the first round.
Whatever formula Nuggets G.M. Masai Ujiri used to evaluate talent worked like a charm. Denver plucked a driven, talented and almost immediately productive player at No. 22. Kenneth Faried had an excellent rookie season and appears headed for a solid NBA career.
This year, Denver picks a little higher at No.20. There's no reason for Ujiri to doubt his instincts this season.
Detroit Pistons: Joe Dumars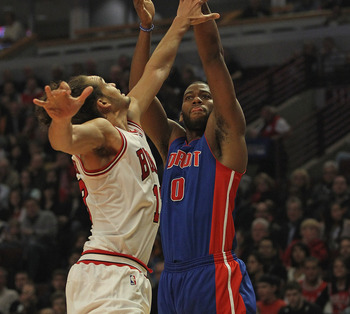 Joe Dumars needs to get Greg Monroe a little help down in the low-post.
Jonathan Daniel/Getty Images
Don't underestimate the value of athleticism.
As a general rule, this isn't a problem in the NBA. Yet the Detroit Pistons really do need to get more athletic, though.
Detroit has one of the hardest working, consistent young rebounders in the NBA in Greg Monroe. No one will ever accuse the young man of surviving on spectacular dunks or blocked shots though.
That lack of leaping ability gets Monroe in foul trouble sometimes. Detroit has a high pick in a deep draft for big men. General manager Joe Dumars has a chance to get Monroe the support he needs on the low-blocks; he shouldn't pass it up.
Houston Rockets: Daryl Morey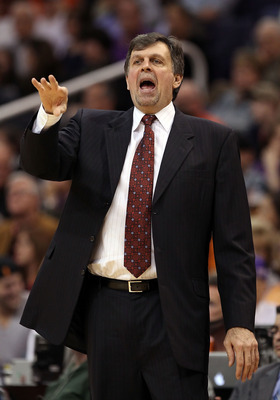 Rockets' head coach Kevin McHale's squad will have a different look next season.
Christian Petersen/Getty Images
As of now, this team needs to make a trade.
Why "as of now?"
Well, because at this current moment, the Rockets possess too much of a good thing.
That "good thing" is three first round picks. At 14, 16 and now 18. The third and final pick was recently acquired from the Minnesota Timberwolves.
There's nothing wrong with having three first-round picks, but it's not the right fit for a Rockets team that barely missed the playoffs last season.
If Houston can package two or even all three of those picks to acquire one or two current NBA talents, then the Rockets will be on the fast track back to the NBA playoffs.
It can be easy for a general manager to get too wrapped up in college players. That would be fine for some teams, but not for this current Rockets team.
Golden State Warriors: Bob Myers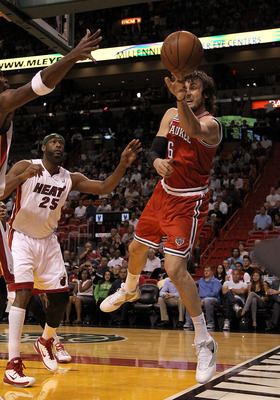 Now that Golden State has Andrew Bogut, the team's needs are clear.
Mike Ehrmann/Getty Images
Must not be tempted by pure upside; stay focused on specific needs.
OK, Warriors, you've gotten yourselves into a good situation.
A promising coach in Mark Jackson. A starting five that has four positions filled by talented players. Stephen Curry at point, last year's first-round pick, Klay Thompson, at shooting guard, David Lee at power forward and former No. 1 overall pick Andrew Bogut at center.
Obviously, the Warriors need a small forward. In fact, if Golden State can find a small forward that can start and be productive next season, then all of a sudden, the Warriors could be pretty good.
So when the Warriors step-up to make the No. 7 pick, it shouldn't matter if a talented big man like Andre Drummond has fallen down the board. It shouldn't matter that a shooting guard or point guard that everyone loves is available.
Warriors G.M. Bob Myers needs to grab what his team obviously needs.
Indiana Pacers: David Morway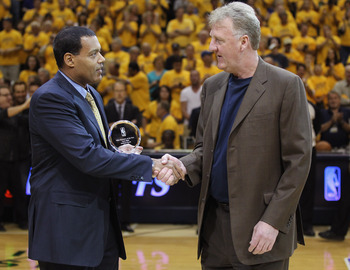 Larry Bird's departure could impact the Pacers draft night strategy.
Jonathan Daniel/Getty Images
Don't sell your fans too hard on the draft pick.
The Indiana Pacers need a scorer. That was obvious in their second-round playoff loss to the Miami Heat.
The Pacers are also in a state of transition. Team president Larry Bird is stepping down.
Unfortunately, the Pacers are selecting at No. 26 in the first round. That's not an ideal spot to find a go-to scorer in the NBA.
With Bird leaving, Pacers fans are bound to be a bit anxious. It will be tempting to oversell or overhype whoever the Pacers eventually select.
That won't help anyone in the long run, though.
Los Angeles Clippers: Vacant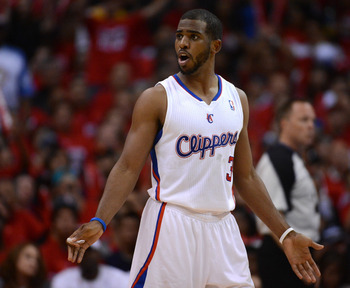 Who's in charge? No one seems to know who's running the show in Clipper-land right now.
Harry How/Getty Images
Tough to warn a GM about a potential mistake when there's no GM.
It's probably nice that Donald Sterling is saving money on a general manager's salary right now while the job remains vacant.
It's not nice for Clippers fans to know that they may be heading into draft night with no one in particular in charge. The most recent candidate, David Griffen, recently withdrew his name from consideration.
Of course the Clippers aren't exactly entering the draft with a lot on the line. Los Angeles has one pick, and it's the No. 53 pick late in the second round.
Ideally, even at that low point in the draft, you'd like to find some semblance of a serviceable NBA player. Of course, ideally, you'd have a full-time GM making that selection as well.
Los Angeles Lakers: Mitch Kupchak
Lakers' general manager Mitch Kupchak needs to change the direction the Lakers are heading in.
Jeff Golden/Getty Images
Do not, under any circumstances, trade Andrew Bynum for a draft pick.
Yes, things in Laker-land have been pretty bleak the past two seasons. Two ugly early playoff exits, the dramatic departure of Lamar Odom. Kobe blames Gasol. Derek Fisher is dealt in midseason, and so on and so on.
There have also been trade rumors galore. Some involve Pau Gasol. Othesr involve center Andrew Bynum. Bynum is the 24 year-old center who has the potential to be the most dominant big man in the entire NBA.
The Lakers are basically sitting out the 2012 draft. They own one pick, and it's the very last one that will be made that night, No. 60.
There may be offers to trade-up; perhaps those offers will involve shipping Andrew Bynum out of Los Angeles? If they do, then Kupchak needs to turn those offers down. There are a lot of very good players who will be available in this year's draft, but there's no one like Bynum.
Potentially dominant, 24 year-old NBA centers don't grow on trees.
Memphis Grizzlies: Chris Wallace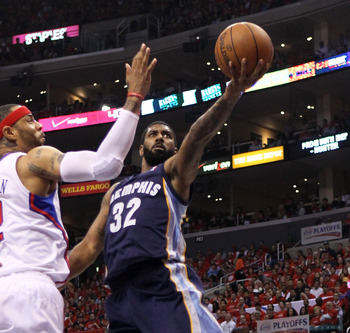 Losing O.J. Mayo could be addition by subtraction.
Stephen Dunn/Getty Images
Make sure you know the player's personality before you draft him.
Sometimes, a player's talent is such that a team will ignore other red flags to bring him on board. This is what happened with O.J. Mayo, the No. 3 pick in the 2008 draft.
When Mayo was in high school, he was considered a top talent, but even then, there were signs that he lacked emotional maturity.
USC ignored those signs to recruit him; years later, it would pay a hefty price for that.
While Mayo hasn't brought down the entire Memphis Grizzlies franchise, he hasn't been a model citizen either.
Now he's a free agent, and the Grizzlies will be looking to replace him with a shooting guard who is a better outside shooter.
No matter who they pick, they should make sure they know the player beyond what he brings to the basketball court.
Miami Heat: Pat Riley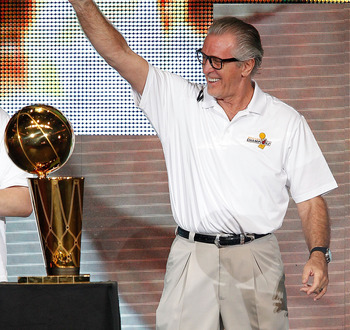 Pat Riley celebrates the Heat's championship.
Mike Ehrmann/Getty Images
Don't upset the apple cart.
It's easy to be critical of a team that loses. Not so easy to critique the world champs.
Now that the Heat have finally won a title, it's important for them to not stray too far from what got them there.
Patience, allowing the superstars to be superstars, surrounding them with targeted role players.
With the No. 27 pick in the draft, the Heat won't be grabbing a superstar; that's not a big deal, they've already got three of them.
Just pick the player that best fits into the existing system and the existing personnel. No need to over-complicate things. The Heat are very good. They're also not that old. They should be back in hot competition for another ring next season.
Unless the chemistry they had this past season is disrupted.
Milwaukee Bucks: John Hammond
Drew Gooden can't do it alone in the low-post for the Bucks.
Chris Chambers/Getty Images
Don't be tempted by the small forwards and shooting guards left on the board.
When Milwaukee Bucks general manager John Hammond prepares to make his selection at No. 12 on Thursday night, it's likely that the very best big men will be off the board.
It's also likely that some of the top shooting guards and small forwards will still be available.
Those players are tempting for any GM. They're high-flying athletes who run and dunk. They can be big draws for fans .
They're not what Milwaukee needs, though. The Bucks dealt their center, Andrew Bogut, to the Golden State Warriors for shooting guard Monta Ellis.
Now they're in need of some help at the center position. Someone to block shots, rebound and defend other big men.
The Bucks will be able to choose from a selection of less spectacular and athletically gifted big men. It's why they should do what the team needs. Teams don't always make those seemingly obvious choices, though.
Milwaukee needs to in this draft.
Minnesota Timberwolves: David Kahn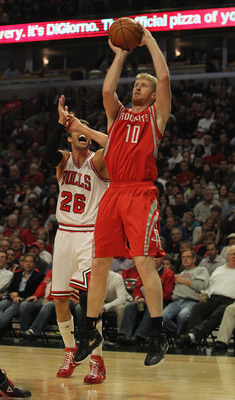 With the 18th pick in the 2012 NBA Draft the Timberwolves select Chase Budinger?
Jonathan Daniel/Getty Images
Just settle for Budinger
There's actually so much going on in Minnesota that it's hard to be too critical.
David Kahn and the Timberwolves obviously feel like now is the time to go for it in the Western Conference.
That probably explains why they dealt the No. 18 pick in the the draft to the Rockets for Chase Budinger, a 24 year-old small forward with a knack for knocking down three-point shots.
This may turn out to be a good deal for Minnesota, who, in all likelihood, would have been targeting a small forward or shooting guard that could knock down threes in the draft.
The trade leaves Minnesota with just one remaining pick in the draft, No. 58. It's tough to mess a pick that low up. Tough, except that adding Budinger helps, but doesn't solve the shooting woes in Minnesota.
At No. 58, the Timberwolves should try and find a backup shooter. Great teams don't just have a great starting five, they've got depth as well.
New Orleans Hornets: Dell Demps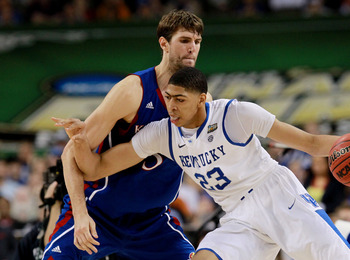 New Orleans will take Anthony Davis No. 1, No. 10 is a bigger question mark.
Ronald Martinez/Getty Images
Don't be afraid to trade the No. 10 pick.
New Orleans Hornets general manager Dell Demps is in an enviable position this at this Thursday's draft.
He gets to select Anthony Davis as the No.1 overall pick.
After that, his job gets a little tougher. The Hornets also have the No. 10 pick, and while selecting Davis at No.1 is about as easy a choice as a general manager can have, the 10 pick offers no such certainty.
There will be various opinions about who to select at No. 10.
Demps needs to keep his mind open. That No.10 pick could be coveted by another team. Especially a team that has a specific player in mind that they think will be available at No. 10.
Demps should sit tight; some of those offers might not come until the last minute.
New York Knicks: Glen Grunwald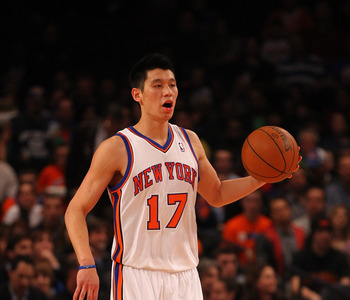 The Knicks whole offseason may be riding on the league's appeal of last week's court ruling.
Al Bello/Getty Images
There's not much the Knicks can do, but bringing in another young point guard would be a mistake.
Glen Grunwald has a fairly easy assignment on draft night. Wait around until the No.48 pick is to be made and then try and find a diamond in the rough.
So long as that diamond in the rough isn't a point guard. The one thing Jeremy Lin and the Knicks don't need is another young and inexperienced point guard on the squad.
The Knicks do need another point guard, but there are going to be plenty available on the free-agent market.
Oklahoma City Thunder: Sam Presti
Sam Presti's draft skills have already netted the Thunder three stars, can he find another?
Mike Ehrmann/Getty Images
GM Sam Presti can't count on the same type of late-round success he's had with higher picks.
The simple fact is that it's really hard to approach a draft and feel concerned that Sam Presti is going to make a big mistake.
He's probably had the best overall drafts of any general manger over the last five or six years. It's not just the top picks like Durant, Westbrook and Harden.
Over the years, Presti has nabbed Serge Ibaka at No. 24, Eric Bledsoe at No. 18, Carl Landry at No. 21 and Glen Davis at No. 35.
It's tough to not be impressed with that track record.
Orlando Magic: Rob Hennigan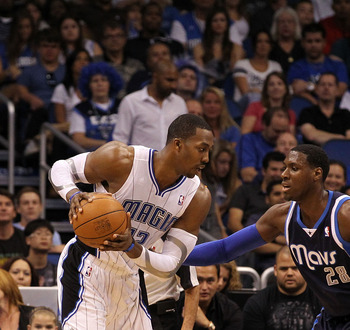 Will Dwight Howard be dealt on draft night?
Sam Greenwood/Getty Images
Don't allow Dwight Howard to disrupt another season in Orlando.
The Magic's new general manager, Rob Hennigan, should really only have one priority for both draft night, and the entire offseason.
He needs to either get Dwight Howard to sign a long-term contract or trade him.
Just get it done.
The Magic just endured an entire season that was centered not around winning basketball games, but around Dwight Howard and his potential comings and goings.
Draft night or, as some current rumors suggest, before draft night is as good a time as any to make a deal.
Philadelphia 76ers: Rod Thorn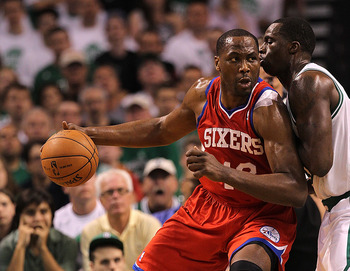 The 76ers really should know what their plan with Elton Brand is by draft night.
Jim Rogash/Getty Images
Don't end the draft with both Iguodala's and Brand's status' up in the air.
76ers general manager Rod Thorn currently has two players who have unsure futures on the team.
Elton Brand and his bloated contract could be amnestied.
Andre Iguodala has been the subject of trade rumors.
In order for Philadelphia to grow as a team, it's got to know who's staying and who's going.
Since both these issues aren't exactly new, it would be easy for a new GM to stand pat for a while.
Maybe settling both issues on both players by Thursday is a bit too much to expect, but ending the mystery surrounding both of them would seem like a positive step.
Phoenix Suns: Lance Blanks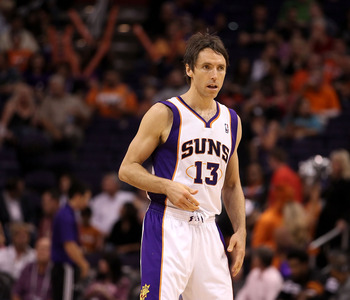 The Steve Nash saga will be front-and-center this summer. It shouldn't impact the draft though.
Christian Petersen/Getty Images
Don't bother trying to find a replacement for Steve Nash in the draft; it won't happen.
Now that two-time MVP point guard Steve Nash is headed towards free agency, the No. 1 topic among Suns fans will be whether he returns or leaves.
That would make grabbing a point guard, and labeling him as a potential "replacement," a tempting option for G.M. Lance Blanks in this Thursday's draft.
It's not a good idea. What makes a player like Steve Nash special is that he's not easily replaced. To put the burden of replacing a guy like Nash on a player fresh out of college is asking a ton; it could make turn a decent young player into one that's overwhelmed by expectations next season.
Better to bring in a veteran and let the Nash legacy fade into the rear view mirror a little.
Portland Trail Blazers: Neil Olshey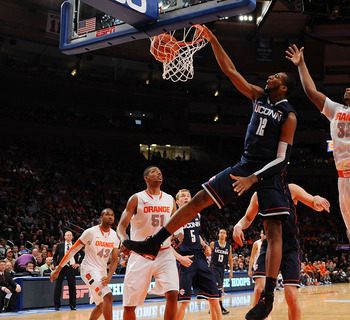 Buyer beware? Andre Drummond might not be the smartest pick at No. 6.
Michael Heiman/Getty Images
Don't use the No. 6 pick on Andre Drummond
Andre Drummond has all the trappings of a bad lottery pick.
He's got NBA size at 7'0", 279 pounds. He's also got a questionable work ethic. Those questions only intensified over the last 24 hours since his former college teammate, Jeremy Lamb, chimed in.
Yes, the Blazers need a big man, but they really need hungry players, eager to work hard to get the Blazers back in the playoff hunt.
Portland has been burned by tempting big men before; it shouldn't allow it to happen again.
Sacramento Kings: Geoff Petrie
Sacramento would be well-served by getting some form of closure on Tyreke Evans.
Stephen Dunn/Getty Images
Do not select a player who you don't have a position for.
The Sacramento Kings have the No. 5 pick in this Thursday's draft.
That's a good position to be in, but it won't do the Kings any good to select a player who will either sit on the bench behind another similar player or create in-fighting by taking minutes away from another starter.
With the No. 5 pick, the Kings may be able to grab North Carolina small forward Harrison Barnes. That's a solid pick, but it would mean that someone, either Marcus Thornton, Tyreke Evans or Barnes would be on the bench when games started next season.
That might work for a little while, but it's not a long-term workable situation. The Kings could be well-served by getting out ahead of that problem.
San Antonio Spurs: R.C. Buford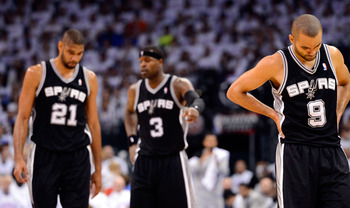 Tony Parker and his teammates were not pleased with how their season ended.
Ronald Martinez/Getty Images
There is a specific need in this draft; don't ignore it.
The San Antonio Spurs were one of the NBA's best teams last season.
Next season, the Spurs won't be a team with too many holes. Yes, Tim Duncan is getting old, and his production has fallen off.
That's not a problem that a team can fix with the No. 59 overall pick.
One they might be able to address is backup point guard. There were times last season when Tony Parker was out of the game and the Spurs offense really seemed to grind to a halt.
Parker is in his prime, so a veteran won't want to spend that much time on the bench waiting for playing time.
A low second-round selection won't have any issues, though.
Toronto Raptors: Bryan Colangelo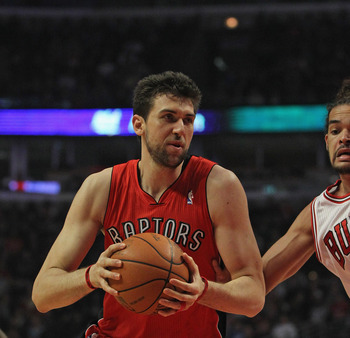 Andrea Bargnani just doesn't rebound enough for a player his size.
Jonathan Daniel/Getty Images
Don't be seduced by impressive workouts; this team needs someone who can score.
Every year, there are players who impress at pre-draft workouts. Sometimes those players go on to have great NBA careers; sometimes they're remembered for their workouts.
Scoring is clearly one of the most important aspects of basketball. Some players are natural scorers and some are not. While an impressive vertical leap might add a degree of flair to a scorers game, it won't make or break a scorer in the league.
The Raptors could use a scorer from the small forward or shooting guard positions. While drafting a point guard may be tempting, with Jose Calderon on the team, it's not really top priority.
Finding another good option for Calderon to pass to is.
Utah Jazz: Kevin O'Conner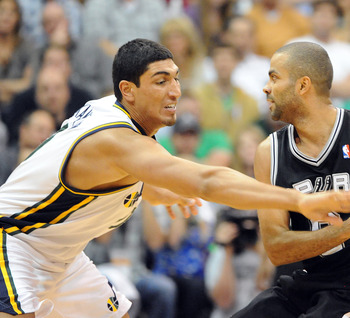 Enes Kanter is one of several promising young big men the Jazz have on their roster.
Steve Dykes/Getty Images
No more big men; draft to solidify the backcourt.
The Utah Jazz already have a number of solid big men or potentially solid big men on their roster.
They could use some help in the backcourt. The Jazz won't pick until No. 47. That's a portion of the draft where teams often just grab the most talented player available.
If that player happens to be a guard, then the Jazz should go for it.
With Enes Kanter, Al Jefferson and Derrick Favors already on the roster, the Jazz don't need to roll the dice on any big men.
Washington Wizards: Ernie Grunfeld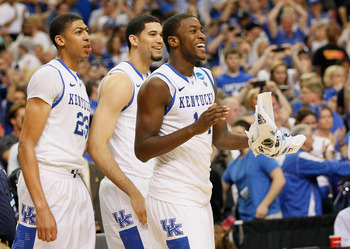 If the Wizards don't feel like Kidd-Gilchrist is the best option, they should trade down.
Kevin C. Cox/Getty Images
If the Wizards aren't 100 percent sold on Kidd-Gilchrist, they should trade down.
It seems unfathomable to trade down in a draft when you've got the No. 3 overall pick.
Yet if the Wizards are not 100 percent that Michael Kidd-Gilchirst is the player they want and if Bradley Beal is destined to go at No.2 to either Charlotte or Cleveland, then the Wizards should find a willing trade partner and trade down.
When you've got as high a pick as Washington does, you don't settle. You don't have to.
Maybe Kidd-Gilchrist is destined for NBA greatness; maybe he's overrated? There are no guarantees. It's up to the Wizards. If there's a team out there that covets Kidd-Gilchrist, then Washington would seem to be in prime position to take advantage of that.
Keep Reading