50 Cool College Football YouTube Videos to Get You Through the Summer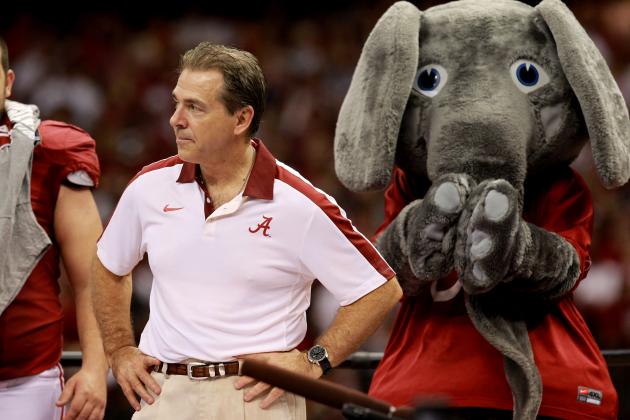 Ronald Martinez/Getty Images

There is no question that the most difficult time of the year for college football fans is after spring practice has concluded and the dog days of summer kick in.
While we are now only two months away from the official start of the college football season, those could be a long two months.
Well, what better way to pass the time than checking out some of the best college football videos of all time?
Here are 50 of them to help get you through the summer.
Begin Slideshow

»
The Miracle in Miami is one of the greatest plays in college football history.
Doug Flutie will forever be remembered for this Hail Mary, and Hurricane fans might want to turn away from this one.
Everybody knows this is the most memorable play in the history of college football.
While there is some debate as to whether the touchdown should have counted, nobody can argue the excitement of this one.
Not many people could do it better than Keith Jackson, and he had the call for the Kordell Stewart Hail Mary pass to beat Michigan on the final play of the game.
Wolverine fans may not like this one, but it is up there with the greatest Hail Marys of all time.
Reggie Bush was one of the most explosive running backs in college football history and when he had the ball in the open field, nobody could stop him.
Just ask the Fresno State Bulldogs.
Nothing is more gutsy than going for a two-point conversion to win the game, and that is just what the Boise State Broncos did in the 2007 Fiesta Bowl to beat Oklahoma.
Thom Brennaman has the call on this one.
There have not been many college quarterbacks with more talent than Vince Young, and that talent was on full display in the 2006 Rose Bowl.
He led the Longhorns to the national championship along the way.
Tyrone Prothro may not have been a big-time receiver for Alabama, but he made a catch that will never be forgotten.
Is it possible that the ball never hit the ground? I guess so.
Brent Musburger is one of the best in the business, and he has the call on a play that just happened last season.
It was a devastating loss for Wisconsin, as their national championship hopes faded away.
Tommie Frazier was exceptional at the college level and sometimes does not get his just due.
Take a look at this video; this 75-yard scramble in the Fiesta Bowl is one of the best runs in the history of college football.
Just when Kentucky thought it had finally knocked off a quality SEC opponent, it had to go through this devastation.
The Wildcats need to just stick to basketball.
The LaVar Leap defies logic.
Not only did the Penn State linebacker guess the exact snap count but he also jumped over the line and nailed the Illinois running back on 4th-and-1 right as he was handed the ball.
Wow, what a play.
It is not often that Texas Tech is better than Texas, but when it was throwing the ball to Michael Crabtree, the Red Raiders could play with anybody.
What better way to end a big rivalry game than with this play?
It is not often that a college football teams gets five downs to win a football game, but Colorado got just that in a dramatic win over Missouri.
How could the refs ever let this happen?
There are plenty of cool touchdowns, but what about some hard hits?
Here is one from the 1990 bowl season, courtesy of Zack Dumas. Talk about flattening a running back.
While Kentucky had to suffer a brutal beatdown at the hands of Tim Tebow and the Florida Gators, it did manage to knock Tebow out of the game.
There is no doubt Tebow has never been hit harder.
It is not often that ESPN is at a Sun Belt game, but they were here for this one, and it featured a devastating hit.
Talk about taking a ride.
This play is simply referred to as "The Run," and while Seneca Wallace ran more than 100 yards just to gain 12, it proved to be well worth it.
The guy could do a lot at the college level.
Talk about bringing the house. Boston College did just that, and Michael Vick ran the quarterback draw right by the Eagles.
He just gets down the field so quickly.
One of the greatest upsets in college football history happened on this blocked field goal.
Appalachian State stunned the football world.
Michigan fans, turn your heads.
Florida safety Major Wright knows how to hit, and he did just that on a helpless Oklahoma receiver in the BCS National Championship Game.
Once again, Thom Brennaman has the call.
Hakeem Nicks is more popular as an NFL receiver, but what a catch he made against West Virginia in the Meineke Car Care Bowl.
Now that is a cool way to pick up a few yards.
There is no question that Michigan and Michigan State hate each other, and what happens when one team gets an extra second?
Well, take a look and find out.
Herschel Walker was big, and there were not many people who could bring him down in the open field.
Just ask Bill Bates from Tennessee, whom Walker plowed right over.
For the next cool play, we go back to the 2007 Fiesta Bowl. Boise State pulled out all the stops it had to on 4th-and-18.
What a way to send the game into overtime—simply amazing.
There is nothing like a fake field goal to win a game and that is what Mark Dantonio and Michigan State did to outsmart Brian Kelly and Notre Dame.
Take a look at how this overtime thriller ended.
Quincy Wilson ran over Brandon Merriweather in one of the most unbelievable runs of the 2003 college football season.
Next time, he would be well-advised just to get out of the way.
This is one of the hardest hits football has ever seen.
Both players were out after this one. This may be tough to watch for some.
When it comes to hard hits, this may just take the cake.
Brad Nessler really seemed to like it, as did the fans.
What better way to score a huge touchdown in the 1984 Orange Bowl than with a fumblerooski?
Tom Osborne had the guts to try this play, but not many other coaches would. It worked this time for Nebraska.
The "Bush Push" is not necessarily a legal play, but it helped USC beat Notre Dame.
These two teams are such big rivals that this must still be painful to watch for the Fighting Irish faithful.
Ricky Williams not only broke Tony Dorsett's collegiate rushing record but he also supplanted him as the Heisman winner.
A 60-yard touchdown run is quite a way to do it.
There is nothing like going to a college football game and sitting through a small earthquake.
That is what the fans at this 1988 game had the opportunity to enjoy.
This may not be an FBS game, but it is the greatest play I have ever seen.
Just watch to find out.
This is, without question, one of the more remarkable catches in college football history.
Matt Davidson made the grab, and this helped the Cornhuskers defeat Missouri on their way to a national championship appearance.
Pat White was a tiny quarterback who did not have the size to play that position at the next level.
That did not stop him from laying out a Connecticut defender, as the West Virginia running back switched fields.
White took out two for the price of one.
Nebraska seems like it has a lot of names on the list, and deservedly so.
Here is another little trick play that allowed quarterback Eric Crouch to show his athleticism and score on a long touchdown reception.
We all know how talented Andrew Luck is at throwing the football, and he also is not afraid to run over a few people.
Just ask this helpless California defender.
This game is considered the greatest comeback ever. Watch as BYU, led by quarterback Jim McMahon, comes back to defeat SMU, 46-45.
Watching this is well worth the four minutes.
Before Randy Moss became a star in the NFL, he dominated the collegiate level at Marshall.
Check out this play for a perfect example. Wow, is this guy good.
Cam Newton was simply too good to be playing at the college level.
Even with an NFL defense, LSU was no match for the skill of Newton.
This is one of the scarier plays anybody will see.
California running back Jahvid Best jumped into the end zone for a touchdown, but he certainly paid the price, as he was carted off the field shortly after.
Jahvid Best gets laid out again in this one.
This is another tough one to watch and moments later, he threw up his Gatorade.
Here is another big hit, courtesy of Oklahoma State freshman Quinton Moore.
This receiver had no idea what was coming.
Ray Small could make some plays with the ball in his hands, but to do so he had to catch it first.
That was not the case here, as he got completely laid out.
Donovan McNabb could do everything in college, including completing a last-second miraculous play to defeat Virginia Tech.
Watch as McNabb rolls to his right and throws back across the field for the touchdown on the final play of the game.
Oregon is known to pull a few tricks out of the bag, and the fake Statue of Liberty play is one of those tricks.
Watch as Dennis Dixon runs it to perfection.
Ed Reed has been doing this for a decade in Baltimore, and it all began at Miami.
Check out this remarkable play by one of the best free safeties in the world.
Vince Young perfected the pump fake in college, and he fooled the Oklahoma State defender at the line of scrimmage in this one.
Young then managed to run 80 yards for the touchdown.
Known simply as "The Play," this was a great way to seal a rivalry game between two of the biggest rivals in college football.
Safety Roy Williams hits Chris Simms and linebacker Teddy Lehman has the ball fall right into his hands.
Meanwhile, a victory falls right into the Sooners' laps.
Iowa pulled off a miracle in one of the craziest endings to a bowl game.
The Hawkeyes defeated LSU on a Hail Mary in dramatic fashion.