Jonathan Vilma doesn't think his suspension will be reduced, but he's ready to hear the final word.
Stacy Revere/Getty Images
June 26, 2012
Each morning, I like to start the day off with a workout—usually a morning jog. I can clear my head, plan my day and think about what's going on around the NFC South.
Even though Remi Ayodele was in the room when someone said, "Give me my money," he claims not to know who uttered the phrase. [Pro Football Talk]
Almost the entire team has come to the defense of Anthony Hargrove, according to a CBS Sports report. Most believe it was not Hargrove who said the phrase, "Give me my money."
Jonathan Vilma is anxious for a ruling on his appeal to the year-long suspension for his role in BountyGate. [NFL.com]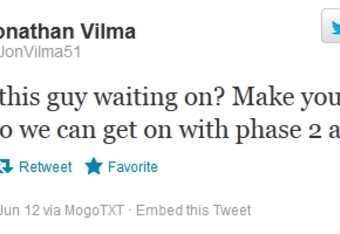 An NFL.com report gives four reasons the Falcons offense is ready to explode.
Everyone should get a chance to speak with special teams coordinator Keith Armstrong, who does a more-than-fantastic job of explaining the intricacies of winning at special teams. Here's a Q&A from the Atlanta Journal-Constitution.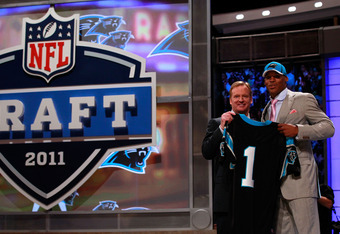 Cam Newton's sticking with his No. 1 jersey.
Chris Trotman/Getty Images
Cam Newton turned down a jersey number switch that would have taken him back to No. 2, which he wore in college at Auburn when the Tigers won the BCS title. Newton originally wanted No. 2, but Jimmy Clausen had it and wanted to keep it. Now Clausen has switched to No. 7, but Newton wanted to stay with No. 1 because of the success he had with it during his rookie season. [Charlotte Observer]
Apparently Cam Newton is trying to revitalize one of his old nicknames. [NFL.com]
Rookie Doug Martin seems to be shining in pass protection, which was an area of weakness last year for the Bucs. [Pewter Report]
NFC South
Salary cap figures are available for the entire league. The Bucs are still in the best shape in the division, while the Saints and Falcons are almost at the cap. [Pro Football Talk]
Like the new article format? Send us feedback!