Portugal vs. Spain Euro 2012 Preview: 3 Key Players to Watch for Each Team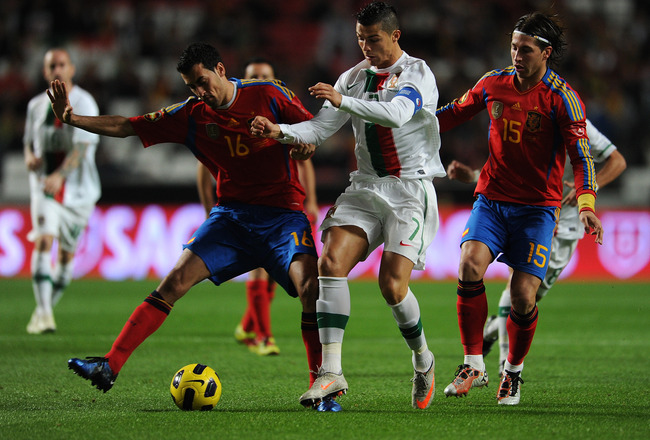 Jasper Juinen/Getty Images
Spain against Portugal, a game pitting two of the competition's most technically accomplished teams against each other, begins an enticing semifinal round at Euro 2012. The tie .
Spain have once again wowed fans and pundits with the assurance and quality of their passing. Portugal, meanwhile, have shown that when they abandon their rigid, defensive instincts, they have the attacking potency to match any team in the competition.
There should be plenty of attacking flair on display as Spain's technique and craft will be tested by Portugal's athleticism and power. Here are three key players to watch for each team.
Spain: Cesc Fabregas, Attacking Midfielder
Alex Livesey/Getty Images
While many may baulk at the idea of playing without a natural striker, if any team can make the system a success, it is Spain. Cesc Fabregas is one of the main reasons why.
The diminutive schemer is the ideal "false No.9." His intelligent movement, speed of thought and clinical touch in the box make Fabregas the obvious focal point for Spain's intricate passing moves. His runs off the ball have been outstanding throughout the tournament.
Fabregas is redefining the expectations for attacking midfielders. He should be given the start against Portugal and will offer a consistent scoring threat.
Portugal: Cristiano Ronaldo, Forward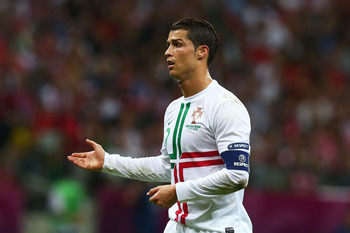 Alex Grimm/Getty Images
Cristiano Ronaldo has found his big-tournament, international form at exactly the right time for Portugal. The Real Madrid wide forward is the focus of Portugal's attack and will be the biggest danger to the Spanish defense.
A rare combination of direct speed and raw power, Ronaldo's athleticism cannot be equalled by any other tournament player. Allowing him to drift in from the left has revitalised his international fortunes, and finding an answer to the prolific forward is the obvious priority for Spain manager Vicente del Bosque.
Portugal are certainly over-reliant on him for goals. However, it's easy to get the impression that Ronaldo wouldn't have it any other way.
Spain: David Silva, Attacking Midfielder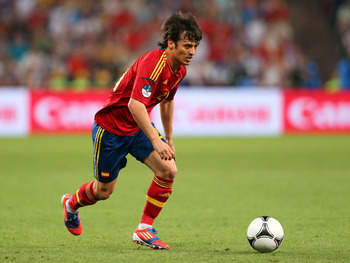 Alex Livesey/Getty Images
In their "false 9" system, Spain need scoring potential from a clutch of midfielders. That makes David Silva an integral member of the team. The Manchester City playmaker has been outstanding for the Spanish so far, and his ability to find the net and thread through decisive passes is key to Spain's attack.
Silva can dovetail with Fabregas and act as the creative fulcrum in and around the box. Xavi knits the possession play together, but Silva's influence in creative areas is just as important.
Portugal: Joao Pereira, Right Back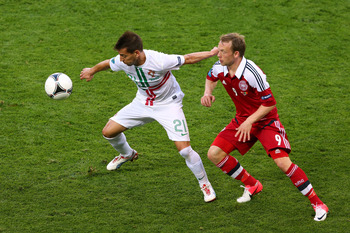 Alex Livesey/Getty Images
Sporting Lisbon right back Joao Pereira has been one of the best performers in Portugal's defense, and he will have a key role to play against Spain. The 28-year-old will need to be at his best to subdue the danger that the reigning world and European champions pose down their left flank.
That means Pereira will have to stymie the efforts of Andres Iniesta and left back Jordi Alba. The pacy Valencia star has been a vital outlet in the Spanish attack.
His speed and delivery down the left presents a consistent danger to the opposition, and Pereira will have to stay disciplined. He will have to make sure Alba remains in front and should stand off and challenge the youngster to beat him.
Spain: Alvaro Arbeloa, Right Back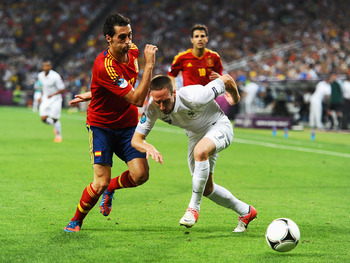 Laurence Griffiths/Getty Images
Perhaps the most intriguing matchup will be between Real Madrid teammates Ronaldo and Spain right back Alvaro Arbeloa. The combative defender usually shows no mercy, and it will be interesting to see what kind of treatment he subjects Ronaldo to.
Arbeloa is a no-nonsense and somewhat cynical defender, often prepared to take the man first, with the ball a mere bonus. However, with Fabio Coentrao to contend with as well, Arbeloa can't afford to be too rash, too early. He will need all of his smarts to keep Portugal's biggest threat quiet.
Portugal: Joao Moutinho, Midfielder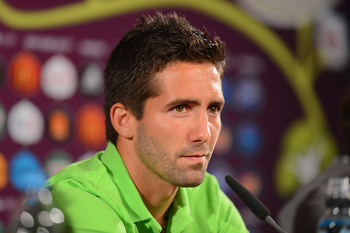 Handout/Getty Images
Joao Moutinho has been one of the best performers at Euro 2012. An exceptional player, Moutinho can orchestrate Portugal's attacks.
The FC Porto star is a complete midfielder. He plays with a good engine and isn't afraid to make a tackle, and his eye for defense-splitting pass is second to none.
Moutinho will be his country's chief creative force. If he uses the ball well, expect Portugal to find the net.
Keep Reading