American League's Most Exciting Storylines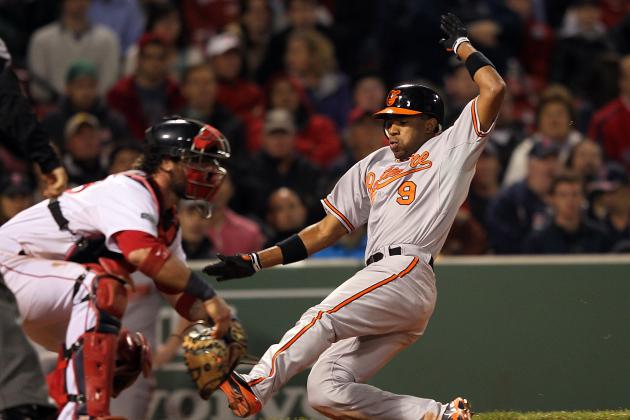 Jim Rogash/Getty Images
O's and Red Sox. Which one is in playoffs right now?
I feel like a bear awakened from hibernation.
I had no idea that baseball had started and has played almost half their season already. The NFL draft, the NBA playoffs, the NHL playoffs, some golf tournaments and I'm pretty sure horses were involved in my not noticing baseball.
I've done a little catching up and thought I'd share some of what I learned with you. Here's the thing about me though. I am not a noticer. So I'm sure there are plenty of stories or stats that I've missed. Please feel free to call me out on any and all of those. I like it when I get some help from my much smarter readers.
American League today and National League tomorrow. Here we go.
Begin Slideshow

»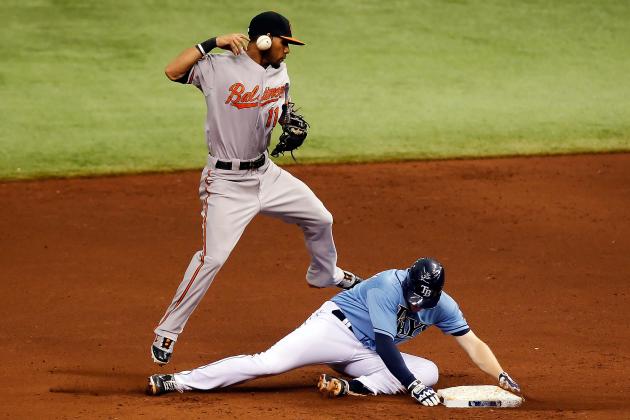 J. Meric/Getty Images
Orioles and Rays. Which doesn't belong in playoffs? Neither! Both in right now.
The divisional races in the American League have one slight surprise in them. That would be in the Central where the White Sox surprisingly lead Cleveland by a half game and the heavily favored Tigers by three.
The Yankees leading the East and the Rangers leading the West are certainly anything but surprising. The Angels were expected to give the Rangers a battle out west and are lurking 4.5 games back, although it seems as if they are done to me. Given the fact that we aren't even at the All-Star break, they clearly can still win the division—it just doesn't seem likely to happen.
The East has been the topsy turvy division all season. Baltimore actually led for a while while the Red Sox had been in last for a while and currently sit fourth. Even the last place Toronto Blue Jays are over .500. The real surprise in the East is that the second-place Baltimore Orioles and the third-place Tampa Bay Rays currently hold the two Wild Card spots.
How do I think the standings will look on the last day of the season? Since predictions are for fools, they fit perfectly in my columns.
Let's talk about that at the end.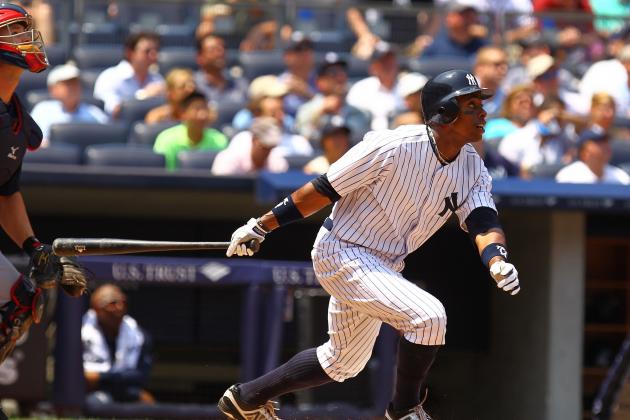 Al Bello/Getty Images
Granderson showing pop
The Yankees are living up to their Bronx Bombers moniker. Manager Joe Girardi likened it to a basketball team living by the three-point shot. The Yanks are a home run hitting team. There is a shift in the power in New York as Alex Rodriguez and Mark Teixeira are taking a back seat to the young guns. Curtis Granderson with 21 and Robinson Cano with 17 are leading the dinger parade in the Bronx.
Will that continue? I suspect it will and that's okay as long as Rodriguez, Teixeira, Swisher and company chip in. I think that will happen too.
The starting pitching has been okay, led by CC Sabathia at 9-3 and Ivan Nova at 9-2. The pitchers behind them have been the issue. Andy Pettitte has been pretty good at 3-3 with a 3.29 ERA but I don't know that the Yanks want to count on him as the No. 3. Hughes and company do need to step up.
Rafael Soriano has been good in replacing Mariano Rivera, with 15 saves and a 1.65 ERA. The set up guys are doing a good job too, as usual.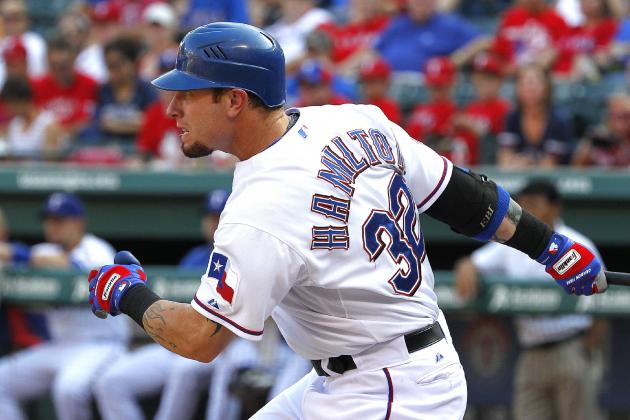 Rick Yeatts/Getty Images
Superstar Josh Hamilton
There's not a better ballplayer in the major leagues right now than Josh Hamilton. He's currently hitting .318 with 23 homers and 66 RBIs. His base running, fielding and leadership have driven the Rangers to be the best team in baseball the last few years, no World Series ring be damned.
With help like Adrian Beltre's .328, 17 homers and 48 RBIs, the Rangers' offense is potent.
They let C.J. Wilson go and are still getting good starting pitching. Matt Harrison's at 10-3 3.24 ERA and Yu Darvish is at 9-4 3.45 ERA and 9.74 K/9 are more than holding up their end. They do need some help from Derek Holland (5-4, 5.10 ERA). Joe Nathan has been doing a good job closing with 16 saves and a 2.05 ERA.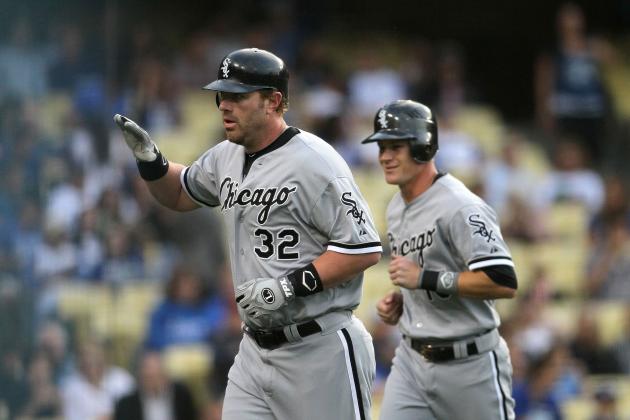 Victor Decolongon/Getty Images
Adam Dunn finally showed up
It took him a year to acclimate, but Adam Dunn is giving the White Sox what they got him for. Power. While only hitting .212 he does have 23 homers, 53 RBIs and an OBP of .358.
36-year-old Paul Konerko is showing he has plenty left in his tank at a league leading .337 with 13 homers and 39 RBIs. Dayan Viciedo has chipped in with 13 homers and A.J. Pierzynski with 12.
The addition of Kevin Youkilis was a great move by Chicago. They gave up virtually nothing in Zach Stewart and Brent Lillibridge—and I have Brent on my fantasy team, I can say that—and pick up a guy who can't help but improve their horrible offensive numbers at third base.
Two starters have carried them in Chris Sale at 8-2 with a 2.24 ERA and Jake Peavy at 6-4 with a 2.84 ERA.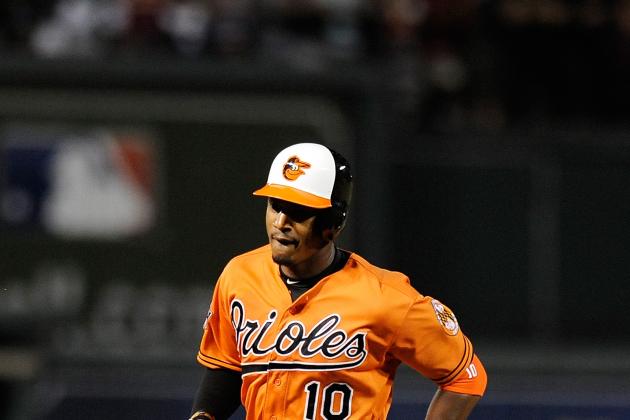 Patrick McDermott/Getty Images
Future Superstar Adam Jones
The Orioles are hanging around a lot longer than they did last year. In 2011 they started 6-1 and then faded quickly. This year, not so much.
They wisely tied up Adam Jones contractually and he is rising quickly. He's at .300 with 19 homers, 40 RBIs and nine steals. Chris Davis has 12 homers and 31 RBIs, J.J. Hardy 11 homers and 29 RBIs and coming superstar Matt Wieters has 10 homers and 34 RBIs.
Jason Hammel has been outstanding on the mound at 8-2 with a 2.61 ERA. Wei-Yin Chen is proving to be a great pick up at 7-3 and a 3.38 ERA. Jim Johnson is solid at closer with 22 saves and an ERA of 1.10.
It doesn't feel like the Orioles are going away anytime soon.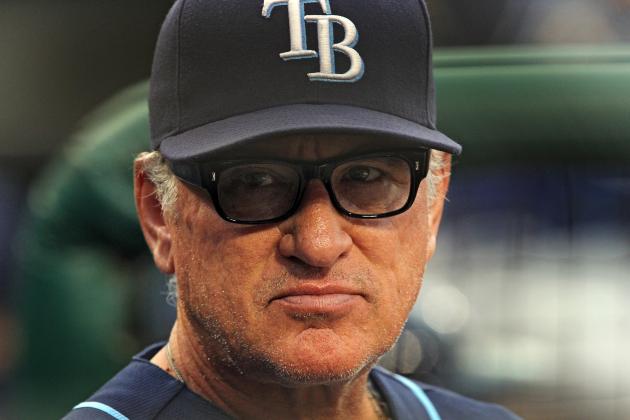 Hunter Martin/Getty Images
Superstar Manager Joe Maddon
Yes, David Price is having a great season. But the constant for the Rays has been the guidance of manager Joe Maddon. Through all of the defections and injuries he has kept the Rays in the thick of things.
It doesn't hurt to have Price trotting out every fifth day to the tune of 10-4 with a 2.95 ERA so far. Jeremy Hellickson is contributing at 4-3 and 3.43 and James Shields is always solid, so far at 7-4 and 3.99. Jeff Niemann's injuries and Matt Moore's ineffectiveness has set the Rays back a bit.
Fernando Rodney has been outstanding at the end of games with 21 saves and an ERA of 1.07.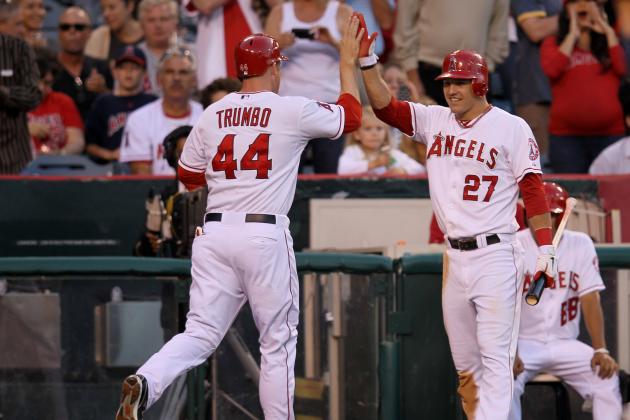 Stephen Dunn/Getty Images
Trumbo and Trout, the New Guard
The Angels made huge news in the offseason picking up C.J. Wilson and the big catch, Albert Pujols. Little did anyone know that the two big names on the Angels this year would be youngsters Mike Trout and Mark Trumbo.
Trout will soon be the best player in baseball. That time frame is measured in months, not years. His line so far, .338, 7 homers, 29 RBIs and 21 steals is ridiculous for 207 ABs.
Trumbo seemed to be an afterthought after the Angels signed Pujols, but give them credit for moving him to third base and benefiting as he is hitting .316 with 17 homers and 49 RBIs.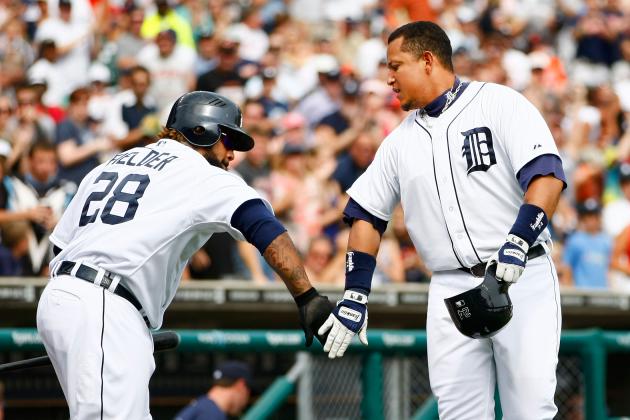 Gregory Shamus/Getty Images
The Big Boys are doing their job
Why aren't the Tigers in their rightful place at the top of the division? It's certainly not due to lack of production from their top two hitters.
Prince Fielder—thanks, have him on my fantasy team too—is pulling his substantial weight at .303 with 11 homers and 46 RBIs. Miguel Cabrera is coming through at .307 with 15 homers and 59 RBIs. It's the rest of the offense that needs to step up.
Justin Verlander is his usual dominating self at 8-4 with a 2.52 ERA. Behind him the starters have disappointed. Doug Fister has been hurt while Rick Porcello at 5-5, 4.71 ERA and Max Scherzer at 6-5, 5.12 ERA need to step up.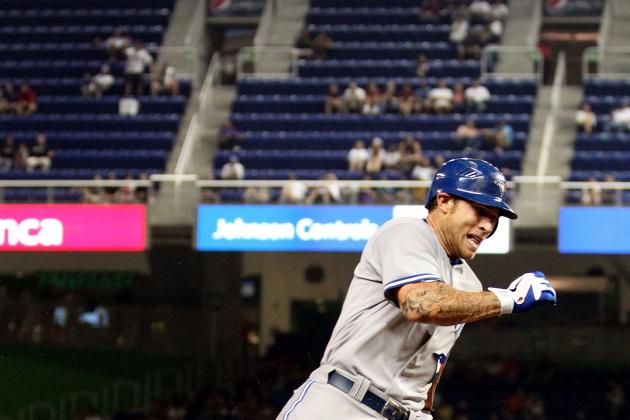 Marc Serota/Getty Images
Future Superstar Brett Lawrie
It's hard to imagine being over .500 and in last place, but welcome to the AL East. Toronto is led by their budding superstar, Brett Lawrie, at .291 with 7 homers, 29 RBIs and 11 steals.
As usual Jose Bautista is outstanding at .237 with 24 homers and 57 RBIs. Edwin Encarnacion is batting .286 with 21 homers and 51 RBIs, Colby Rasmus has 14 homers and 44 RBIs and J.P. Arencibia at 10 homers and 37 RBIs are contributing to an outstanding offense.
Two starters are carrying the Jays on the mound. Brandon Morrow at 7-4 with a 3.01 ERA and Ricky Romero at 8-1 and 4.34 ERA.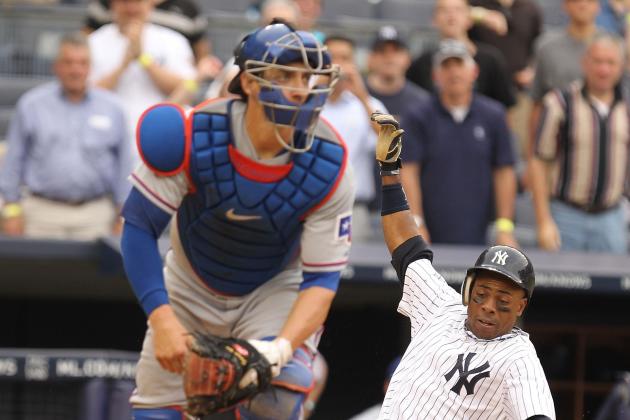 Al Bello/Getty Images
Yankees and Rangers headed for ALCS
The Yankees and Rangers are the two best teams in the AL and will hold on to their divisional leads. I do think Jim Leyland will rally the Tigers to capture the Central.
As an Orioles fan, I am clinging to Buck guiding them to one of the two Wild Card spots. I do think the Angels will rally for the other one.
It seems destined for the two best teams to meet in the ALCS and I do think the Rangers will get to their third consecutive World Series.