NBA Draft 2012: Cleveland Cavaliers Wing Player Options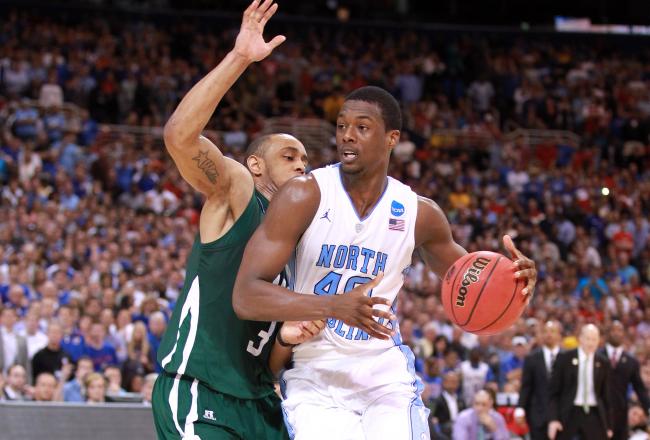 Andy Lyons/Getty Images
The landscape of the 2012 NBA Draft is beginning to take shape as individual player workouts come to a close and teams finalize their draft boards.
I wrote last week about the big men who could be a possibility for the Cavs at both the No. 4 pick as well as at Nos. 24, 33, and 34. It's pretty clear that GM Chris Grant is not taking a big guy with that No. 4 pick unless he does something crazy like draft Andre Drummond.
The most likely scenario is that the Cavs will take a wing player at No. 4 and possibly address the bigs later in the draft. There's also been talk (via Pro Basketball Draft) about the Cavs trading back up into the lottery with their eye on possibly grabbing a second wing player.
Make no doubt, the wings for the Cavs might be the worst in the entire NBA. The starters at the beginning of the season last year were Anthony Parker and Omri Casspi. If they don't add anybody, I suppose the starters next year would be Manny Harris and Alonzo Gee.
Make no doubt about it, I like those two guys just fine. Parker and Casspi--not so much. Just not as starters in the league. They're ideal guys that you want coming off your bench because they both play with a lot of energy. But when all's said and done, they're just players who shouldn't be making more than $2-3 million a year. There's nothing really about them that sets them apart from other guys.
But there are three guys in this year's draft who have the potential to come in and start from day one that are going at the top of the draft. There are also several other wing players who could be very good contributors, as well as others who could possibly start. I won't be able to break down every player, but I'll try and hit as many as possible.
Options at No. 4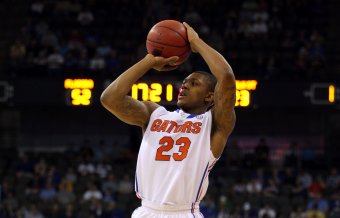 Doug Pensinger/Getty Images
There are three headliners for this draft when it comes to wing players: Bradley Beal, Harrison Barnes, and Michael Kidd-Gilchrist. Everyone has opinions on who is better and who will be the best pro player and what not, but there's almost no doubt that each of these three guys will be effective players in the NBA to some extent.
Bradley Beal, Florida
The rumblings and murmurs (via Chad Ford of ESPN) coming out of the Cavs front office is that Beal is the leader at this point. Of the three, he probably has the best chance of being taken before the Cavs select at No. 4. The Washington Wizards, who pick one spot before Cleveland, just acquired a SF in Trevor Ariza, so they may be looking for more of a SG like Beal. There are also rumors about the Cavs trading up to No. 2 to jump Washington to take Beal. But we're not going to discuss that at this point.
Though a little short at 6'4", Beal plays much bigger. He can handle the ball like a point guard and has the ability to get his own shot or take it to the rack. He has a beautiful shooting stroke with almost limitless range. The only problem with his shot is that it really didn't go in too often during his one year at Florida, (Beal only shot .338 percent from three-point range). Scouts are baffled why he struggled so much and shot such a poor percentage, because he looked so good while throwing up bricks.
His shooting came around late when it mattered though during the SEC and NCAA tournaments to give his fans some hope that he was just in a slump and that his shot was not broken (15-35 from three-point range for a .428 three-point percentage).
I confess that I did not watch a lot of Beal while at Florida, so most of what I know about him is gleaned from smart people who did watch him and various YouTube videos. But what I've seen of Beal I really like, other than the whole "shot not going in the hoop" thing. It looks like he plays really hard, shows very good athleticism and that shot is picture perfect in form even from beyond NBA range.
Harrison Barnes, North Carolina
Coming out of high school in Iowa, Barnes was a first-team All-American before he'd set foot in Chapel Hill and was being compared to Kobe Bryant. If you follow college basketball at all, you know that Barnes has not exactly lived up to that hype, as unfair as it was.
Barnes has been widely criticized for not being able to get into his own and for disappearing in big moments, most noticeably in the 2012 NCAA Tournament when Kendall Marshall got injured.
However, Barnes' game has been picked apart so much at this point that I think he's actually underrated. When you look at his stats (16.3 PPG and 5.5 RPG) and what he was able to accomplish in two years at North Carolina, (2011 Second Team All-ACC, 2011 ACC Rookie of the Year, 2011 Elite Eight appearance, 2012 First Team All-ACC, 2012 Second Team All-American, 2012 Elite Eight appearance) it's actually better than most college basketball players could ever dream of doing. Then at the combine he showcased his superior athletic ability followed by rave reviews at most of his team workouts.
Are there holes in Barnes' game? Yes, but every player in the draft does too. Barnes just gets killed for his flaws because he set such a high standard coming out of high school.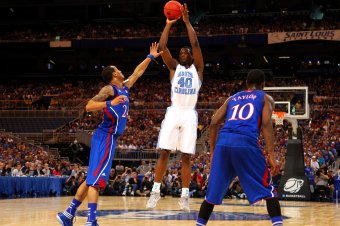 Dilip Vishwanat/Getty Images
I think that Barnes will be a very good NBA player because he can do one thing that you really need at the pro level, and that's shooting. Barnes' shooting stroke looks effortless and, unlike Beal, it actually goes in more often (shot .358 last season from three-point range). Barnes would be an ideal player to pair with Kyrie Irving because of that shooting ability, something the Cavs are sorely lacking.
Ideally, you should be able to get similar shooting results from Beal just based on talent, but Barnes was a more consistent shooter in college despite tons of criticism.

Michael Kidd-Gilchrist, Kentucky
Speaking of shooting ability, the biggest flaw in Kidd-Gilchrist is that he is not a very good shooter. And not only does his jump shot not go in often enough (.255 3P%), it looks pretty bad in form as well. He's been working very hard the past couple months to correct his stroke but as we saw with Tim Tebow in football, when you've been doing the same motion wrong your whole life it's really tough to change it in your 20's.
MKG is a hard working player who's most often described as a winner and someone who's a leader. By many accounts, he was the glue that held a very talented Kentucky team together on their way to a national championship, all while taking a lesser role that included fewer shots than just about everyone else. He's a very good defender and a tireless worker. These are all fantastic qualities and things you really want in a player.
But his offensive game is still quite lacking. Not only is his shot very bad, but he also plays out of control at times when driving to the rim. He was able to get by on sheer athleticism in college because there are very few players in the SEC who are as big, fast and quick as him. But in the NBA, everyone is bigger, faster, quicker, and stronger than MKG, and he will not be able to get by with that same style of play that was effective in college.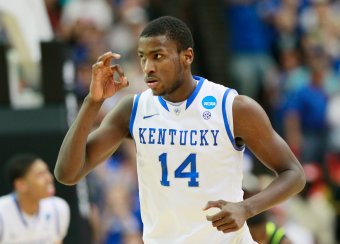 Kevin C. Cox/Getty Images
After the college season ended, MKG was widely regarded as the second best player in the draft behind his teammate Anthony Davis. But, teams have cooled on him to the point where he'll probably be available to the Cavs at No. 4. The reason for his slide (which is hardly a slide at all really), is because of the insecurity with his offensive game. While people love all the intangibles, it's a lot easier for a coach to look at a player with all the skills (like Barnes and Beal), and think that he can get them to work hard and maximize their potential, than it is to look at a guy with many flaws and think that those can be corrected. It might not be right, but it's just the way it is.
If I'm the Cavs sitting at No. 4 with both Kidd-Gilchrist and Barnes on the table, I'm not sure that I could look at how poor the team was offensively last season and choose to pass on Barnes. To me, the Cavs need scoring and a guy who can be a "running mate" with Kyrie as well as the ability to knock down shots. To me, that's Barnes or Beal, not MKG.
Possible Targets for a Late Lottery Trade-Up
There have been talks about the Cavs possibly trading back up into the lottery, possibly targeting another wing player to fill both of those spots with starters. I won't get into what this trade would look like now (we'll cover that later in the week), but we will examine some of the players that are likely to go in that range.
Dion Waiters, Syracuse
Despite not being a starter and only playing limited minutes (24.1 MPG), Waiters was a very productive offensive player (12.6 PPG). He's a pretty good shooter (.363 3P%), but his game is more about slashing and attacking the lane off the dribble.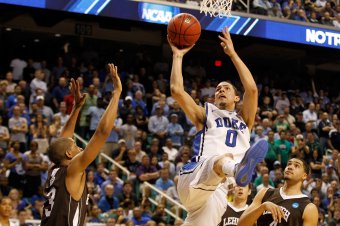 Streeter Lecka/Getty Images
The biggest draw-back of Waiters is his size at 6'4". Though he's the same height as Beal, Waiters doesn't play as big. He's also not an especially good defender, which is what limited his minutes in college. That could be misleading, however, since Syracuse exclusively plays zone defense, which may not have suited Waiters well. The bottom line on Waiters is if you want a SG who just knows how to score, then he's your guy.
Austin Rivers, Duke
The son of Boston Celtics head coach Doc Rivers is a polarizing player for sure. Rivers has star potential written all over him from the way he plays the game to his attitude and confidence off the court. He has the pedigree of being the son of a former NBA player and coach, and someone who's grown up in the sport of basketball. He's not afraid to be the guy as evidenced by him taking and making a game winning three against North Carolina.
But Rivers is also what's known as a high volume shooter, which basically means that he needs a lot of shots to get his points. This isn't necessarily a bad thing, Kobe Bryant is a high volume shooter. However, Rivers needs the ball in his hands to be effective, which may not work well with Irving. And, there's also the fact that Duke underachieved during Rivers' one year in college. There's no doubt that Rivers will give you scoring, but what isn't for sure is if he actually makes your team better. Of all the available players, I don't think Rivers is a very good fit for the Cavs, but he will be fun to watch in the NBA.
I love Jeremy Lamb with as much energy as I can't stand in his teammate Andre Drummond. At 6'5" Lamb has good size to be an NBA shooting guard, and he adds to that with almost freakish length. He has the skills to be a very good defender, but it is a part of his game that needs work.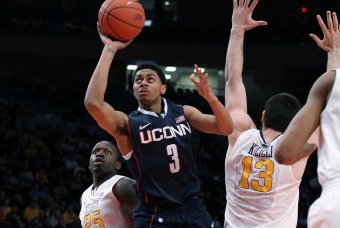 Jim McIsaac/Getty Images
Offensively, Lamb is polished and very effective. He can shoot the ball spotting up, curling off screens, putting the ball on the deck and pulling up from 15 feet. He does it all offensively. He's also a very underrated athlete. He may not look physically impressive like Beal or Thomas Robinson, but make no doubt that he has the ability to play above the rim.
Lamb shot better from three-point range in his freshman year (.368), than he did in his sophomore season (.336), which I attribute directly to the fact that he went from playing with a very good PG in Kemba Walker to a team that was as dysfunctional as dysfunction gets. As a UConn fan, I watch a lot of their games and the offense last season was not run very well. Lamb was left with the ball in his hands late in the shot clock very often which led to lots of forced bad shots. Nothing worked well for UConn last year in their defense of the 2011 title.
I believe that Lamb can be just as good as the top three guys in the draft, but I'll admit that not everyone shares that opinion. I also didn't think that Kemba Walker was that much of a step down from Irving last year...so there's that too. What's most impressive when you look at Lamb is that he played his best in big games. In 15 total games in the Big East and NCAA Tournaments, he averaged 16.3 PPG and shot 26-55 (.472) from three-point range. As impressive as those stats are, they don't tell the whole story which was he had a knack for making big plays in big moments. If the Cavs could figure out a way to trade up and take Lamb to pair with either Barnes or Kidd-Gilchrist, I might wet my pants in excitement. I might have said too much here.
Perry Jones III, Baylor
I feel the need to at least touch Perry Jones III. He played power forward in college, but most smart people believe he'll be a small forward in the pros. Playing out of position may have contributed to his struggles during his two years at Baylor.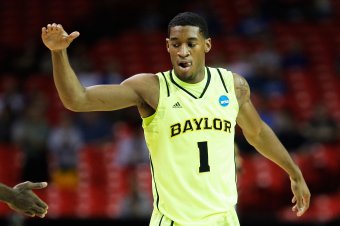 Streeter Lecka/Getty Images
However, it must be noted that the guy is 6'11" with guard skills, an effortless shot and the ability to play in the post and on the perimeter. On physical talent alone, Jones should be a top five pick easy, but he simply was not aggressive enough or productive enough in college (14 PPG, 7.7 RPG), to match up with his abilities, and that's why most pundits do not have him going in the lottery.
Possible Options at No. 24
Quincy Miller, Baylor
As a small forward, Miller has very good size at 6'10" and a silky smooth shot. He needs to bulk up (219 lbs.), but he certainly has the ability to be a productive player. However, much like his Baylor teammate Jones, he wasn't as productive as his talent suggests that he should have been, and that Baylor team never lived up the to the potential of the players on it.
Will Barton, Memphis
Barton certainly does not lack for confidence. His play backed up his belief in his game (18 PPG, 8 RPG, 3 APG). The rebounding numbers are especially impressive for a shooting guard. Okay, I'm willing to admit that I haven't seen Barton play, but a lot of people really like his game, and if he was the pick at No. 24 that would be pretty good.
Early Second Round Shooters
Doron Lamb, Kentucky
John Jenkins, Vanderbilt
I won't spend a lot of time on these two guys. They're both pretty similar to each other and have games that could be similar to Daniel Gibson. Both Lamb (.466) and Jenkins (.439) are excellent three point shooters which is their specialty. I don't think they'll be starters in the NBA, but it's never bad to have guy off the bench who can come in and fill up the basket.
You can follow Benjamin Flack on Twitter @ClevelandFlack.
This article is
What is the duplicate article?
Why is this article offensive?
Where is this article plagiarized from?
Why is this article poorly edited?