With the NBA's free agency period right around the corner, buzz surrounding potential free agents is heating up.
This year's free agency period and free agents may not match up with the now legendary class of 2010, which saw LeBron James, Dwyane Wade and Chris Bosh all sign with Miami, Amar'e Stoudemire sign with the Knicks and Joe Johnson, Dirk Nowitzki and others sign max contracts, but it does have one potentially league-altering scenario.
That scenario is the one where All-NBA stars Deron Williams and Dwight Howard team up in Brooklyn and play for the Nets. Chris Broussard of ESPN (h/t Nets Daily) reported that Brooklyn is Howard's preferred destination and Marc Stein of ESPN says Williams has narrowed down his team wish list to either Brooklyn or Dallas.
Already accomplished All-Stars in their own right, an inside-outside combination of the league's top center and one of the best point guards in the game will immediately vault the Brooklyn Nets into championship contention.
As we saw with the Clippers' acquisition of Chris Paul, sometimes it just takes one player to completely change the direction of a franchise, and adding the league's best big man in Howard will do that for the Nets.
What makes me so certain that this pairing will make Brooklyn contenders is the success of Williams and Howard's teams over the past several years.
Lockout season notwithstanding, the Orlando Magic have averaged 55 wins a season over the past four year with Howard as the main man. Fifty-five-win seasons don't grow on trees, and it is a testament to the game-changing ability of Dwight Howard that Orlando have been this successful during his time.
Would a Howard-Williams combination make the Nets contenders?
Williams, prior to being traded to the New Jersey Nets, was turning in terrific year after terrific year in Utah. In Williams' last four years with the Jazz, Utah averaged 51 wins, again with Williams as the main man.
If the two of them can carry their teams to repeated 50-plus win seasons as the main man, imagine the type of seasons they could have together.
And it's not just win totals that could increase for the two; their respective level of play would surely increase.
As a big man, Howard's main responsibility is to take care of rebounding and shot blocking as well as look for his shot in the paint. However, like most big men, Howard does not do a lot of ball handling and often relies on his point guard and other teammates to help him get good looks. No disrespect towards the likes of Jameer Nelson, Chris Duhon and Gilbert Arenas, but Howard has never played with a point guard of Deron Williams' calibre. The success that they could have with pick and rolls, alley-oops and screen plays could be devastating.
Howard has been criticized lately due to his fairly limited offensive game, having Deron Williams get him the ball in his preferred areas should definitely help him out in that area.
Williams' play would also improve playing alongside Howard. In my eyes, he is the best in the NBA in executing pick and roll plays, thanks to his decision-making and ability to consistently hit a mid-range jumper, and using Howard as the "pick" would surely increase Williams' efficiency in running it.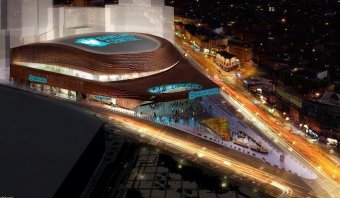 Another reason why I see the Howard-Williams combination working out so well for Brooklyn is the sad state of the Eastern Conference. With the exception of the Miami Heat, every other team in the East has severe question marks over them. Whether it's Boston and the situation with Kevin Garnett, or Chicago with Derrick Rose's injury, the East is just not very competitive at this moment.
Throw in a D12-DWill led Nets team into the East and I'll be pretty confident in betting they reach 50 plus wins and secure a top-three seed for the playoffs.
Of course, two players don't make a team and a natural question would be "who will be playing around Williams and Howard?" As the Nets have been among the worst teams in the league for the last few years, a lot of people believe they are completely without talent.
This is very wrong.
Assuming the Nets have to give up Brook Lopez as well as several future first round picks in order to get Howard, the Magic will also insist on the Nets taking on Hedo Turkoglu. This leaves the Nets with a rotation including Williams, Howard, Kris Humphries, Gerald Wallace (he is expected to re-sign), MarShon Brooks, Anthony Morrow and others.
A starting lineup of Williams, Brooks, Wallace, Humphries and Howard would be better than every other starting five in the East bar Miami.
A top five point guard, the best center in the game, two of the top five rebounders in the NBA in Howard and Humphries, an all-around player in Wallace and an emerging talent in Brooks sounds like a great starting lineup.
Throw in Gerald Green, Turkoglu, Morrow and other possible free agent pick ups and the Brooklyn Nets would suddenly have a talented and deep roster.
While none of this has yet to happen, it does seem very likely that Brooklyn will secure both Howard and Williams. Two perennial All-Stars who have plenty of gas left in the tank would give the Nets sustained success over the next decade as well as make Brooklyn's inaugural season a smashing success.
A new look, new name, new stadium and a perhaps a new face or two, the Brooklyn Nets would be a force to be reckoned with.