Tim Lincecum: 5 Drastic Ideas for Getting the Freak Back on Track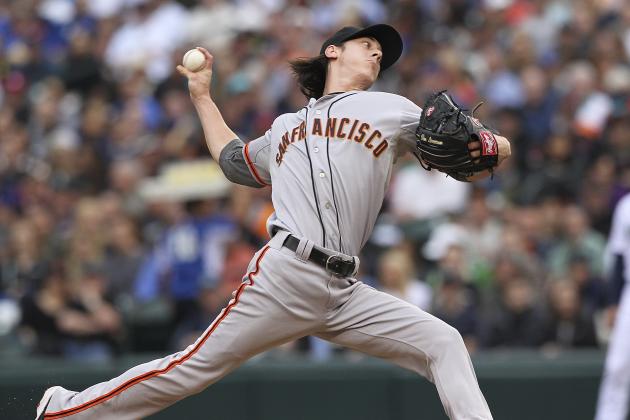 Otto Greule Jr/Getty Images
Can the Giants do anything to get Tim Lincecum back on track?
After compiling five stellar seasons, including two Cy Young Awards, Tim Lincecum is having the roughest stretch he has ever experienced. Lincecum is currently 2-8 with a 6.07 ERA and 1.542 WHIP. The Giants have only won three of Lincecum's 15 starts thus far in 2012.
Is Tim Lincecum washed up at age 28, or can he recapture his old magic and return to top form?
There are many schools of thought here, but the fact remains that Lincecum has lost velocity on his fastball and must do a much better job of relying on location, instead of pure heat. He also needs to be more effective in pitching to contact, so his pitch count doesn't soar early in games.
Lincecum has been particularly susceptible to the big inning. When things have gone against him, he has been unable to limit the damage and is giving up way too many crooked numbers.
Lincecum has already allowed 56 earned runs in his 15 starts, this year. Compare this to last season when he gave up only 66 earned runs in 33 starts.
In 83 innings of work, Lincecum has allowed 83 hits, and his 45 walks is alarmingly high. He has fanned 91, which is good, but he is working too hard for those strikeouts.
What can the Giants do to light a fire under Lincecum and get him back on track?
Here are five potential options the Giants could explore.
Begin Slideshow

»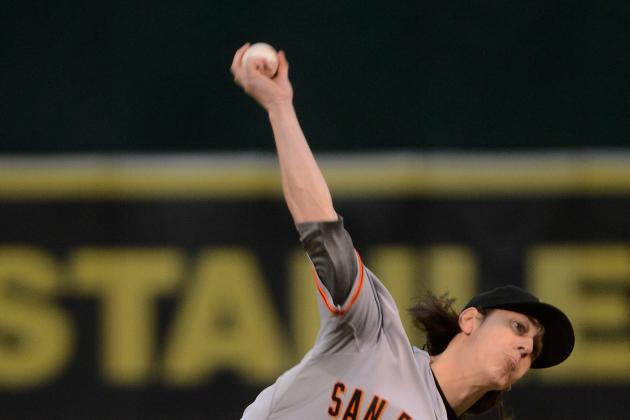 Thearon W. Henderson/Getty Images
Lincecum would be a big trading chip for the Giants
Tim Lincecum has one more year left on his contract after this season. If he continues to struggle, he will have no trade value. However, at this time, there are still many teams that would be willing to make a deal involving the former two-time Cy Young Award winner.
If Lincecum continues to have problems and we are approaching the trade deadline in 2013, he would have minimal value. If the Giants made a move now, they would be able to acquire at least two top prospects, or a decent player, right now.
The longer the Giants wait could diminish the value Lincecum has for any other franchise. Making a deal now would bring the Giants the most via trade.
With Chris Lincecum, Tim's dad, complaining about how the Giants have treated his son, Lincecum might never sign another contract to stay in San Francisco after his current deal expires in 2013. If the Giants do not trade him now, they risk getting nothing for him if he hits the free-agent market.
Would Seattle, Lincecum's hometown, be interested in a deal involving The Freak and Ichiro?
Returning to his childhood home area could be the spark Lincecum needs to rejuvenate his career. Similarly, how nice would Ichiro look in a Giants' uniform?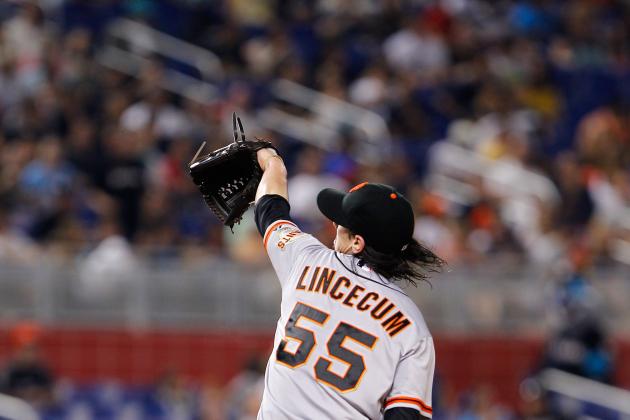 Sarah Glenn/Getty Images
Tim Lincecum could be bound for Fresno
If this was Barry Zito pitching as poorly as Tim Lincecum has thus far in 2012, he would have incurred some phantom injury and missed most of the issues facing him.
Lincecum needs time to work on his mechanics; Fresno is beckoning. The Giants could send Lincecum down for a few starts to get his mechanics in order and build his confidence.
Just imagine the boost in attendance in Fresno whenever Lincecum was scheduled to start.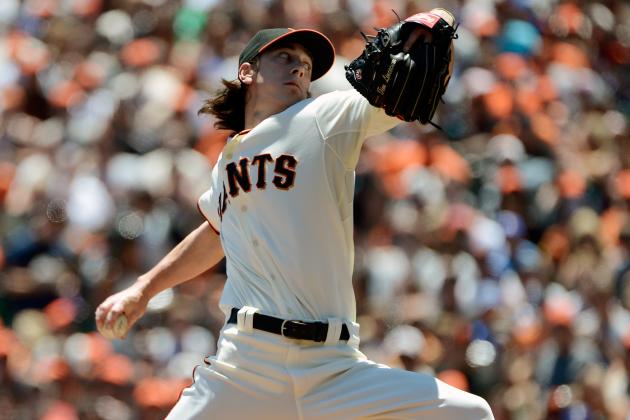 Thearon W. Henderson/Getty Images
Tim Lincecum could flourish out of the pen
It's time to move Tim Lincecum to the bullpen. He has cost the Giants too many games already this season, and a move to the pen would be a wake-up call.
Lincecum could focus on one or two pitches out of the bullpen, because he would only be pitching an inning or two. He would not need to go through a lineup two or three times.
There are also those who have speculated that Lincecum would be a great closer, in the event Santiago Casilla falters in any way.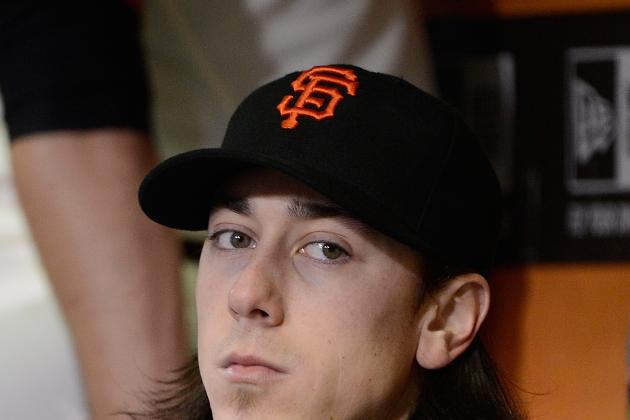 Thearon W. Henderson/Getty Images
The Giants cannot afford any additional poor starts from Tim Lincecum
Roughly 25 years ago, teams would go with a four-man starting rotation. The Giants could do this for a brief period in order to let Tim Lincecum sit out and fix his head.
By skipping a start or two, Lincecum could chill out on the sidelines and regain his focus and mechanics. Lincecum had a rough spring, as he reported to camp about 20 pounds over his normal playing weight. He went on a crash diet and exercise program to take the excess weight off, and that hindered his spring.
Lincecum did not get the same level of quality work in this spring, and the results are showing thus far in the regular season. By skipping a couple of starts, Lincecum could focus on building his strength and endurance, which will enable him to maintain his velocity throughout the course of a game.
Now is the time to skip a Lincecum start or two, as the All-Star break is just around the corner.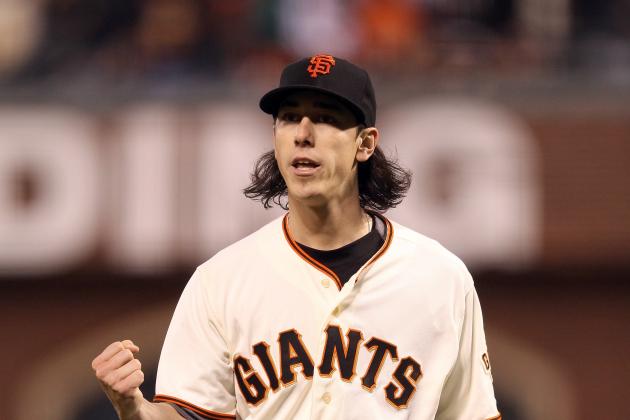 Ezra Shaw/Getty Images
Tim Lincecum is fired up
I hope you all realize that there is only none logical answer to the Tim Lincecum saga. The only solution is to simply leave him alone. He is not far away from recapturing the ability that made him a great pitcher in years past.
Lincecum has shown flashes of brilliance, but his consistency and focus have been a problem. It will be up to Buster Posey or Hector Sanchez—whoever is catching him—to get in his face whenever they sense a moment of weakness or loss of focus from their erstwhile ace.
The reality of the situation is that the Giants' only real solution is to allow Lincecum to work through his problems and get back to where he was before this rough stretch. Giants' pitching coach Dave Righetti and Lincecum can continue to work between starts to right the ship.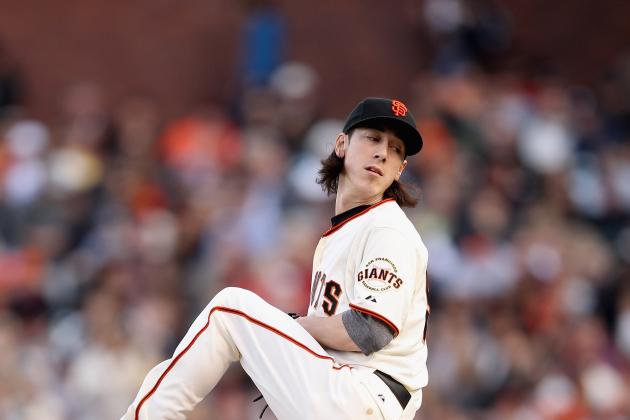 Ezra Shaw/Getty Images
Tim Lincecum will be a Giant at least through 2013
Throw all of the possible options out the window, save one. At this point, Tim Lincecum will remain a Giant through the 2013 season, at a minimum.
The only solution to Lincecum's recent struggles is to allow him the time to work through it and get back on track.
The bottom line is that the Giants do not have a viable alternative to insert into the rotation, and Lincecum has earned the right to get himself back in order.
I am confident that he will do so. Although he may never be as dominant as he was in years past, he can still be a very effective pitcher. The Giants will allow him the time necessary to get back to that point.
Lincecum is an extremely valuable piece of the Giants and their success. He will be given every opportunity to turn his season around, and rightly so.