Which Projects Could Finally Emerge as Legit Players in NFL Training Camps?
June 26, 2012

Jonathan Daniel/Getty Images
Collegiate players come into the NFL from their universities with a significant amount of learning to do. It could be said that he's most likely to get his pure teaching of fundamentals mostly in college, but the opposite can be said as well; it all depends on the coaching staff and his desire to learn.
In the NFL, coaches spend the majority of their time dabbling in intricate aspects of the game and criticizing players for their missed assignments in the film room when they're not on the field. Because of this, athletes, labeled "projects," often take a couple of years to develop the requisite skills to have a constant impact on Sunday's whilst attempting to digest the playbook.
Below are some of the league's top young talents that came into the NFL as projects and, although they are still developing (you never stop in the NFL), could make an impact in training camp that nets them more snaps on Sundays. 
O'Brien Schofield, DE/OLB, Cardinals
Hailing from Wisconsin, O'Brien Schofield was one of the most disruptive forces during his time at the university. He possessed cat-like quickness and quality agility that enabled him to do damage down the line of scrimmage.  
While looking to impress NFL scouts in positional drills at the East-West Shrine, a game in which he won defensive MVP honors, he tore his ACL and subsequently tumbled down draft boards.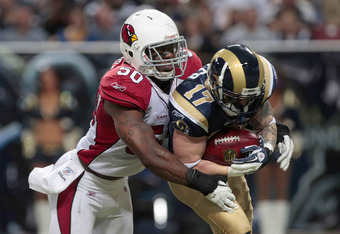 Whitney Curtis/Getty Images
Schofield was drafted by the Cardinals in the fourth round and was limited in his rookie season, playing 10 games. However, last season, Schofield played the length of the season and contributed four sacks to the defense, most notably a second sack against the Cleveland Browns that displayed what made the Cardinals draft him in 2010: stop-start quickness and a closing burst.
This season, he'll likely get more chances after the quarterback and could impress. 
Matt Flynn, QB, Seahawks
The former Green Bay Packers backup quarterback has added pressure this upcoming training camp because he's in a new uniform, under a new contract and a new coaching staff to impress, but it wasn't long ago when Flynn was a seventh-round draft choice out of LSU.
As smart as the 209th pick of the 2008 NFL draft is, he still has a lot to learn about the game, which he will get as he gains playing experience. He still needs to clean up his footwork, a crucial aspect of the position, and play with consistent technique.
Fortunately, his likely transition from backup to starter will be more fluid than it could have been at any other team because of his familiarity with the West Coast offense scheme.
It could be argued that he would have been successful in Miami under former offensive coordinator Joe Philbin, but when one considers the situations in which the Dolphins and Seahawks franchises presently are in, the latter is a better fit.
Flynn will have a power running game that he'll be able to lean on, and the team will use him to his strengths, which include mobility. 
Corey Wootton, DE, Bears
I vividly recall watching Corey Wootton in awe while he was at Northwestern University. He had great stature, towering over the opposition at 6'6", and a wide wingspan of over 34" long. He was also quick at the snap of the ball, could dip his shoulder to bend the arc and close in on quarterbacks—all at great height and 270 pounds. 
He was somewhat of a freak of nature at the time, but a knee injury soon followed in the Alamo Bowl against Missouri, and he didn't look the same the following season, as is the case with most players after a serious knee injury. Sadly, he hasn't been able to stay healthy for the Bears either since they made him part of their 53-man roster after the 2010 draft.
Today, Wootton is said to be feeling better about his health and could have a quality season:
"Right now I am feeling great -- the best I ever have in my life even before I had surgery -- so I am just ready to go," Wootton said.
It's something that we've heard players say multiple times in the past before and not pan out, but there's also a chance that Wootton does regain some of his old form that had NFL personnel men considering him as a top-60 pick prior to injuries. 
Can he make an impact after only 65 defensive snaps last season?
Davon House, CB, Packers 
Some may be asking, "who is Davon House?"
House is a cornerback of the Green Bay Packers who was selected in the fourth round of last year's draft. He is a long athlete that has a significant amount of natural talent despite not playing football until late into high school. 
However, at New Mexico State, he was raw, which Packers coaches could have told you last season after he rarely made an appearance out on the field, but he's said to have improved this offseason significantly, and I believe it. 
He's a hard-working player that is also smart and never really got the proper coaching he needed in college, so he spent much of last year learning the game from the likes of Tramon Williams and Charles Woodson. With Woodson getting up there in age and Sam Shields lacking consistency, House has a chance to cut into the snaps and make an impact.
Reshad Jones, S, Dolphins
Of all the players mentioned thus far, Miami Dolphins safety Reshad Jones might have the most experience on Sunday's, but much like his colleagues, he has a lot to learn. 
Jones might be most memorable for taking an awful angle on a 99-yard touchdown scored by New England Patriots slot receiver Wes Welker, but he's had good moments for the Dolphins as well—when he's been used right.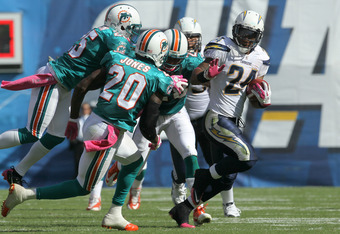 Stephen Dunn/Getty Images
He's best fit in the box as a traditional safety in a single-high coverage, such as Cover 1 and/or 3, because he lacks great range to play in space, and frankly, he doesn't appear to look entirely comfortable having to account for a lot of ground. He's done some work as a deep halves safety in even coverage shells, such as Cover 2 and 4, where he's done fine as well. 
One thing that new defensive coordinator Kevin Coyle liked to do in Cincinnati while teaming up with Mike Zimmer was play a lot of Robber coverage. This concept features the strong safety playing an in-between role, sitting in the intermediate zone and reading the quarterback as he attempts to "rob" any crossing routes ran by receivers across the middle. It's what Jones could end up doing for Miami this season if he impresses in training camp.
Eric Hagg, S, Browns
Last but not least, the list rounds out with another safety, and this time, it's Eric Hagg of the Cleveland Browns. Hagg is not the most popular player in the NFL, far from it actually, and you might not even see him on a depth chart from last season, but he played and he played well.  
Hagg came into the NFL as a seventh-round draft choice and debuted in 2011 at both safety positions for the team after injuries struck. Prior to reaching the NFL, though, he was a safety at Nebraska and had a lot on his plate. He was taught to be strongly disciplined because of his responsibility in reading the offense's tendencies.
In Nebraska's defense, Hagg was a piece of the Cover 2 Man puzzle that the team often ran and he had to read run first, keying the No. 2 receiver, and still keep an eye in pass coverage. These responsibilities may seem similar to Cover 4, and that's because they are; it was a blending of the two coverages by Nebraska. 
With the Browns, Hagg will have similar responsibilities as a potential starting free safety, which he could become if he wins shows his great instincts and intelligence.
Overall
The NFL has had a lot of negativity around it as of late, but every year, there are feel-good stories that are a part of the season, and these stories include project athletes becoming legitimate NFL players.
They come into the NFL as prospects that have a long way to go to not only perform consistently on Sundays, but get on the field. And sometime down the road, they do just that; they improve their raw skills under the guidance of professional coaches and make impact plays that change the outcome of games. 
In a sense, NFL project athletes embody human kind: hard-working individuals (for the most part) that have learned and mastered techniques that ultimately lead them to making an impact in their craft and on their surroundings in some shape or form. 
That's what the players mentioned above hope to do in training camp, and subsequently, during the regular season, when they'll see their snaps increased from last season. 
Players not mentioned but not forgotten: Brandon Fusco, C/G, Vikings - Allen Bailey, DE, Chiefs