US Olympic Track & Field Trials Results 2012: Nick Symmonds Golden in 800 Win
June 26, 2012

Christian Petersen/Getty Images
The United States has not won an Olympic medal in the 800-meter run since American Johnny Gray took the bronze during the 1992 Barcelona Games.
Simply put, the 800 has been a world event, though Kenya has clearly dominated in collecting five men's 800 medals since that time.
On Monday, American Nicholas Symmonds laid the framework to change all that.
During the finals of the men's 800-meter run in Eugene, Symmonds produced a time of one minute, 43.92 seconds over his two laps, a time not seen since his personal best of 1:43.76 in Reiti, Italy, and an improvement over his 1:44.10 win during the Olympic Trials four years ago.
Ah, if only the status quo were good enough—in 2008, Kenyan Wilfred Bungei won the Beijing gold in this event with a time of 1:44.65, a time that was still slower than Symmonds' 2008 qualifying run.
Indeed, the 2012 London Games will provide a forum of vindication for Symmonds, who appeared out of his element during the 800 semifinal, recording a sluggish 1:46.96 and finishing fifth in his heat, missing out on the final by just five-tenths of a second.
No, Symmonds' performance in Oregon Monday demonstrated he is better than that rattled runner in 2008. In putting up a 1:43.92, Symmonds ran the fastest 800 ever recorded in Eugene, kicking over his final 100 meters to win the contest.
That final kick demonstrated Symmonds' endurance and timeliness, two traits he did not possess when he flamed out during the 2008 Games.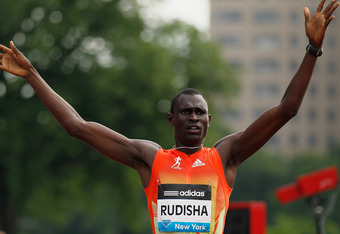 Mike Stobe/Getty Images
In his return to the Games, Symmonds will have a chance to move into the podium spot formerly held by Russian Yuriy Borzakovskiy, who lost most of his 2010 season due to injury and fell from Beijing silver to 2011 Daegu bronze, running a 1:44.49 at Daegu.
Symmonds' first challenge in London might be Sudan star Abubaker Kaki, the 23-year-old future of Sudanese sprinting. Kaki qualified for the Beijing Games, though finished just 24th with a time of 1:49.19.
Since Beijing, Kaki has turned it around, powering his way to a 1:44.41 silver performance at Daegu and 1:46.23 mark at the 2010 World Indoor Championships in Qatar. With a personal best and Sudan national record of 1:42.23, achieved at Olso in 2010, Kaki will be one of Symmonds' biggest challenges come London.
Unfortunately, it doesn't get any easier with Kenyan David Rudisha. Also 23 years of age, Rudisha is the current world-record holder in the 800, running a 1:41.01 at Rieti 2010.
Since bursting onto the youth scene in 2006, Rudisha has placed first in every large race attempted—from the World Athletics final in Thessaloniki, Greece in 2009 to the 2011 World Championships in Daegu, it's been nothing but gold for Rudisha.
So as Symmonds attempts to gain a medal at the London games, his golden performance in the United States may translate to another color by Olympics' end. At the very least, Symmonds looks more than capable of getting to the podium this year.