Chicago Bulls: Dealing Luol Deng to Sacramento Makes the Most Sense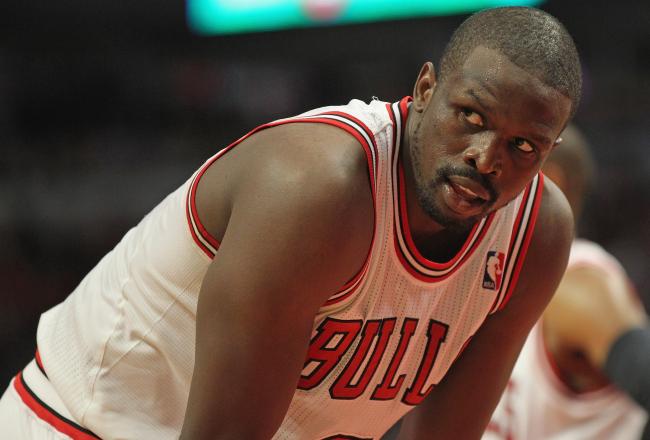 Jonathan Daniel/Getty Images
Rumors about Luol Deng being traded have been buzzing like a hornet in the past week. One rumor, which had Deng heading to Golden State, has been squashed while others are worth speculation as we approach the NBA draft on Thursday evening.
The Golden State scenario never made any sense for the Bulls. They would've gained the No. 7 pick from the Warriors and a veteran player like Richard Jefferson, a significant downgrade from Deng, who's an All-Star in the midst of his prime.
There is also some speculation that teams in the top five might be willing to trade their pick. The Charlotte Bobcats have specifically revealed interest in potentially trading their No. 2 pick. The Cleveland Cavaliers are another team who the Bulls could consider offering a trade, although they seem more interested in potentially striking a deal with Charlotte for the aforementioned No. 2 pick.
If the Bulls entered the scenario with either of these teams, there would certainly be reason for Charlotte or Cleveland to consider an offer of Deng and Chicago's No. 29 pick for either the No. 2 or No. 4 selection. Despite the quality players the Bobcats and Cavs would bypass, such as Bradley Beal or Michael Kidd-Gilchrist, they would inherit a proven All-Star and veteran in Deng.
For the Bulls, there is reason to ponder such a deal, but there are concerns as well. Is it worth trading Deng, who's in his prime, for a rookie who will need a few years to develop? While the Bulls still remain rather young, they are also in a place to contend for a championship right now, assuming Derrick Rose can return to his old self at some point next season.
Therefore, bidding farewell to Deng and only receiving a rookie in return for him does not make the most sense for Chicago. This is why a deal with Sacramento, who holds the No. 5 pick, makes the most sense, and is honestly a feasible scenario.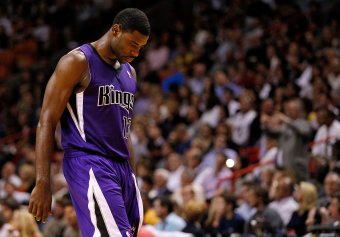 Mike Ehrmann/Getty Images
ESPN's Bradford Doolittle previously speculated a deal which would send Joakim Noah and the No. 29 pick to Sacramento for Tyreke Evans and the No. 5 pick. This is a deal that has some logic to it, both for Chicago and Sacramento, but a deal involving Deng makes even more sense.
A potential deal could feature Deng, the No. 29 pick and a future Charlotte protected first-round pick Chicago possesses for Evans and the No. 5 selection.
Trading Deng rather than Noah is wiser because of who should be available at the No. 5 pick. It's been reported that the Bulls met with Harrison Barnes, who would seemingly be an ideal replacement for Deng at the small forward position.
On the other hand, if the Bulls cast off Noah, there is likely not an NBA-ready center available in this year's draft (Andre Drummond and Meyers Leonard will take a few years to develop). Thus, the Bulls would be forced to extensively use the offensively inept Omer Asik at center, assuming they re-sign him.
If the Bulls could pull the trigger on a package sending Deng to Sacramento for Evans and the No. 5 pick, they could potentially have a starting lineup of Derrick Rose, Evans, Barnes (or Michael Kidd-Gilchrist, if Barnes is off the board), Carlos Boozer and Noah, with Taj Gibson coming off the bench. Such a squad could undoubtedly give the boys from South Beach a good run for their money.
Of all the potential Luol Deng trades floating through the NBA universe right now, this is the one which makes the most sense for Chicago. They would receive not only a top-five draft pick, but they would also land Evans, who's struggled to take strides in his NBA career but is unquestionably talented (he was the NBA Rookie of the Year in 2009-2010). There's plenty of reason to believe Bulls coach Tom Thibodeau could pull the undeniable upside out of Evans.
And to take this speculation a step further, let's say Sacramento desires more from the Bulls. Well, should the Bulls then consider including the rights to Nikola Mirotic to make this deal happen? After all, Gibson does look like he's the Bulls' power forward for the future.
My point here is that this deal is worth much exploration. There's obviously a place to draw the line (it's not like the Bulls should give up both Deng and Noah), but if the Bulls need to include a couple pieces besides Deng, it's likely worth it.
Overall, despite the Rose injury, there is still bright hope for the future in Chicago, and if they do soon make a draft day move, a deal with Sacramento could make the future all the brighter in the Windy City.
This article is
What is the duplicate article?
Why is this article offensive?
Where is this article plagiarized from?
Why is this article poorly edited?

Chicago Bulls: Like this team?