Knicks Rumors: Best Point Guard Option for New York in Free Agency
June 28, 2012

Christian Petersen/Getty Images
The rumors surrounding point guards have been circulating for quite some time now. In recent weeks, Steve Nash, Jason Kidd and Raymond Felton have mentioned that they would consider playing for the Knicks in New York's Madison Square Garden. Are they really considering this or are the free agents just doing their due diligence?
As reported by ESPN, Steve Nash mentioned that he "would definitely consider" coming to play for the Knicks if they were truly interested in acquiring him this upcoming offseason. Any and every team without an established point guard will contact Nash. After all, he averaged a double-double last season with 12.5 PPG and 10.7 APG.
This kind of production would instantly improve the Knicks, but the risk associated with Nash's age—along with the price tag—should be enough to steer the Knicks towards a different direction. Nash is 38 years old and in basketball age that translates to pushing 50. He could certainly mentor Lin and mold him into his protege, but is the price tag associated with Nash worth it? I might be one of the select few, but I don't think so.  
The next point guard to bring up the idea of playing in front of a sold-out crowd at Madison Square Garden was Jason Kidd.  In the same ESPN article, The 39-year-old point guard said that he wouldn't mind coming to New York to mentor Jeremy Lin and help him understand the position more.
While Kidd's contract won't be nearly as much as Nash's, I still don't think Kidd is the answer to backing up Lin. Last year, the point man went down with an injury, and at his age, any injury will be hard to return from at 100 percent. 
Kidd only averaged 6.2 points and 5.5 assists with the Mavs last season. The Knicks will need more than this for their second unit. Kidd can still run point, but he almost certainly won't be doing it like his older days. I think it will be smart for the Knicks to let Kidd take the hike to Brooklyn.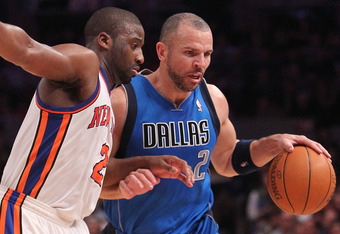 Nick Laham/Getty Images
Bringing back Raymond Felton could also be a possibility. It seems that the former Portland point guard has no hard feelings with New York. As reported by South Carolina Now, Felton said that he'd consider a return to New York if he cannot remain with the Trailblazers.
Last year, Felton's stock plummeted in comparison to his days in a Knicks uniform one year prior. While in Portland, Felton averaged 11.4 points and 6.5 assists per game. Looking back when he paired with Amar'e Stoudemire under former Knick coach Mike D'Antoni, Felton was averaging 17.1 points with 9.0 assists per game. 
You may argue that Felton came to training camp significantly overweight and never got his quick first- step back, but I'd say out of the three point guards I've mentioned, he may be the Knicks' best option financially.
Let's think about it. If Felton can come back healthy and in shape, the Knicks would not lose any production when Lin comes to the bench. Depending on free agency, we might have Mob Deep 2.0, and with Felton, Novak and possibly Smith, the bench does not lose much production.
Felton won't command as much money as Nash either, and at 28 years old, he's got plenty to offer the franchise.
Please feel free to comment below and let me know your thoughts on the article and who you think the Knicks should sign—point guard or another position.