8 Players Dan O'Dowd and the Colorado Rockies Should Have Never Let Go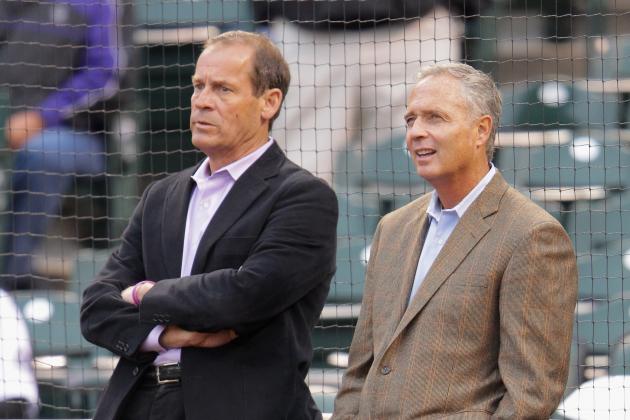 Doug Pensinger/Getty Images
The only thing hotter than the weather is the ire directed at Dick Monfort and Dan O'Dowd
Every franchise makes mistakes.
Some make more than others.
The Colorado Rockies continue to trudge through a nightmarish 2012 season. Trade rumors swirl around their top players and the pitching staff deserves no mention. Dan O'Dowd has manned the helm for the past decade and has been burned by some poor personnel decisions. Colorado may be in a much better place if their maligned GM decided to keep these players in the fold.
Begin Slideshow

»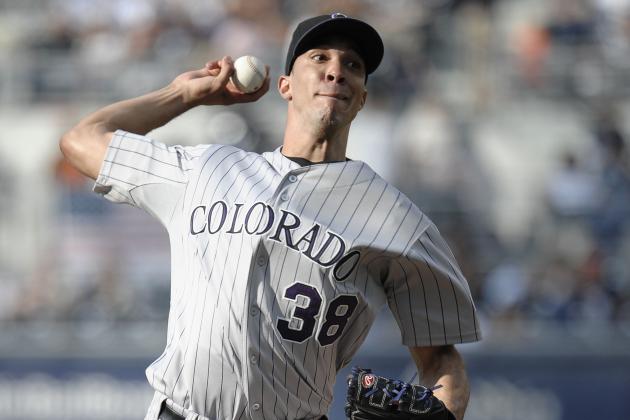 Denis Poroy/Getty Images
Ubaldo is the last Rockie pitcher to make the All-Star Game
Sore subject, I know, but it must be addressed.
Jimenez was the main casualty on a very disappointing 2011 season. The Rockies were a popular choice to win the division and compete for the NL pennant, but instead finished 73-89, 21 games out of first in the West. Ubaldo struggled significantly after a tremendous 2010 campaign. Part of the problem was the Rockies pounded their chests and built up loads of interest in the offseason. With such a terrible fallout, one of the stars had to be sacrificed. Since Jimenez performed the worst of the "Big Three" that included Carlos Gonzalez and Troy Tulowitzki, the hard-throwing Dominican was the odd man out.
The biggest problem with the trade was the return. Alex White hasn't found his groove at the major league level, and Drew Pomeranz still isn't deemed worthy of owning a spot in baseball's worst starting pitching rotation. Colorado is so hell bent on keeping Pomeranz in the minors, Jim Tracy actually prefers to go with a four-man set instead of bringing up the prospect.
On the other side, Jimenez is starting to settle in by Lake Erie. He's put together a very strong month of June, winning two of his four starts while posting an excellent 2.05 ERA. In addition, he's lasted through the sixth inning in six of his last seven outings. By comparison, no Rockies pitchers have posted such a number of quality starts over the season, let alone the past 5 weeks.
In review, the backlash from this trade propelled disdain for the Rockies management to a new level.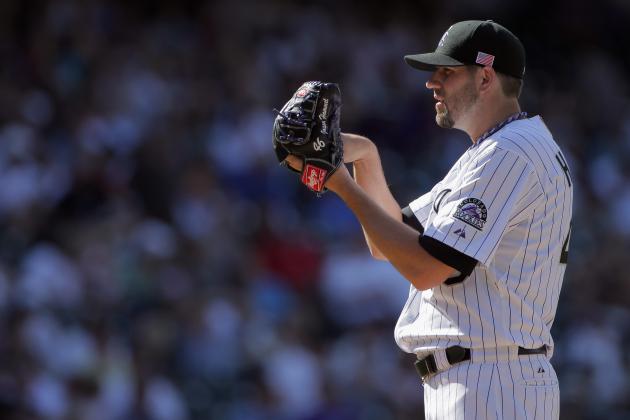 Doug Pensinger/Getty Images
Jason Hammel may be on the road to his first All-Star appearance
Dan O'Dowd's biggest offseason trade has gone up in flames.
Jeremy Guthrie has been booted off the starting rotation and is nursing a 6.34 ERA from the bullpen.
Jason Hammel has compiled an 8-2 record and 2.61 ERA for the upstart Orioles.
Hammel is certainly one of the biggest surprises of 2012, and not many expected Guthrie to completely implode at Coors Field. But this is just salt in the wound of another O'Dowd mishap. The most frustrating thing is he's never held accountable for mistakes. This lopsided trade is one of the headliners of the season, along with Tulo's extended DL stay and Dick Monfort's idiotic endorsements.
Guthrie probably won't be in Colorado for too much longer, and based on O'Dowd's track record, the Rox most likely won't receive anything of note. So, a potential 15 game winner and All-Star candidate in Hammel all but vanished off Colorado's roster.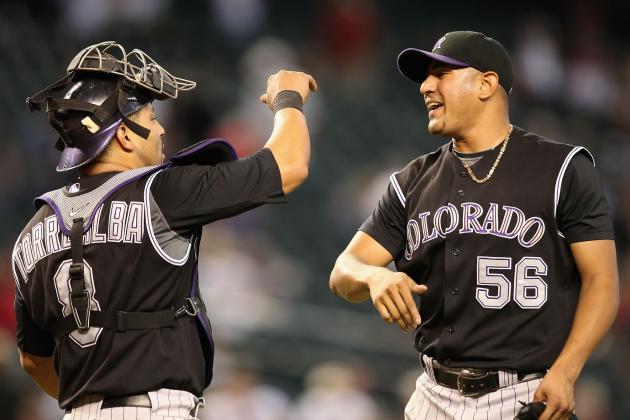 Christian Petersen/Getty Images
Franklin Morales is now a key piece of the Red Sox 'pen
Franklin Morales' departure from the Rockies may have been deserved, but his renaissance with the Red Sox raises a troubling trend with Colorado. More and more indications point to the Rox inability to develop their prospects. Morales is a graduate from the Latin America system, and showed some promise early in his career with Colorado. Many scouts acknowledged Morales' supreme strikeout ability, but bemoaned his wild arm. Eventually, his extreme lack of control forced the Rox to ship him up to Boston.
Since the trade, Morales has harnessed his control and is a rock steady reliever. He's averaged over a strikeout per inning and has recently experimented in the starting rotation. He's rewarded the Sox by punching out 17 players in his last two starts. The Red Sox are off to a tough start this season, but Morales is one of the anchors preventing a meltdown. Sadly, he would be one of Colorado's top pitching options if he were still sporting the purple pinstripes.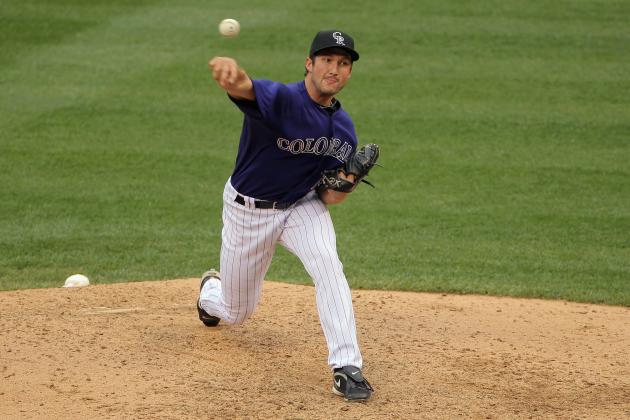 Doug Pensinger/Getty Images
Street averaged 28 saves per season in his three years with Colorado
Street may be a questionable choice, but his absence left a hole in Colorado's bullpen. Rafael Betancourt became the de facto closer after Street's dismissal and seemed like a stop-gap solution. The two pitchers both posted very comparable stats, except Betancourt, at 37 years old, is at the tail end of his career. The 10-year veteran has experienced some trouble in his new role, blowing three saves in 15 chances.
Street, meanwhile, has been spectacular in San Diego. His ERA is below 1.60 and WHIP is less than 0.80. He always got a bad rap in Colorado for the tendency for creating nail-biting situations, but Street is definitely an above average closer. Fans were never too enamored with his finesse style, but the former Texas Longhorn is effective and reliable.
Colorado does have some promising up-and-coming closer prospects, so the emergence of one may lessen the sting of losing Street
Jim McIsaac/Getty Images
Matsui's grand slam against Philadelphia in game 2 of the 2007 NLDS was a defining Rocktober moment
Kazuo Matsui was an under-appreciated yet vital piece of the legendary Rocktober run. He was half of arguably the league's best middle infield and provided a solid option at the top of the batting order. Kaz scored 47 percent of the time he reached base in 2007, tops in the majors. His ability to set the tables for Colorado's lethal bats paid huge dividends for the club. The Rox finished with five players ushering in over 90 RBIs.
But the Rockies made little attempt to keep Matsui in Colorado.
In the offseason, Matsui tested the free agent market. He cashed in on his big season by signing a three year, $16.5 million contract with the Houston Astros. Clint Barmes succeeded the native of Japan and performed well, but the Kaz-less Rox were a different club. In 2008, Colorado scored 113 less runs without Matsui, largely because their No.1 and No. 2 hitters had such difficulty getting on base. Ever since his departure, the top of the order has never quite been the same.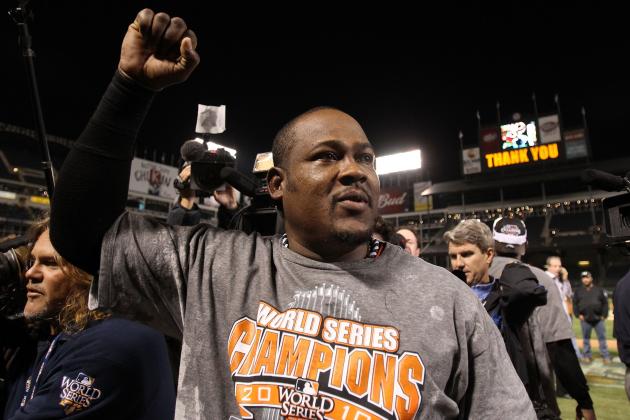 Ronald Martinez/Getty Images
The 32-year old Uribe is in the midst of his 12th MLB season
Juan Uribe was a highly regarded prospect who hit some snags in his development with Colorado. Uribe certainly boasted great potential, but lacked consistency. He was a very aggressive hitter and racked up a lot of strikeouts, but his defensive game was well rounded. Despite his youth, management grew irritated with his sporadic play. Dealin' Dan gave Uribe the boot in 2003, after 3 seasons with Colorado.
The portly Dominican went on to win two World Series, one with the White Sox in 2005 and another with San Francisco in 2010. On each squad, Uribe was an extremely versatile, reliable defender and has played virtually every position in the infield. The Rockies' free agent signee has a big reputation for being a free swinger, and belted 24 homers in his 2010 season as a Giant.
And the Uribe time line leads down the track to another O'Dowd failure...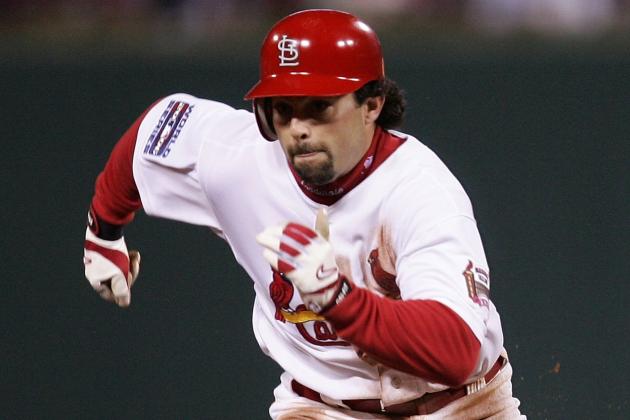 Jonathan Daniel/Getty Images
Aaron Miles won the World Series a year after being traded
Aaron Miles was the return in the 2003 Juan Uribe trade. At the time, Uribe was scuffling in the majors, while Miles had suddenly rocketed up the minor league ranks. In his time in Colorado, Miles continued his solid play and finished fourth in Rookie of the Year voting in 2004. He hit .293 and .281, respectively, in his two seasons as a Rockie. Apparently, Colorado wasn't too impressed.
In the 2005 offseason, Miles was dealt in exchange for Ray King. Miles was an important piece of a dominant St. Louis team in the mid 2000s, batting .288 for the Red Birds over four seasons. He also reached the pinnacle of the baseball world, winning the World Series in 2006.
Ray King's career went south almost immediately. His K/BB ratio was virtually even and the pitcher was out of Colorado by the end of the season. Two years later, his professional career was over.
So a new chapter to add to O'Dowd's legacy is the two degrees of Juan Uribe. O'Dowd's ineptness is remarkable in its own right, as not many baseball professionals can fiddle with two high-end prospects before ultimately producing a washed up reliever.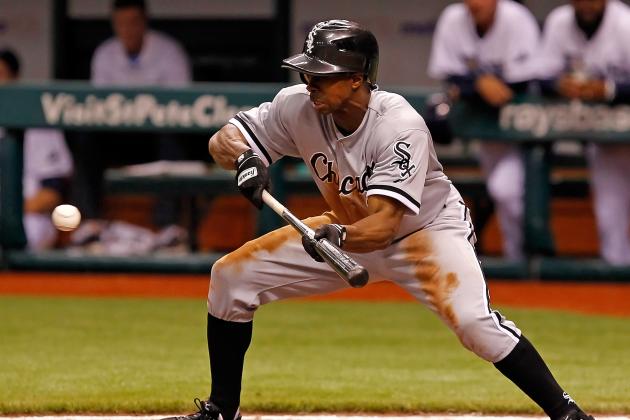 J. Meric/Getty Images
The electric Pierre has stolen 570 bags in his 13 year career
Juan Pierre, the 13th overall selection of the 1998 MLB Draft, hit the ground running in his professional career. He hit .308 in his three years as a Rockie and swiped 100 bases. His old-school style and small ball perfection quickly made him a fan favorite.
But before the talented outfielder could hit his prime, he was packing his bags for the sunshine of Florida. In 2002, Pierre was traded along with Mike Hampton in exchange for Preston Wilson, Charles Johnson, and two prospects. Johnson's career quickly fizzled and his .230 batting average led to retirement just three years later. Wilson enjoyed a monster 2003 season, slugging in 141 RBIs and earning a spot in the All-Star Game.
However, ailments began to mount on Wilson the following season, Eventually, the injury-plagued outfielder was moved for some fringe major leaguers.
And what about Pierre?
Juan Pierre won the World Series in his first season with the Florida Marlins and was the stolen bases champion on three separate seasons. His career stats are truly remarkable. The Alabama native has played an entire 162-game schedule for five back to back seasons and topped the 200-hit milestone twice. He's a lifetime .297 hitter, and has averaged 90 runs per year. He possesses top-end speed and is a brilliant outfielder.
His ability and steadfast dedication to the game makes it easy to see why he's one of the most respected and accomplished players in baseball.
It's too bad we didn't get to witness his prime at Coors Field