Zach Parise: Breaking Down Potential Landing Spots for Talented Winger
June 26, 2012

Bruce Bennett/Getty Images
After racking up 31 goals and 69 points—the fifth straight full season of at least 30 goals and 60 points—Zach Parise is going to be a hot commodity. 
The New Jersey Devils are certainly going to want to keep the unrestricted free agent, but they will have to pay for one of the best wingers in the game. Because rest assured, plenty of other squads will be courting Parise.
Here's a look at some potential landing spots for the 27-year-old Minnesota native. 
New Jersey Devils 
After being drafted by the Devils in the first round of the 2003 draft, Parise made his way through the ranks and made his debut in the 2005-06 season.
He's been with the Devils his entire career. 
While New Jersey has plenty of money invested in talented players such as Ilya Kovalchuk, Patrik Elias and Travis Zajac, it still has plenty of cap space to lure Parise, who has constantly given praise to city of New Jersey and the Devils organization.
If the Devils throw a huge contract at Parise, however, it likely means players such as Ryan Carter and Stephen Gionta won't be coming back. 
Parise has flat out said the New York Rangers aren't in play, but that doesn't mean they won't continue to pursue him. 
The Rangers really struggled to put the puck in the back of the net during the playoffs, so adding a sniper of Parise's caliber would be a huge get, just don't get consider the odds very high.
Minnesota Wild
Could the prodigal son return home? 
Minnesota certainly has the sentimental advantage, as Parise is born and bred in Minnesota and would be welcomed with more than open arms by everyone in the state.
The Wild have the cap space, too, but does Parise really want to go to a team that finished 35-36-11 last season? He would probably rather play for a playoff contender, but nonetheless, don't count Minnesota out. 
The Penguins traded Jordan Staal to Carolina and made a few other moves in order to open up a huge amount of cap space.
What they want to do with that cap space is clear: Sign Zach Parise. 
That fact that Parise would be able to play with Sidney Crosby, his friend, and Evgeni Malkin, another extremely talented player, should be incredibly enticing.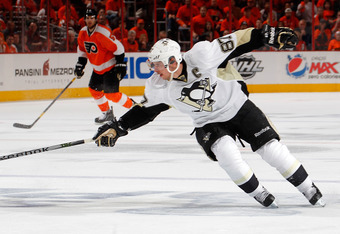 Paul Bereswill/Getty Images
While all of these teams can offer Parise big-time money, the chance to contend for the Stanley Cup should rank high on his list. While that's good news for the Devils, it also means the Penguins will be near the top of his list.