Could Jets Defensive Linemen Muhammad Wilkerson Be Suspended for Car Accident?
June 26, 2012

Doug Pensinger/Getty Images
At least Jets defensive tackle Muhammad Wilkerson, and everyone involved in Saturday morning's car crash, is safe.
It could have been a lot worse, with Wilkerson's car traveling 10 feet on its hood across the Garden State Parkway at 4:23 in the morning.
An injury could have befallen him that caused him to miss multiple games. Instead, according to ESPN, Wilkerson was treated with stitches in his forearm, but the injury shouldn't inhibit his ability to contribute once training camp rolls around July 26.
"First and foremost, other than the minor injuries, he's OK and everyone else involved is OK but I do not have a lot of details," said Wilkerson's agent, Chad Wiestling, per ESPN.
That's huge for a Jets defense that will be using some similar philosophies defensively, but will be using a lot of new looks with a 4-3 front being installed by defensive line coach Karl Dunbar which will also incorporate the 46 defense.
That's a lot for a young defensive lineman to learn in one offseason, and with the NFL not locked out this year, it'll be the first real offseason for Wilkerson as an NFL player. This is a crucial period of time for his growth, and he's being relied on to provide at least what he gave the Jets last year, if not more.
The Jets are thankful that he won't miss any games. Wait, he won't, will he?
According to the ESPN report:
Kay said Wilkerson was charged with careless driving and failure to maintain his lane after he struck a Toyota Sienna with his 2011 Dodge Challenger, according to the police report. Police responded after being notified of the accident at 4:29 a.m. on Saturday.
"Reckless driving" is a misdemeanor offense in New Jersey, but the league's personal conduct policy (via ESPN) makes it clear that the difference between a criminal offense and a misdemeanor offense almost doesn't exist when you're in the NFL.
It does say, however, that, "Conduct that imposes inherent danger to the safety and well being of another person" is considered a criminal offense.
Does careless driving fall under that category? That's up to Goodell to decide, but recent history would tell us that even if it does, Wilkerson shouldn't be punished. His clean record to this point should play considerably in his favor in the court of opinion that is the Commissioner.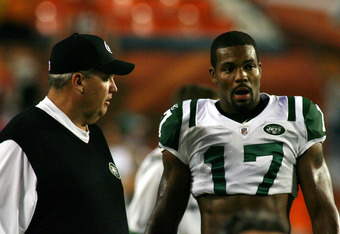 Marc Serota/Getty Images
What's more, if wide receiver Braylon Edwards got off scott free for a DUI back in 2010, surely Wilkerson won't get suspended for this minor incident.
Speaking of which, at least there was no alcohol involved.
According to Jenny Vrentas of the Newark Star-Ledger, "There was no indication that Wilkerson was under the influence at the time of the crash, according to Kay, who said there were no other injuries."
But would you even assume there was? Wilkerson is a high-character guy. What did he do with his first-round money? He bought a Dodge Challenger. Not a Lexus or a Mercedes.
Jets head coach Rex Ryan said of Wilkerson recently (per New York Daily News), "He doesn't take a day off. He doesn't take a play off."
If there were alcohol involved, the chances of him being suspended would be slightly greater, though based on Edwards not being punished, the same should apply for Wilkerson.
But thankfully, for everyone's sake, there wasn't any alcohol involved. 
Either way, at least everyone's safe.
Erik Frenz is the AFC East lead blogger for Bleacher Report. Be sure to follow Erik on Twitter and "like" the AFC East blog on Facebook to keep up with all the updates.