Wimbledon 2012 Scores: Jaw-Dropping Results from Day 1
June 26, 2012

Clive Rose/Getty Images
Day 1 of Wimbledon 2012 ended, but not before four of the best players in the world were stunned and forced to start packing early.
The first round proved to be dangerous once again for big-name stars, just like it did at the French Open. Today's action proved to be more than four stars could handle, setting the tone for the rest of The Fortnight.
Of all the action on Monday, these were the four most shocking results.
Alejandro Falla beats John Isner
John Isner was the highest-ranked American in the field, but Alejandro Falla didn't get the memo. He ended up shocking the Marathon Man by winning 6-4, 6-7 (7-9), 3-6, 7-6 (9-7), 7-5.
Isner was ranked No. 11 coming into the match, but after another lengthy match he ended up losing the final two sets.
Isner should have finished the match during the fourth set tie-breaker—an area in which he excels—but he didn't look anything like his usual self and choked.
Denis Istomin beats Andreas Seppi
In another five-set thriller, No. 23 ranked Andreas Seppi fell 7-6 (7-2), 4-6, 6-3, 3-6, 6-8.
It looked like Seppi would end up meeting Isner for a great match in the third round, but both ended up falling on the first day of play.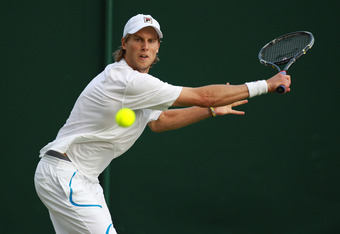 Clive Brunskill/Getty Images
Seppi also got off to a two sets to one lead before eventually choking, but he too was ousted in his first match in London.
Elena Vesnina beats Venus Williams
Serena Williams fell in the first round of the French Open in a shocking loss. Ironically, in the next Grand Slam her sister, Venus, lost in the first round for the worst loss she's suffered in 15 years.
Venus never had control of the match, and Vesnina beat her 6-1, 6-3. Venus has been suffering through an autoimmune disorder that has clearly affected her play.
Even so, this was a match she should have won easily.
Venus has found a lot of success in London before, but she didn't last long enough to see the sun set on the grassy courts.
Ernests Gulbis beats Tomas Berdych
Tomas Berdych was ranked No. 6 coming into Wimbledon.
No. 6.
He looked like the only man who could stop Novak Djokovic from reaching the semifinals, but after falling to Ernests Gulbis in three straight sets, we'll never know if he could have done it.
After losing all three sets in tie-breakers, Berdych is the highest-ranked player to lose on Day 1. The fashion in which he did so was nothing short of jaw-dropping.