Turn Up The Music: The Best WWE Themes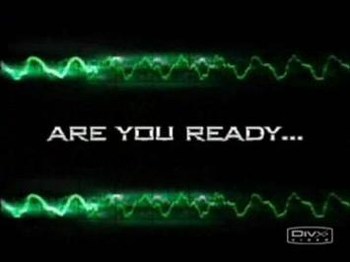 We love WWE superstars, we love their finishers, we love their matches, we love most of their promos. From their styles, in-ring abilities, jaw-dropping moments, and attire, these superstars are the perfect entertainment package.
So what about their music? Yes, their theme music has to be great, and we've heard many great songs over the years, but who has the better ones? This list is difficult and many will disagree, so here goes.
10. "He's Late...But The Song Is Still Great"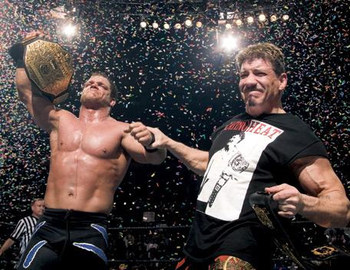 I find it weird talking about Chris Benoit now, since I haven't really said much after the tragedy. Regardless, if he's praised or banished, he is still the best technical wrestler I've ever seen. And, his theme was a great one. I wish I knew the words, but I can hear it humming along in my head even now.
9. "No Chance...Here comes the Money!"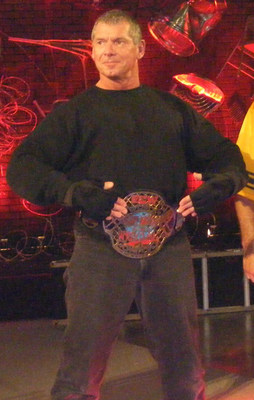 Some might shake their heads in disappointment, but Vince's No Chance song was a good one. When you heard "No chance, that's whatcha got," you knew the theme wasn't lying, because someone was going to feel the wrath of the boss.
Everyone also gets on their feet for Shane's "Here comes the money" too. It's catchy as he does his "Rocky"-like moves to enter the ring.
8. "Thunderclap!"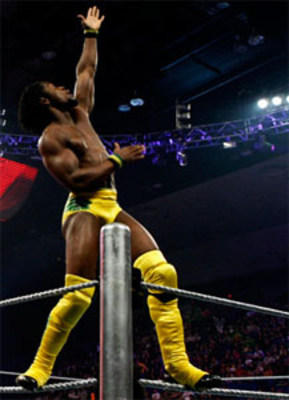 I'm probably going to get shot up for this one, so I got a bulletproof vest, but Kofi Kingston's song is just too damn catchy. Sometimes I catch myself jamming to it, and I can't get it out of my head. "I hear them Shouting"...oh no, there it goes again!
Those Thunderclap pyros just fit the theme perfectly and make me jam some more. It's not trouble in paradise, but music in paradise...forgive me, its just too catchy....does anyone have some rum?
7."Hey! Nothing You Can Say..."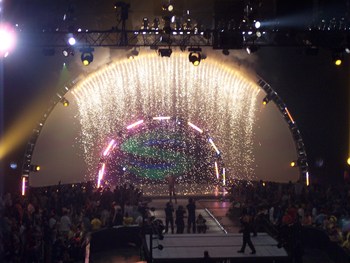 Randy Orton hits the list at No. 7. I'm a diehard Orton fan and he's my favorite superstar, but that aside, Rev Theory's "I Hear Voices", and Mercy Drive's "Burn In My Light" were great, great theme songs, and they suit Orton ever so nicely.
6. "Ohh, Hell Yeah!"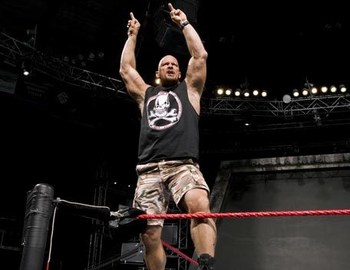 Stone Cold Steve Austin's theme got everyone hyped. I loved it, and I'm sure most people do too, but there aren't any lyrics (I know Austin had different themes, but I'm referring to the classic). Austin would come out, stun everyone, drink beer, raise some more hell, and drink some more beer as we cheered to his theme. When you heard that glass shatter, you knew everyone was about to get rowdy.
5. "You Think You Know Me?"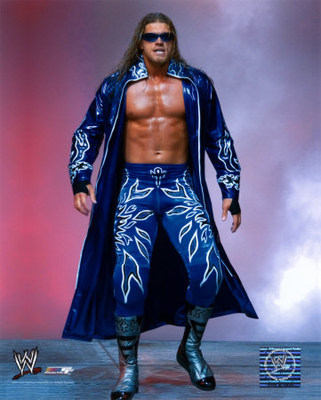 All of Edge's themes were good, but his latest one is the better one. When Edge transformed to the "Rated-R Superstar," we were introduced to this great rocking theme "On this day!" The theme would start out and you cannot deny it. The Ultimate Opportunist not only snagged the WWE title at the right moment, but he snagged the right theme too.
4. The "Ayatollah of Rock 'N Rolla!"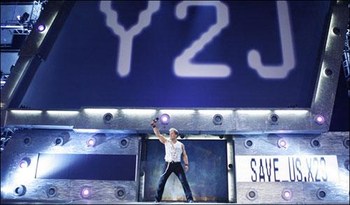 When he debuted on that hot August summer, I saw one of the greatest mic battles in history as Jericho took on the Rock. I saw his entrance and heard the music "BREAK THE WALLS DOWN!" I was hyped and I had no idea who was coming out, but that music was a really catchy theme song. Jericho still uses it today, though it's a remixed version.
3. "Are You Ready?"
Before we were breaking the walls down, we were breaking it down with Degeneration X. That black-and-green color scheme matched perfectly with the song. Remember those attitude days? Vince or the Nation of Domination would be be cutting a promo and then the "Are you Ready?" song would just cut to "Break it Down!" Catchy and great still to this day, and if you don't agree, then I got two words for ya...
2. "Can You Smell What The Rock Is Cooking?"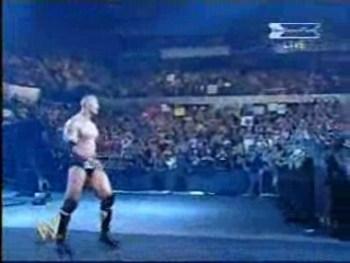 Is it impossible for the most electrifying man in sports entertainment to have one the most electrifying theme song in sports entertainment? No, but as good as this theme song was, it wasn't great enough to edge out the No. 1 pick.
Still, The Rock has rocked us with his jamming theme for years, and every time you heard it, you knew everyone was about to get hyped. The Rock says "Know your role, and shut your mouth." Listen to his theme, and then listen to the best mic work you'll ever hear.
1. "I'm Just A Sexy Boy!"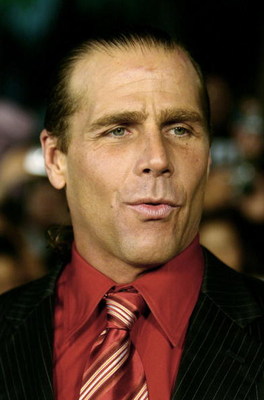 Thank you, Shawn Michaels, and thank you Sensational Sherri. HBK's "Sexy Boy" theme is still the fantastic almost two decades later. The longevity of this theme song is simply amazing, as HBK is probably the only WWE wrestler I know who hasn't changed his theme (DX's theme doesn't count, as it's a stable theme).
I got tired of the "Time to play the game" theme, so Triple H's theme doesn't cut this list. It doesn't matter if HBK is coming out for a Wrestlemania classic, victory speech, or to cry about how he needs money for his family to JBL. This song is immortal, classic, and I dub it the greatest ever.
Honorable mention: Triple H's theme, RVD's theme, Kurt Angle's theme.
Keep Reading