Rating England's Players at Euro 2012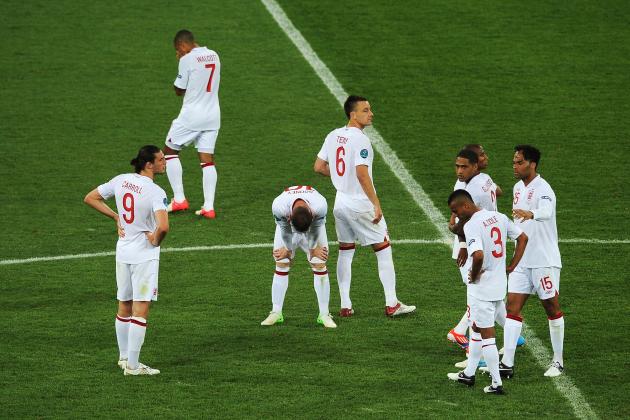 Christopher Lee/Getty Images

In an entirely unforeseen and unprecedented move, England were knocked out of an international competition on penalties during a quarterfinal.
Truth be told, England did little during the course of the tournament to suggest they were capable of winning, and they can perhaps be relieved that they do not have to face almost certain destruction at the hands of Germany in the semis.
But how well did the English players perform individually?
Find out what I think after the jump.
Begin Slideshow

»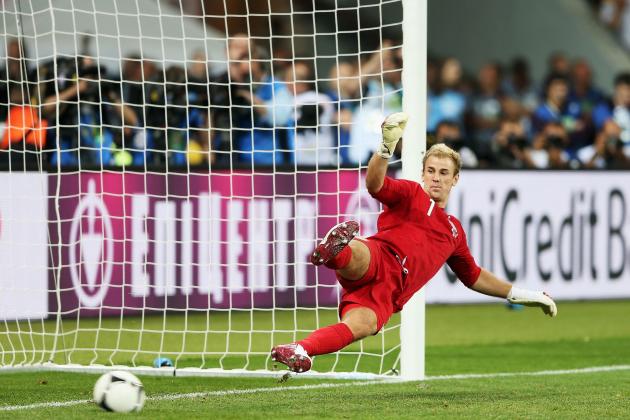 Scott Heavey/Getty Images

What was on the iPad that Joe Hart was looking at before the penalty shootout? Game of Thrones? Angry Birds? 30 Rock?
Whatever it was, it didn't help him much. After coming close to Mario Balotelli's penalty he was—to be frank—humiliated by Andrea Pirlo's dink down the middle, and sent the wrong way by Alessandro Diamanti.
It's harsh to judge him on a lack of penalty saves alone, and Hart had, overall, a reasonable tournament.
But one can't help but think that his elevated status in the England side has much to do with utter dross that preceded him.
He didn't pull out too many saves of note during the tournament, and had an unfortunate habit of punching the ball straight towards the opponent's attackers at virtually every corner.
Moreover, during the Italy game, the concept of playing out from the back seemed utterly foreign to him.
Even if he was under orders to play the ball long, he must have realised that punting to Welbeck or Carroll was a fool's errand when it didn't come off for the umpteenth time. England's inability to maintain possession started from the back.
Overall, Hart had a good, but not great tournament. A solid B+.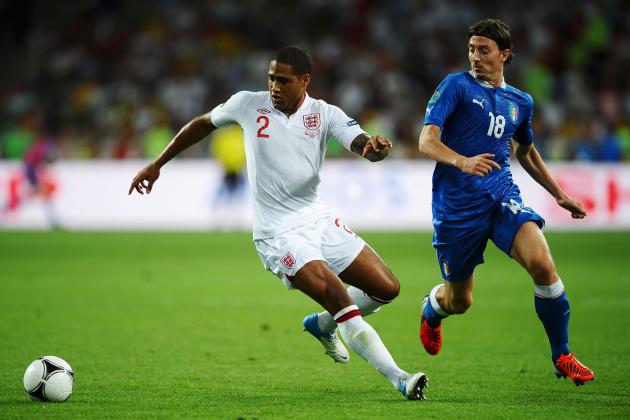 Laurence Griffiths/Getty Images

It's hard to grade Johnson's tournament because he was, both figuratively and literally, all over the place in most games.
Against Italy, he could have kicked the goal that sealed a famous England win, and his attacking forays provided England with a promising outlet during the first half. But, equally, he consistently left the defence exposed to balls over the top through his poor positioning.
A more clinical Mario Balotelli would have scored and highlighted Johnson's defensive deficiencies.
In the other games of the tournament, Johnson was much the same: Occasionally strong moments of attacking and defensive play, mixed with a constant sense that an error was coming, as it did against Sweden.
Overall, he wasn't brilliant, but he also did not disgrace himself. B-.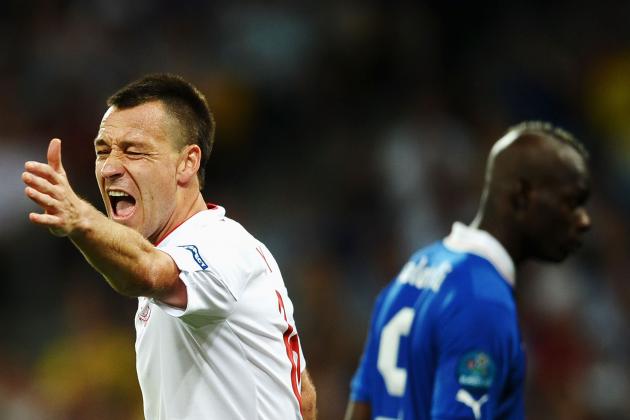 Laurence Griffiths/Getty Images

It's difficult to know what to make of Terry's tournament. Relatively strong in his first three games, many have said that he had a superb game against Italy too.
I don't buy it.
Many of Terry's defensive efforts were relatively panicked attempts to make up for his own errors.
It's like praising a guy from AAA for fixing his van after he's driven it off a cliff.
And, it needs restating, he didn't actually clear the ball off the line against Ukraine. It went in because he had lost his pace and he was saved by a refereeing error.
For many reasons, it may be time for England and Terry to now part ways.
But, he will leave the team on something of a high. Ironic, considering he may well soon be going down.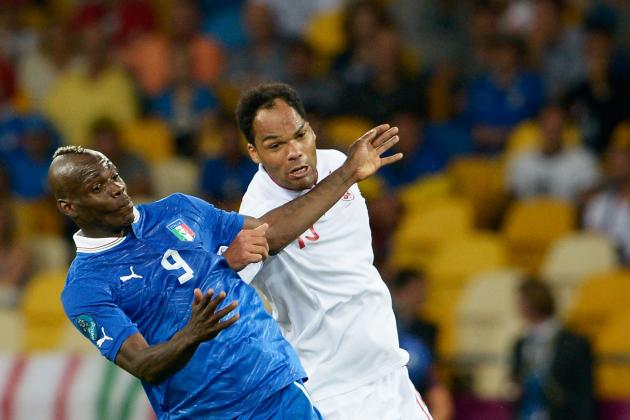 Claudio Villa/Getty Images

Lescott quietly had a fantastic year at Manchester City last season, forming a pivotal part of the defence that finally brought the title home to Manchester.
But, without Vincent Kompany at his side, he looked decidedly more shaky during the Euros.
A goal against France couldn't mask the defensive errors he made during that game, and he hardly looked much better in the matches against Sweden and Ukraine.
His best match of the tournament was against Italy, and he repeatedly seemed to get his body in the right place at the right time to make a series of blocks.
He can be broadly happy with his performance at the Euros, even if he was not the rock that we've grown accustomed to seeing at Eastlands this year.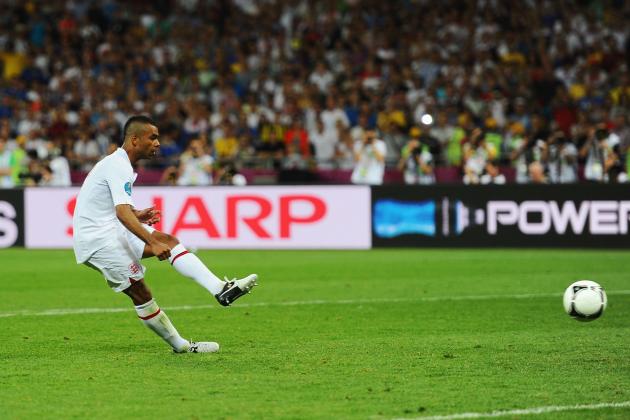 Laurence Griffiths/Getty Images

Ashely Cole is often loudly proclaimed as being the best left-back in the world, but there's no escaping the fact that he had a deeply mediocre tournament.
Maybe he felt constrained with the unpredictable Ashley Young in front of him, or maybe Cole needs to be surrounded by higher quality players to truly flourish, but he did not look like the world class player who helped Chelsea to Champions League glory this season.
A limp penalty miss summed up his tournament, and he will come home disappointed with his performances.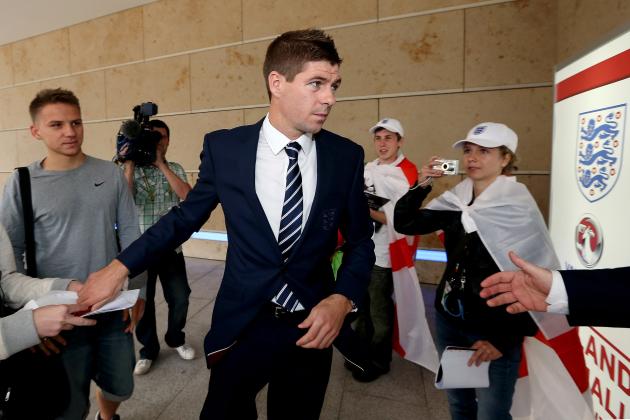 Scott Heavey/Getty Images

One of the few players who will come back from Eastern Europe with his reputation enhanced, Steven Gerrard finally put in the disciplined, calm yet authoritative performances that so many fans have waited to see him produce in an England shirt.
He was England's man of the match in perhaps all three group stage games.
In the quarterfinal, a combination of Italian tactical nous and the incompetency of his teammates saw Gerrard's influence largely snuffed out, and, at stages, the dreaded "Hollywood balls" of "Stevie Me" even briefly reappeared.
Overall, Gerrard can come home and be proud of his performances; something few other members of the England squad can say.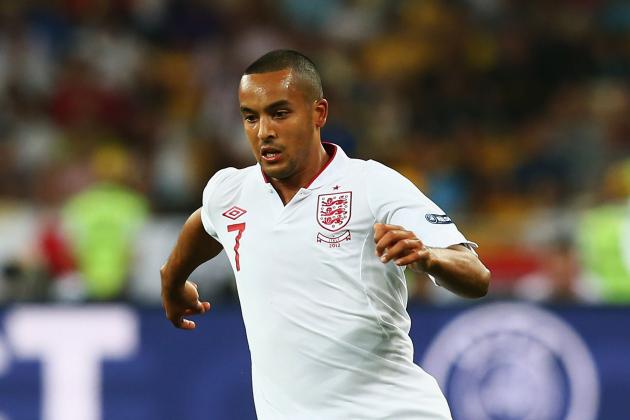 Martin Rose/Getty Images

Rating Walcott's performances in the Euros is difficult, owing to their schizophrenic nature.
On the one hand, his cameo against Sweden changed the game and displayed how he is a player capable of changing and winning games.
On the other, he was poor against France and Ukraine when he appeared, and terrible against Italy, barely influencing the game at all after he arrived on the pitch.
Walcott is at a crossroads in his career. He has to decide whether to stay at Arsenal or not, and one wonders what other top level clubs would really be interested in his services.
As long as he can only sporadically affect games, he will not become a world-class player.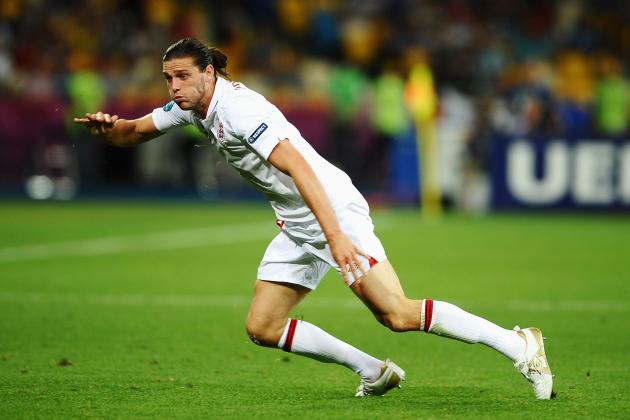 Laurence Griffiths/Getty Images

Like Walcott, Carroll had a tournament marked by one moment of class surrounded by an ocean of dross.
Against Italy, the ball was repeatedly pumped towards Carroll. Yet, despite often winning the initial challenge for the ball, he was unable to complete simple passes to his team-mates to set up attacks.
Indeed, despite his goal against Sweden, Carroll had a poor tournament.
We saw little of the player who, supposedly, has a game that it based around more than his physicality and height.
Perhaps we should blame Roy Hodgson for his tactics, but Carroll looked a lot like a typical English clogger for most of the Euros, struggling manfully and pathetically against technically superior players and sides.
An uncertain futures lies in front of him.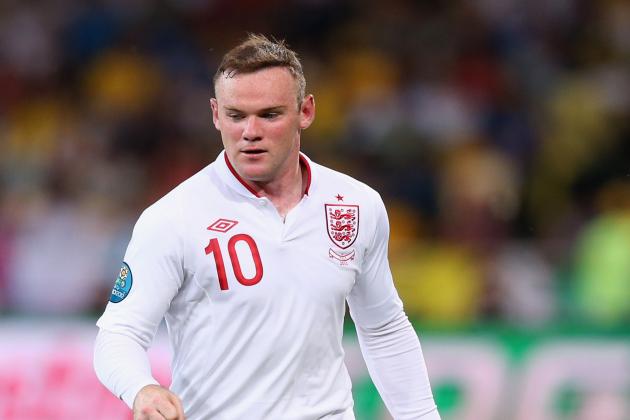 Alex Livesey/Getty Images

Harsh? Maybe. But you have to judge a player as much by his supposed potential as by his actual performances.
Aside from the simplest of goals against Ukraine, Rooney had an abject tournament. Playing in supposedly his stongest position as a support striker, Rooney offered virtually nothing in the two games that he played.
Against Italy, he persistently refused to drop into the England midfield, allowing Pirlo time and space on the ball.
When the ball did arrive at Rooney's feet, more often than not he gave it away, or ran down a blind alley.
Only 75 percent of his passes were successful during the tournament, and he won only one of the eight aerial duels he contested.
If anything, Rooney's return to the team unsettled the fragile balance that had begun to build in the side after the France and Sweden games. Maybe he should have stayed home.
The fact is this—Rooney has not played well in a tournament for England since 2004. For a player of supposed world class ability, he has looked solidly mediocre for almost a decade in an England shirt.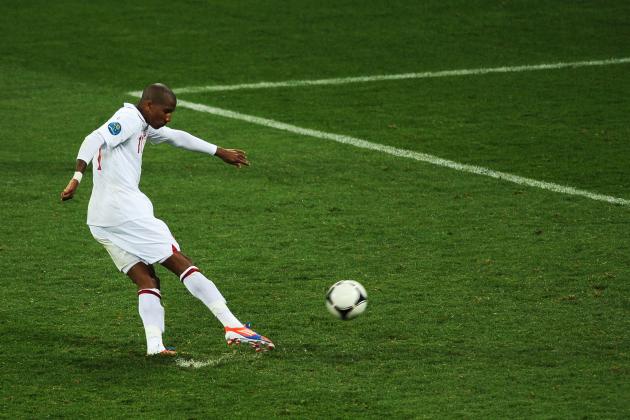 Christopher Lee/Getty Images

By some distance England's worst player of the tournament.
Young started in every game after playing well in pre-tournament friendlies, but once he reached Eastern Europe he froze.
In four games, he completed two key passes and three dribbles. If one were to be particularly uncharitable, you could say he hid on the big stage.
His missed penalty summed up his tournament. Instead of going for controlled, powerful placement, he merely ran up and smashed it, in the manner of a Sunday league player.
For a player who had a reasonable first season at a top-level European club, Young did nothing to show that he has what it takes to make the next step and establish himself as a world class talent.
His position in the national side is now surely under threat, and he will have a lot to do to re-establish his reputation in England when he plays for Manchester United next season.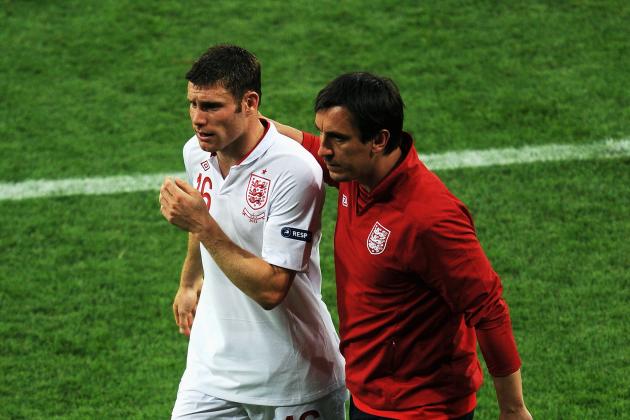 Christopher Lee/Getty Images

Clearly told to do a grim job by Roy Hodgson, Milner grimly stuck to defensive duties on the right-hand side of midfield.
It seems a shame that a player who was so creative during his early career has now been turned into a glorified stopper by both his club and international manager.
He can't be blamed for being hauled off in the middle of his best game of the tournament against Italy, but he could, perhaps, for not having taken a greater degree of initiative at times.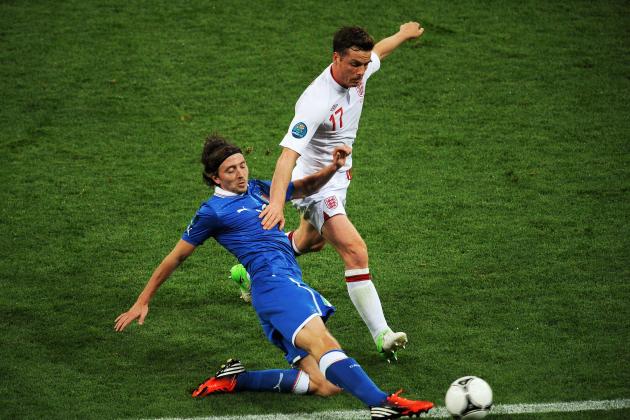 Christopher Lee/Getty Images

There is a myth that has grown around Scott Parker that suggests he is somehow the lynchpin of both the England and Spurs sides, and that he is much closer to being a world class player than many are willing to admit.
The fact is this: Parker bombed out at Chelsea when he moved to a big club, was relegated with West Ham and none of the top English or foreign sides decided to move for him when he was available last summer.
Why? Because Parker is a fundamentally limited player. I have previously described him as a water carrier, and I stand by that assertion.
But he is, in fact, not even a good water carrier. Yes, he has a high pass completion rate, but his inability to move the ball effectively into dangerous areas, and to players in space, was central to England's inability to dominate possession against Italy.
The idea that he is an all-action, combative midfielder is also slightly tempered by the fact that Danny Welbeck completed as many successful tackles as Parker did during the tournament.
If Frank Lampard, Gareth Barry or Jack Wilshere had been fit, Parker probably would not have been in the side. He looked out of his depth against Italy, constantly second-best when up against the superior Italian midfield, and should not be part of the English first XI in the future.
In many respects, Parker sums up much what is wrong with English football—the glorification of effort and strength over technique and the ridiculous feting of average players who have achieved little during their careers.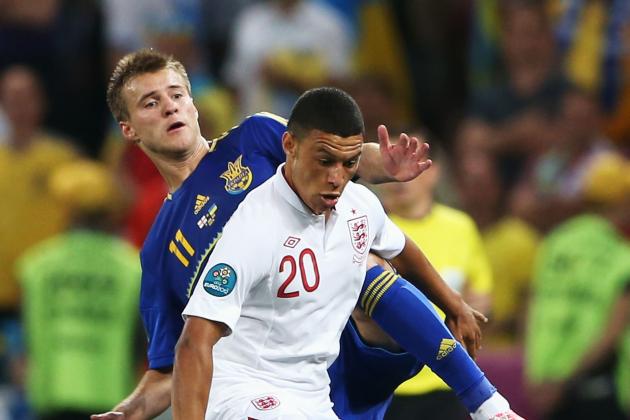 Scott Heavey/Getty Images

Hodgson threw Chamberlain into the deep-end against France, and he managed to keep his head above water.
It was not the devastating performance that Chamberlain is capable of producing and which we saw against AC Milan earlier in the season, but it was by no means poor.
Chamberlain did not make much of an impression on the tournament after that game, aside from squandering a few breakaway opportunities against Ukraine.
But, overall, he can proud of his performances in Ukraine.
Together with Jack Wilshere and Danny Welbeck, he is clearly the future of the English side, and it will be difficult to keep the expectations that will surround Chamberlain at reasonable levels in the coming years.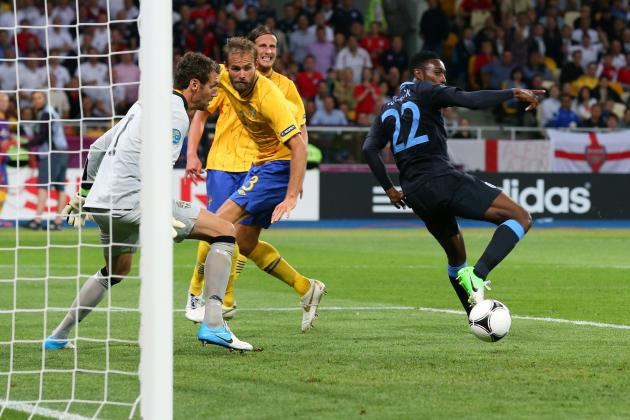 Alex Livesey/Getty Images

Aside from Gerrard, Welbeck is probably the only other player to come out of the tournament with his reputation definitely enhanced.
Welbeck led the line wonderfully in all four games, and did not deserve to be removed during the match against Italy.
He passed the ball neatly and won more aerial duels than any other England player.
Welbeck also produced England's best moment of the tournament, a sublime backheeled winner against Sweden.
A case could be made that the English forward line should be built around Welbeck in the future, who showed more commitment and, indeed, ability, than Rooney during the Euros.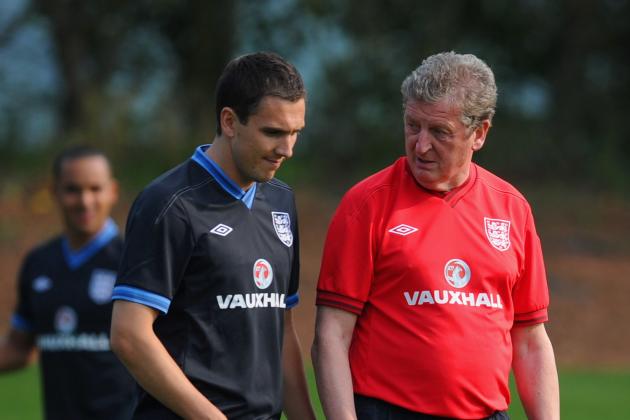 Michael Regan/Getty Images

I can't quite bring myself to grade Jermain Defoe or Jordan Henderson, as their contributions were so short lived and unmemorable.
As for the rest, well, they didn't play. I'm still not sure why we brought Stuart Downing along.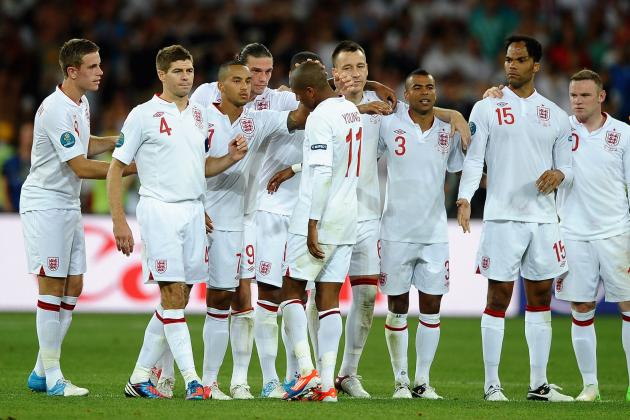 Laurence Griffiths/Getty Images

One could say that England performed above expectations in this tournament, but that does not mean they played well.
Aside from one stirring comeback against Sweden, this was not a tournament to remember or celebrate for England.
After the opening ten minutes against Italy, the azzurri controlled the game with a level of ease that should have embarrassed any watching Englishman.
England, simply put, really aren't that good.
A lot of their players are either overrated or underperform at major tournaments.
Roy Hodgson should perhaps be commended for getting the squad well-drilled in such a short period of time, but the game against Italy was a painful reminder of just how average the current set of English players really are. All we can hope is that a better side emerges by the next World Cup.