2013 NFL Draft: Odds These 8 Players Could Be Taken with the First Pick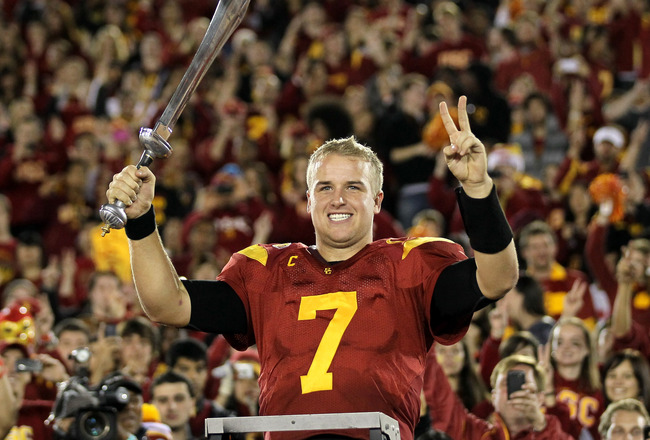 Stephen Dunn/Getty Images
Even though it's just about two months after the 2011 NFL draft, it's fun to start taking a look ahead at the top prospects of the 2013 class. Especially if you're a fan of a team that doesn't have a lot of potential.
The past four drafts have seen quarterbacks taken with the first overall pick, but it wouldn't be surprising if that trend changed this year.
Let's take a look at some guys who could hear their name called first on draft day 2013.
Matt Barkley / QB / USC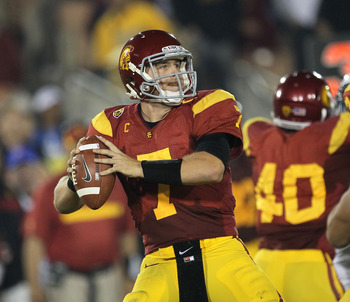 Stephen Dunn/Getty Images
Barkley is the clear-cut favorite to be the first pick of the 2013 draft.
Since coming out of high school, Barkley has seen praise equal to that of Jimmy Clausen and better when it came to his draft stock. Had he come out this year, it's very possible he could have been drafted ahead of Robert Griffin III.
In three years at USC, Barkley has grown and developed every season. He's thrown for over 9,000 yards, 80 touchdowns and just 33 interceptions.
Barkley's best campaign came last season, throwing 39 touchdowns to just seven interceptions and completing almost 70 percent of his passes.
In the end, Barkley decided to return to school to attempt to win a national championship with the Trojans, who were ineligible for bowl contention due to NCAA violations. But with the sanctions now lifted and with one of the most talented teams at his disposal, Barkley could join the list of USC players who were national champions and first-overall picks.
Odds: 60 percent

Tyler Wilson / QB / Arkansas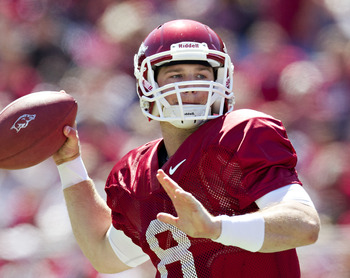 Wesley Hitt/Getty Images
He might not be as big as the typical Arkansas QBs, but his arm is just as good.
At 6'3", 220, Wilson has the size to play the NFL game. It also doesn't hurt that he's got an absolute cannon strapped to his right shoulder.
In his first year as a starter with the Razorbacks, Wilson did a good job of taking care of the football, posting a 24:6 touchdown-to-interception ratio. He threw for over 3,600 yards and had Arkansas, at one point, ranked as high as No. 3 in the nation.
Wilson doesn't have the pedigree that Barkley does, but his size, arm strength and a stellar senior campaign could help push him to the top of the QB class in 2013.
Odds: 15 percent

David Amerson / CB / North Carolina State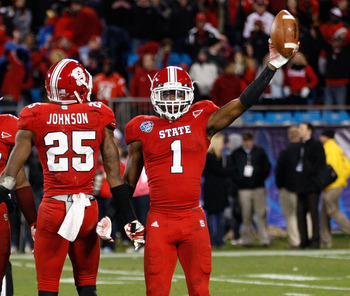 Streeter Lecka/Getty Images
Amerson is a bit of an interesting name coming up of late, and despite the outrage I'm sure I'll hear from fans, he'll probably end up being the best corner in the 2013 draft.
The Wolfpack standout has a few things going for him that could make him very enticing to NFL teams. First of all, he's big (6'3", 185) and moves well for a corner his size.
Secondly, the man is an absolute ballhawk.
Amerson might be the best college corner I've ever seen at finding the football and making a play on it. Last season at N.C. State, Amerson picked off an unprecedented 13 passes including two against Louisville in the team's Belk Bowl victory.
With the way the ball's being thrown around in today's NFL, there's no reason teams shouldn't be looking at shutdown playmakers at the cornerback position.
Odds: 8 percent

Robert Woods / WR / USC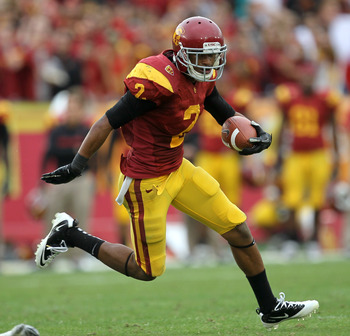 Stephen Dunn/Getty Images
The last wide receiver to be taken first overall was all the way back in 1996 when the New York Jets took Keyshawn Johnson. In fact, Johnson and Irving Fryar in 1984 are the only two receivers to ever be taken first overall in the common era draft.
Robert Woods, however, is skilled enough that he could make a run at the No. 1 pick.
Woods has been stellar in his first two seasons with the Trojans, especially in 2011. Last year, the then-sophomore caught 111 passes for 1,292 yards and 15 touchdowns in a span of just 12 games.
He's not going to impress you with size (6'1", 180) and he'll have to add some weight at the next level, but Woods has the hands and route-running ability to compete with any of his peers at the position.
Like I said it's very rare a team takes a receiver with the first overall pick, but barring a major injury in 2012, Woods is almost assured to be off the board in the top five.
Odds: 5 percent

William Gholston / DE / Michigan State
Al Messerschmidt/Getty Images
Defensive ends, other than quarterbacks, are some of the most likely players to be picked first overall in the NFL draft.
In 2013, William Gholston could be the first end off the board...if he can keep himself composed and on the field.
Gholston has obvious family ties to the NFL. His brother Vernon was drafted very high by the Jets before becoming arguably the franchise's biggest bust. William will look to regain his family name at the pro level.
Gholston played his best ball in the biggest situations. In the Capital One Bowl against Georgia, Gholston recorded two sacks and seven solo tackles while leading the Spartans to victory.
He'll have to develop a better pass-rush repertoire at the next level, but Gholston is an absolute beast against the run already. He recorded two games last season of 14-plus tackles and anchors the end of the Michigan State defensive line.
Odds: 5 percent

Jackson Jeffcoat / DE / Texas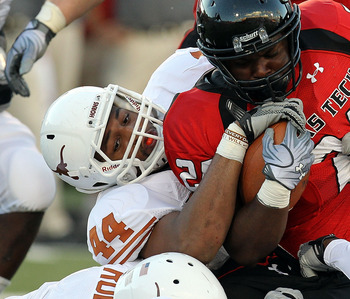 Ronald Martinez/Getty Images
Jeffcoat is another interesting prospect at defensive end.
He's got great size, standing at 6'5", 253 and is an elite-level talent athletically.
Last season, he had a tough adjustment to the college game, not recording a sack for the first six contests of the season. But Jeffcoat turned it on at the end of the Longhorn's 2011 campaign, posting 7.5 sacks in the teams final seven games.
Once considered the No. 1 recruit in the nation, Jeffcoat could help his draft stock with a big 2012 campaign and could ultimately emerge as the best player on the board when the draft opens.
Odds: 4 percent

Logan Thomas / QB / Virginia Tech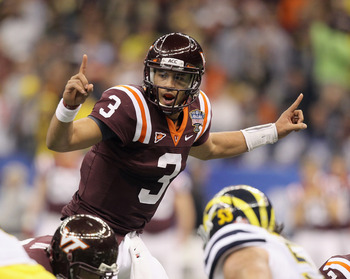 Matthew Stockman/Getty Images
Thomas is a bit under the radar as far as quarterbacks for the 2013 class go, but he's slowly been gaining some ground as a potential top-10 pick.
His unique blend of size (6-6, 254) and athleticism (11 rushing touchdowns) should make him a very attractive target for a lot of teams in next years' draft.
Thomas became the Hokies' full-time starter for the first time in 2011 and impressed. He threw for over 3,000 yards and 19 touchdowns while leading Virginia Tech to an ACC title and an overtime Sugar Bowl loss to Michigan.
The junior signal-caller was very up and down last season and will have to improve on his consistency as a passer. Thomas had four games in 2011 in which he didn't record a touchdown pass. But his talent still shines through in big moments.
In big conference games against Miami (FL) and Georgia Tech, Thomas threw three TDs and no picks in each game.
Odds: 2 percent
Star Lotulelei / DT / Utah
Jonathan Daniel/Getty Images
Defensive tackles who aren't great pass-rushers are another position that doesn't generally draw great attention with the first overall pick.
But Utah's Star Lotulelei is just what his first name indicates...a star.
Lotulelei is massive (6'3", 325) and light on his feet for a player his size. He dominated opposing offensive lines in 2011, recording nine tackles for a loss and was a menace against the run.
Lotulelei isn't a great pass-rusher and that will most likely disqualify him as the No. 1 overall selection, but he's got immense talent and is a future game-changer in this league. The guy could seriously be the next Haloti Ngata.
Odds: 1 percent

Keep Reading