MLB Free Agency: Every Team's Soon-to-Be FA They Have All the Leverage With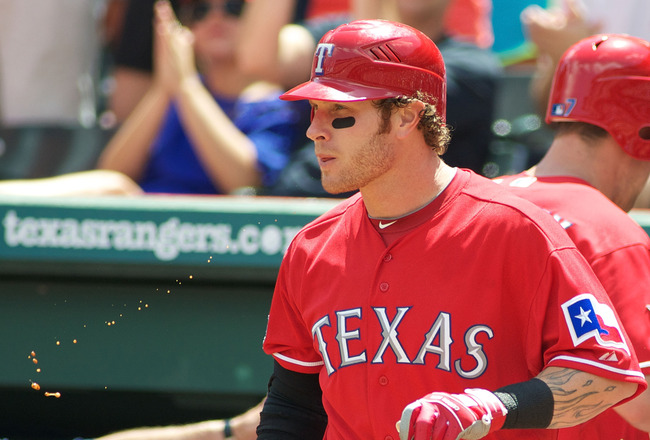 Cooper Neill/Getty Images
When it comes to negotiations, leverage rules above all else.
It doesn't have to be fair, it doesn't even necessarily have to be right (morally speaking), but being able to hold something over the other party's head works to your advantage.
Re-signing potential free agents is no different than any negotiation that goes on in conference rooms around the world—the team says their piece, the player presents theirs, and they try to meet somewhere in the middle.
But when that leverage is used, the playing field gets tilted—and sometimes that leads to no negotiation at all. More often than not, the side with leverage typically wins out in the end because what they use to their advantage is accurate and true.
Sometimes leverage can simply be having a mutual or team option that needs to be exercised. In other situations it's a glut of similarly thought-of players at the same position all becoming available at the same time.
Sometimes, teams have no leverage at all.
Let's take a look at which teams could be sitting in the driver's seat come the end of the 2012 season.
Arizona Diamondbacks: Stephen Drew, SS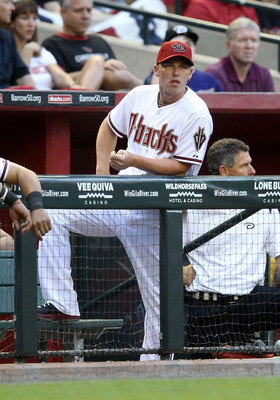 Christian Petersen/Getty Images
According to Diamondbacks GM Kevin Towers, shortstop Stephen Drew is expected to make his 2012 debut tomorrow against the Atlanta Braves in the rubber match of their three-game series.
Drew, 29, has missed nearly a year of action after fracturing his right ankle against the Milwaukee Brewers on July 20th of last year. Even if he comes back and sets the desert ablaze, the D-Backs hold all the cards when it comes to his future.
There's virtually no way that Drew wouldn't exercise his half of the $10 million mutual option that exists for the 2013 season, even if he plays well. If he does perform, Towers would likely pick up the option, knowing full well that no other team is going to offer Drew a salary anywhere near that figure.
Should he falter, the team can decline their half of the option and look to re-sign him at a lower price. Given the amount of time and money that they've already invested in him, it makes little sense for them to completely cut ties with Drew.
Atlanta Braves: Tim Hudson, RHP, and Brian McCann, C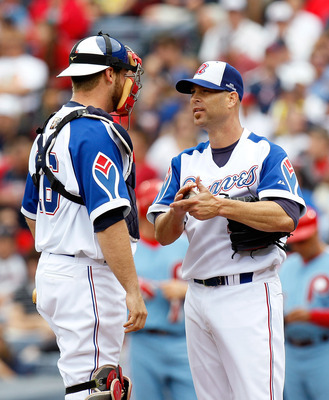 Kevin C. Cox/Getty Images
With core players like Tommy Hanson, Jason Heyward and Jonny Venters heading to arbitration and Michael Bourn likely to incite some semblance of a bidding war this winter, the Braves don't have much in the way of leverage when it comes to those negotiations.
Throw in that money budgeted for 2013 may not be there following the 2012 season, according to Mark Bowman of MLB.com, and the Braves aren't likely to have much in the way of spending money.
From a financial standpoint, they have discussed using money budgeted for 2013 if necessary to make a trade @RealMattlanta

— Mark Bowman (@mlbbowman) June 25, 2012
Two players they don't need to worry about re-signing are Tim Hudson and Brian McCann, as the team holds team options on each for $9 million and $12 million, respectively.
Both players would receive offers paying them in excess of what the Braves will have the pair on the books for in 2013, so while it's conceivable that each player would prefer that the team declines their options, there's little to no chance of that happening.
Baltimore Orioles: Luis Ayala, RHP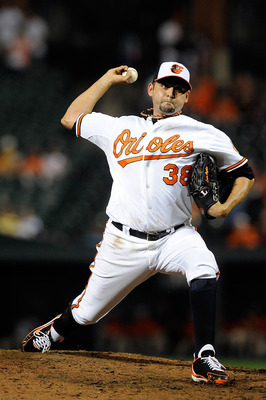 Patrick McDermott/Getty Images
One of five Orioles relievers who sit with an ERA under 2.00, Luis Ayala would assuredly find himself with more suitors than he did following the 2011 season when only the Orioles showed any real interest in bringing him on board.
But with a $1 million team option for 2013, there's virtually no chance that the O's will allow him to reach the open market. While his strikeout rate is down slightly from 2011, there's no reason to expect the Orioles to allow the 34-year-old to reach the open market, removing an important piece from one of baseball's best bullpens.
Boston Red Sox: Daisuke Matsuzaka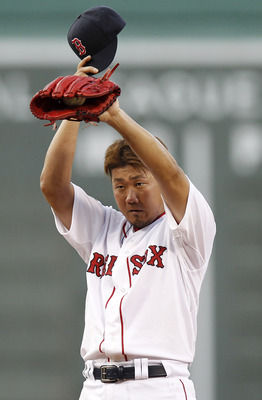 Winslow Townson/Getty Images
Whether the team actually wants to bring him back after a largely unsuccessful six-year run in Boston remains to be seen, but 31-year-old right-hander Daisuke Matsuzaka doesn't have much in the way of leverage to negotiate another big-time contract, even with Scott Boras as his agent.
Coming off of Tommy John surgery and with a plethora of quality starting pitchers set to hit the open market following the season, Boston will have multiple options with which to upgrade their rotation. Yet re-signing the man known as Dice-K could prove to be their most inexpensive option.
Last putting together a quality season in 2008, when he went 18-3 with a 2.90 ERA and a fourth-place finish in the AL Cy Young Award race, Dice-K is unlikely to have many teams fawning over the chance to sign him this winter.
If he wants to remain in the big leagues, accepting a short-term, incentive-laden deal to return to Boston could be his best option—and after investing more than $100 million in him, the Red Sox could look to bring him back on their terms to see whether a full year of recovery from Tommy John surgery allows him to return to his previous form.
Chicago Cubs: Nobody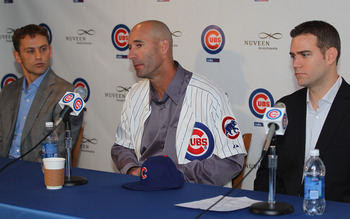 Jed Hoyer, Dale Sveum and Theo Epstein aren't in the driver's seat with any of their own free agents.
Jonathan Daniel/Getty Images
When you look at the Cubs who are set to hit free agency, it's hard to find a name that the team has leverage over.
Starting pitcher Ryan Dempster figures to garner significant interest once he hits the open market, and picking up the $6.5 million option on fellow starter Paul Maholm seems like overpaying for poor production.
Aside from those two, the only pending free agents the Cubs are faced with losing are role players, namely Jeff Baker, Shawn Camp and Reed Johnson—and it's hard to see the team having much leverage when none of them are going to command a significant salary in the scheme of things.
Chicago White Sox: A.J. Pierzynski, C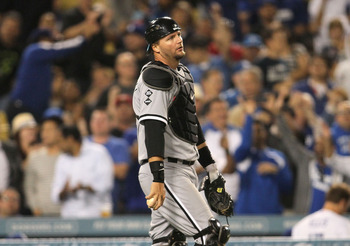 Victor Decolongon/Getty Images
While it would stand to reason that A.J. Pierzynski has all of the leverage in negotiations with the White Sox, given the struggles of heir apparent Tyler Flowers at the plate, that's simply not the case.
Pierzynski has continually stated that his preference is to remain with the White Sox, a point he reiterated to CSN Chicago's Mike Garfien only three weeks ago.
When you consider that Pierzynski will be 36 years old entering the 2013 season, coupled with the younger options set to hit the open market that include Chris Iannetta, Russell Martin and Mike Napoli, Chicago certainly seems as if they hold all the cards when it comes to the veteran returning to the windy city.
Cincinnati Reds: Scott Rolen, 3B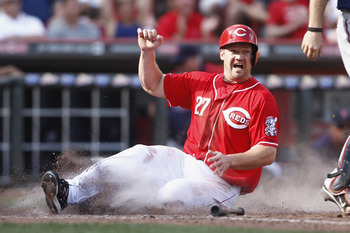 John Grieshop/Getty Images
After missing the majority of the 2011 season, 37-year-old Scott Rolen was hoping to show that he could stay healthy in 2012. That didn't happen, as Rolen spent a month on the disabled list before returning to action just over a week ago.
While his stats on the season are ugly—a batting line of .202/.264/.342, three home runs and 16 RBI—Rolen has fared pretty well since coming off of the DL, posting a .318/.375/.500 line with a home run and five RBI over 22 at-bats.
There may not be any interest on the part of the Reds to extend the relationship past the 2012 season, but if both sides are willing to give it a shot for 2013, it will most certainly be on the Reds' terms. After all, there isn't much of a market for a 37-year-old third baseman who has trouble staying on the field.
Cleveland Indians: Grady Sizemore, CF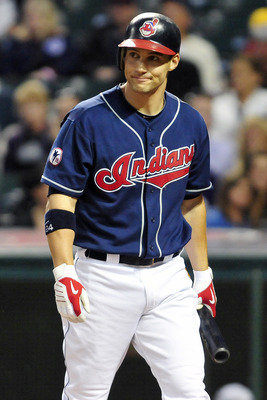 Jason Miller/Getty Images
Once considered one of the game's bright up-and-coming stars, Grady Sizemore's career has been derailed by injury after injury.
Yet to see any action in 2012, the soon-to-be-30-year-old hasn't played in more than 100 games since 2009, and thus, he has absolutely no leverage in any negotiations. No team is going to offer him a multi-year deal, and being a fan favorite in Cleveland, he's likely to want to prove himself again in the only city he's called home.
The Indians would ideally be able to plug him into left field on a daily basis, but his days as an everyday player could be over. Regardless, the Tribe holds all the cards when it comes to Sizemore's next contract.
Colorado Rockies: Jason Giambi, 1B/PH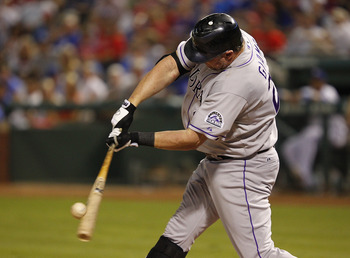 Rick Yeatts/Getty Images
We are sure to hear trade rumors involving 41-year-old Jason Giambi as the season draws closer to the non-waiver trade deadline on July 31st, but even if he's dealt, that doesn't rule out a return to Denver for the 2013 season.
A shell of the player he once was, Giambi has become a clubhouse leader, and while his power is no longer there, he can still get on base, as evidenced by his .402 on-base percentage entering today's games.
Giambi has never hid the fact that he enjoys playing for the Rockies, and it's unlikely that he'd garner much interest as a free agent other than garnering a non-roster invite to spring training where he could battle with five other veterans for time in a platoon at designated hitter.
If he wants to continue playing in Colorado, he'll have to be open to doing so on the Rockies' terms.
Detroit Tigers: Delmon Young, OF/DH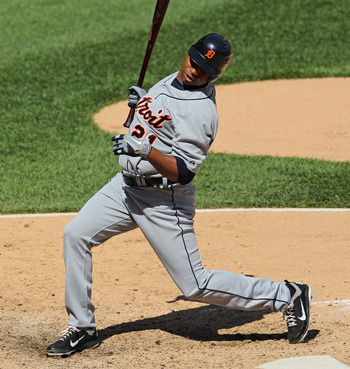 Jonathan Daniel/Getty Images
There's no question that Delmon Young is a supremely talented baseball player, but there's also no question that he's a supreme putz as well.
Young, 26, can't get out of his own way, as we saw earlier this season in New York. An intoxicated Young shoved a man to the ground and made shouted anti-Semitic remarks before being arrested by the NYPD and charged with a hate crime. The Tigers suspended him for eight games.
No veteran team is going to want to put up with Young's nonsense, and no young team is going to want to risk Young becoming a bad influence in their clubhouse. Detroit knows how to deal with him, and while he's not going to get a starting spot with the Tigers, he may not have many other choices if he wants to play for a contender.
Houston Astros: Chris Snyder, C
Bob Levey/Getty Images
Chris Snyder is absolutely going to exercise his end of a $4 million mutual option that exists for the 2013 season, and why wouldn't he? A 31-year-old catcher who is hitting below .200 isn't exactly in high demand around the league, regardless of what his defense is like.
Whether the Astros decide to exercise their end remains to be seen. While Jason Castro remains the catcher of the future in Houston, they certainly need a veteran backstop to step in when Castro needs a day off.
Should the 'Stros decline their end of the deal, it's conceivable that they'll look to bring Snyder back at a reduced price.
Kansas City Royals: Jonathan Sanchez, LHP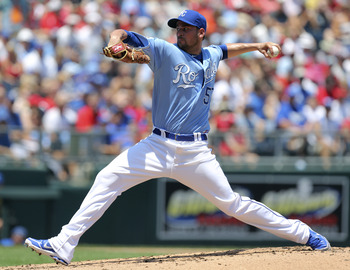 Ed Zurga/Getty Images
Acquired by the Royals in exchange for current NL MVP candidate Melky Cabrera, 29-year-old southpaw Jonathan Sanchez has been disappointing to say the least.
Two years removed from posting double-digit wins and striking out more than 200 batters for the San Francisco Giants, Sanchez has battled injury in 2012 and allowed four or more runs in four of his nine starts for the Royals in 2012.
It's true that southpaws are always a hot commodity on the open market, but it's hard to envision Sanchez being more than an afterthought for most teams. While the Royals are desperate for starting pitching, Sanchez will need to agree to their terms if he has his sights set on proving his worth in the American League in 2013.
Los Angeles Angels of Anaheim: Nobody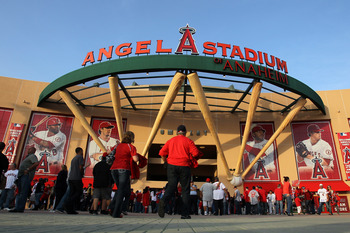 Jeff Gross/Getty Images
When you take a look at the pending free agents for the Angels—LaTroy Hawkins, Torii Hunter, Jason Isringhausen and Maicer Izturis—each one of those players would garner interest from other teams were they to reach the open market, especially Hunter.
From an options standpoint, Dan Haren, Chris Ianneta and Ervin Santana would all receive offers close to, if not exceeding the salaries that the Angels can lock in for 2013 by exercising their team options.
Keep in mind that the Angels spent nearly a half-billion dollars over the past year either signing free agents or working out extensions with their own players. Whether they can afford to allow those with options to hit the open market and incite a bidding war is questionable at best, but highly unlikely.
They simply don't have any leverage in any of these situations.
Los Angeles Dodgers: Bobby Abreu, LF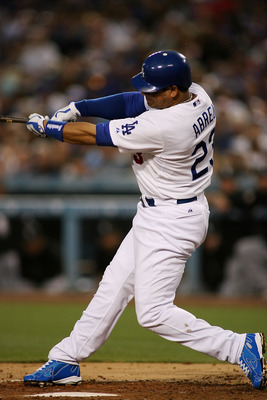 Jeff Golden/Getty Images
After moving south down the California coast from Anaheim to Chavez Ravine, 38-year-old Bobby Abreu has seemingly resuscitated what was a dead career.
Maybe it's his reconnection with Dodgers manager Don Mattingly, who was a coach on Joe Torre's staff when Abreu played for the New York Yankees, or maybe it's a return to the National League, where Abreu spent nearly 12 of his 17 major league seasons.
Whatever the case, few teams are going to have significant interest in signing an aging outfielder who only two months ago looked to be on his way out of the game. If Abreu has his sights set on playing with a contender in 2013, he'll have to be willing to accept what the Dodgers offer him, which isn't likely to be substantial given their expected interest in the Phillies' Cole Hamels and Brewers' Zack Greinke.
Miami Marlins: Carlos Zambrano, RHP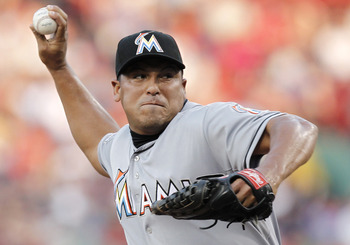 Winslow Townson/Getty Images
Somewhat disappointing in that he's been on his best behavior in Miami, not butting heads with his equally volatile manager, Ozzie Guillen, Carlos Zambrano has pitched fairly well for the Marlins in 2012.
An experienced 32-year-old starter normally would generate substantial interest around the league, but not Zambrano, who will forever have a proverbial "buyer beware" sticker slapped across his forehead.
Zambrano surely knows what his reputation around the league is, and while he may find a higher salary elsewhere, does he really want to risk going to a new place where he could be susceptible to flying off of the handle again?
It's working for Zambrano in Miami, and if they'll have him back, it makes sense that he'd jump at the chance to return.
Milwaukee Brewers: Alex Gonzalez, SS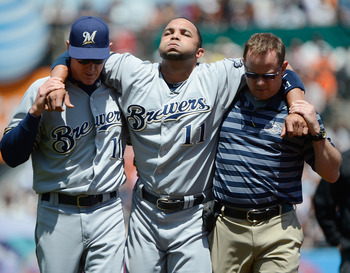 Thearon W. Henderson/Getty Images
Out for the season with a torn ACL, Alex Gonzalez obviously will not reach the 525 plate appearances needed to vest his $4 million option for 2013, making him a free agent.
Coming off of such a major injury, it's fair to say that few, if any, teams are going to show significant interest in signing a shortstop who turns 36 years old prior to the start of the 2013 regular season.
With the Brewers hoping to have enough cash to re-sign one of, if not both Zack Greinke and Shaun Marcum, Gonzalez will become an afterthought. But he's sure to be looking to prove that he's healthy and still a viable major league player, so he'll likely have no choice but to accept whatever incentive-laden one-year deal the Brew crew presents to him.
Minnesota Twins: Carl Pavano, RHP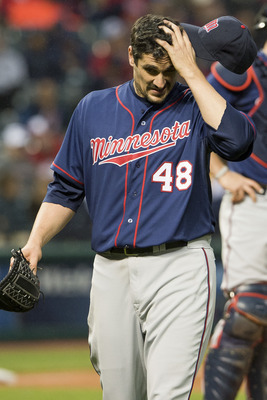 Jason Miller/Getty Images
Currently on the 15-day disabled list with a right shoulder issue, 36-year-old right-hander Carl Pavano has been downright terrible for the Minnesota Twins this season, posting an ERA of 6.00 and a WHIP of 1.40.
But assuming his shoulder issue isn't a serious one, Pavano and the Twins need each other.
Pavano is unlikely to receive offers from many teams this winter—partly due to age, partly due to his production, but largely because of the amount of quality arms that are expected to hit the open market.
The Twins, even with the potential return of Scott Baker, are desperate for starting pitching, and quite frankly, they don't have anything worthwhile in the minors that's remotely close to making an impact in the majors.
Minnesota won't overpay, and Pavano's performance would dictate a reduction from his $8.5 million salary this year. If Pavano wants to continue his career, he'll likely have to accept whatever the Twins offer him.
New York Mets: R.A. Dickey, RHP, and David Wright, 3B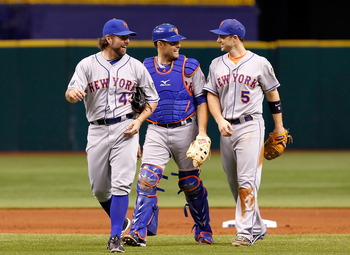 R.A. Dickey and David Wright will have to wait one more year before hitting the open market.
J. Meric/Getty Images
Is there a better story in baseball this season than R.A. Dickey, the 37-year-old knuckleballer who has taken the league by storm?
A legitimate contender to start the All-Star Game for the National League and worthy of Cy Young Award consideration, Dickey would command a lucrative multi-year deal were he to hit the open market later this year.
The same could be said of 29-year-old David Wright, who is having a MVP-caliber season and would be among the highest-paid free agents this winter were the Mets willing to allow him to walk.
But they aren't.
Holding a $5 million option on Dickey and a $16 million option on Wright, the Mets will exercise both, continue working on extensions for the duo and try to keep them off of the market for as long as possible.
New York Yankees: Robinson Cano, 2B, and Curtis Granderson, CF
Nick Laham/Getty Images
You might think that doling out $28 million in salary to two players wouldn't count as a team having leverage over potential free agents, but when those players are two of the best in the game, then it's a relative bargain.
With team options on both Robinson Cano ($15 million) and Curtis Granderson ($13 million), the Yankees push back their chance to hit the open market one more year.
Of course, nobody actually expects that either one will ever see the light of free agency, as the team will undoubtedly try and work out long-term extensions with both players.
Oakland A's: Nobody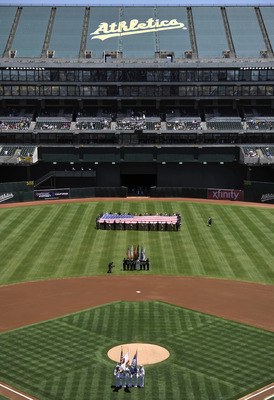 Chad Ziemendorf/Getty Images
Every player on the A's who is a potential free agent, whether a 2013 option exists or not, could certainly find work elsewhere in 2013. That even includes Brandon Inge, who has resurrected his career after most thought he was done following his release from the Detroit Tigers.
But that's not a bad thing for Oakland, which has its young talent under team control for the foreseeable future and a minor league system with multiple prospects set to make an impact in the next year or two.
Philadelphia Phillies: Carlos Ruiz, C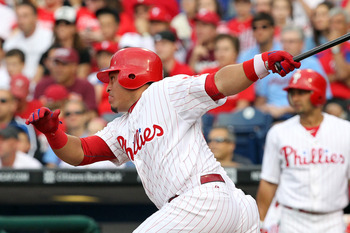 Hunter Martin/Getty Images
It's not often that a player has a career year after his 30th birthday, but that's exactly what's happening with 33-year-old Carlos Ruiz, who, through nearly three months of the season, has one of the highest batting averages in all of baseball at .354.
A solid defensive backstop as well, Ruiz would certainly receive offers from teams far exceeding the $5 million team option that the Phillies hold on him for the 2013 season.
Pittsburgh Pirates: Rod Barajas, C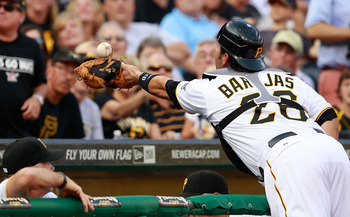 Jared Wickerham/Getty Images
We've already established that catchers who are well into their 30's generally don't receive much in the way of interest on the open market, and Rod Barajas, who turns 37 in September, is no exception.
On the open market, Barajas would likely be relegated to backup duty with any team he joined. In Pittsburgh, he's done an excellent job with their pitching staff and likely would continue to start.
With the Pirates holding a $4.5 million team option on Barajas for the 2013 season, it's highly likely that they'll exercise it and keep him behind the plate for another season.
San Diego Padres: Nobody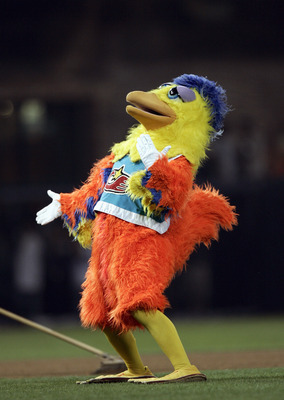 Donald Miralle/Getty Images
It's difficult to project what the Padres will do as long as their ownership situation remains unresolved, but virtually all of the potential free agents that they have would be sure to generate interest around baseball, most notably Carlos Quentin.
The one place that they do have leverage is with the San Diego Chicken, who simply wouldn't be welcomed with open arms elsewhere as he is at Petco Park.
San Francisco Giants: Freddy Sanchez, 2B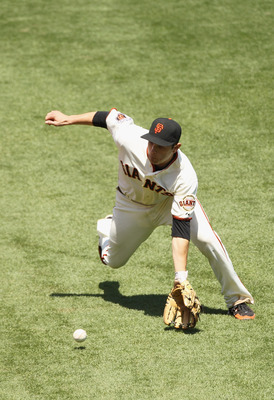 Ezra Shaw/Getty Images
Yet to make his 2012 debut, 34-year-old second baseman Freddy Sanchez has played a total of 171 games since the start of the 2010 season—well less than half of the games that the Giants have participated in.
A free agent following the season, Sanchez isn't going to receive much interest around the league until he's able to prove that he can stay healthy and remain productive, both at the plate and in the field.
San Francisco, with no real answer at second base, holds all the cards in negotiations with Sanchez, who is going to have to settle for an incentive-laden short-term deal if he wants to continue his playing career.
Seattle Mariners: Ichiro Suzuki, RF
Denis Poroy/Getty Images
He still has one of the best throwing arms in the game, but age is finally starting to catch up with 38-year-old Ichiro Suzuki at the plate.
While he's posted solid stats thus far in 2012—a .273/.300/.378 batting line with four home runs and 26 RBI—he's certainly no longer the elite batter we've come to know over the past decade.
Sure, he could leave Seattle for a contender, signing a one-year deal as he tries to win a World Series before his career comes to an end, but he is more valuable in the city of Seattle than he is anywhere else outside of Japan.
Besides, after 12 years in Seattle, does he really want to make such a drastic change, moving to a different city where he certainly won't be nearly as beloved or idolized?
Ichiro needs Seattle as much as they need him.
St. Louis Cardinals: Lance Berkman, 1B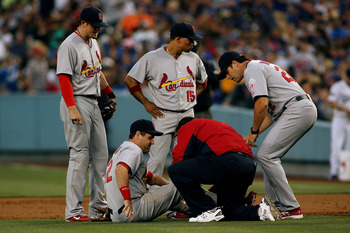 Jeff Golden/Getty Images
Still sidelined as he recovers from May surgery to repair a torn meniscus in his right knee, 36-year-old Lance Berkman isn't expected to return to action until the end of July.
Regardless of what he does over the last two months of the season, the Cardinals sit in the driver's seat when it comes to negotiating his next contract.
He'll celebrate his 37th birthday before the start of next season, and coming off of a major injury, he's not likely to garner much in the way of multi-year offers from other teams when he hits the open market. That being said, Berkman may not even want to leave St. Louis, knowing that the team is a perennial contender.
Expect Berkman to re-sign with the Cards, but on a more team-friendly deal than he may like.
Tampa Bay Rays: James Shields, RHP
J. Meric/Getty Images
He's not having the same outstanding season that he did in 2011, but 30-year-old starter James Shields would certainly receive a ton of multi-year offers from numerous teams around baseball were he to hit the open market, at prices sure to be above and beyond what the Rays can afford.
Thankfully for the Rays, they hold a $9 million option on "Big Game James" for the 2013 season—a very reasonable price for a battle-tested starting pitcher.
Texas Rangers: Josh Hamilton, OF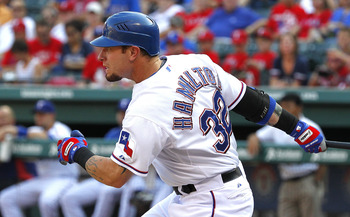 Rick Yeatts/Getty Images
You may not think that it's possible for the Texas Rangers to have leverage over someone who is arguably the best player in all of baseball, but if you think about it for a second, it's true.
Hamilton, with his bevy of issues, is a high-risk, high-reward player.
Let's look at the teams who could seriously make a play for Hamilton:
The Angels just spent nearly half-a-billion dollars to shore up their club long-term and have a crowded outfield to begin with.
The Yankees wouldn't tempt fate with Hamilton in New York, and they need to work out extensions with Robinson Cano and Curtis Granderson.
The Dodgers have new ownership, but with Andre Ethier and Matt Kemp in the outfield, they are likely to focus on pitching this winter.
With the disaster that's Boston's clubhouse, they'd be crazy to bring Hamilton into that circus.
There aren't many landing spots left as far as contenders go, and with the support system already in place with the Rangers, it makes little sense for Hamilton to toy with his career and take his chances elsewhere.
He'll get paid, but the Rangers will get him for less than he'd be worth without the additional issues.
Toronto Blue Jays: Nobody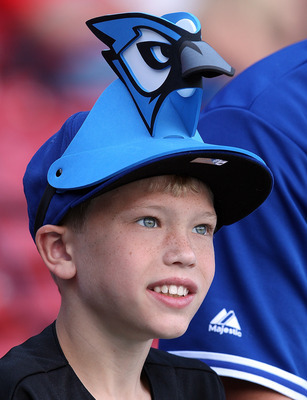 Jim Rogash/Getty Images
Nearly all of the players who could fly south this winter are sure to garner interest from multiple teams, led by first baseman/designated hitter Edwin Encarnacion.
That being said, Toronto has the deepest and most talented farm system in all of baseball, so they have the pieces to plug in should any of their pending free agents depart.
Washington Nationals: Nobody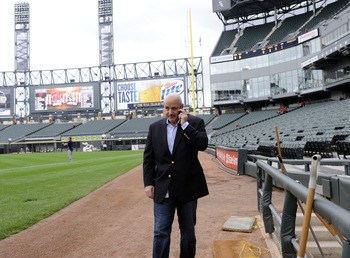 Nationals GM Mike Rizzo is always working the phones...
David Banks/Getty Images
Like the Toronto Blue Jays, the Washington Nationals are faced with one important free agent—Edwin Jackson—and a bunch of other players who, while valuable, are certainly replaceable.
If you want to push it, you could say that the $10 million team option they hold on first baseman Adam LaRoche counts, but I for one don't believe that they'll exercise it.
Keep Reading