Wimbledon 2012: Loss Isn't the End for Venus Williams
June 25, 2012

Clive Rose/Getty Images
Venus Williams stumbled to a heart-breaking first round loss at Wimbledon, but that doesn't mean the tennis legend should call it quits.
In just her sixth tournament since taking a seven-month layoff to treat her Sjogren's syndrome, Williams showed none of the fight that made her one of the most dominant female athletes in history.
She missed her first five serves and dropped the first five games of her 6-1, 6-3 loss to Elena Vesnina—the 79th ranked player in the world.
For everyone who watched Venus win four of six Grand Slams in 2000 and 2001, then take home Wimbledon titles in 2005, 2007 and 2008, it was simply sad to watch.
There's no other way to describe it. To watch someone who was once so fiery and competitive lethargically saunter around the court, it was just plain sad.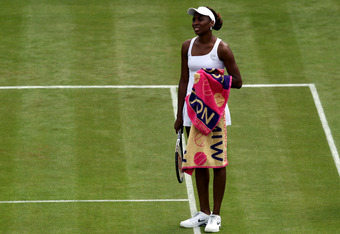 Clive Rose/Getty Images
That being said, her performance on Monday doesn't mean she should hang up her racket and walk away from the game she loves.
Venus was defiant in the post-match press conference, insisting that she still had some great tennis left in her. Although I highly doubt she'll be winning Grand Slams again, I agree with her basic sentiment.
If we have some patience and lower our expectations a little, we will see Venus Williams have success on the tennis court again.
Sjogren's syndrome causes extreme fatigue in those who carry it. It limits the amount of time you can train, forcing you to rest when normally, before the disease, you would have been able to carry on.
With such a unique condition, it would have been ridiculous to expect Venus to compete at a high level this early. She only returned to competitive play four months ago, with just five post-syndrome announcement tournaments under her belt before coming into Wimbledon.
Venus will never return to her championship form. There's just no denying that.
But, let's see how she performs in her next five, six, or seven tournaments before we completely write her off.
No one likes watching a legend fade into mortality, but calling for Venus to retire is just selfish. If she wants to keep competing, and her condition isn't being worsened by it, then she should continue to play.