Michael Kidd-Gilchrist: Comparing UK Star to Harrison Barnes and Top Forwards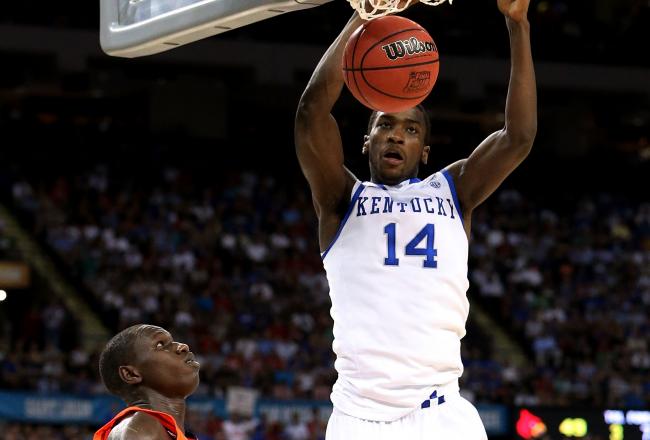 Ronald Martinez/Getty Images
Former Kentucky standout Michael Kidd-Gilchrist has been touted as one of the top forwards in the 2012 NBA draft, but there are a couple other forwards who are in the same discussion.
Along with Harrison Barnes and Thomas Robinson, Kidd-Gilchrist has been included in the top five of numerous draft boards in the last few months. We're disregarding Anthony Davis for this conversation because he's Anthony Davis and the best prospect in this draft class.
Here we will compare Kidd-Gilchrist to the other two forwards in the top five.
Michael Kidd-Gilchrist vs. Thomas Robinson
Kidd-Gilchrist and Robinson are two very different players. Robinson is an explosive low-post player who makes more of an impact on offense than he does on defense. Kidd-Gilchrist is praised for his defensive tenacity and ability to attack the rim on offense.
However, MKG doesn't bring as much offensive presence to the floor. His jump shot is below average and he's the antithesis of what most teams would want at the top of the draft. Nobody else has the intangibles that he possesses, though.
He's been labeled as a winner since his AAU days and wowed scouts with how intense his workouts were. Kidd Gilchrist said this, per NOLA.com:
"I hate losing," he said. "I might cry some nights. I don't know how I'll handle it. I'll make it work. I'll make winning happen. I'm all about winning. That's who I am. I think I'm one of a kind."
He sounds like an absolute lunatic, if you ask me. Not a lunatic in a bad way, but a lunatic in terms of his passion for the game and insatiable, almost-scary thirst for success. There have been plenty of questions about his jump shot, but based on that above statement, I would guess that he's not going to have a problem improving his perimeter game.
Both Kidd-Gilchrist and Robinson are extremely valuable in the transition game, but MKG holds a slight edge. According to NOLA.com, Kidd-Gilchrist converted 71 percent of his fast-break field goal attempts, the best in the draft.
Robinson needs the offense to run through him more than Kidd-Gilchrist does. MKG has great court vision for a small forward and is adept at moving without the ball.
Robinson is small for the power forward position in the NBA, which could lead some teams to Kidd-Gilchrist, who has the quintessential frame for a small forward in the league.
Michael Kidd-Gilchrist vs. Harrison Barnes
Kidd-Gilchrist and Barnes are polar opposites on the offensive end of the court.
Barnes is a dead-eye jump shooter who can score from short, mid- and long range, but he has a hard time getting to the rim. Kidd-Gilchrist is challenged on the perimeter, but he can attack the rim and create his own opportunities better than Barnes can.
Athletically, Kidd-Gilchrist is far superior to the former UNC standout. That's a testament to MKG more than it is a knock on Barnes. Kidd-Gilchrist is one of the best athletes in this draft, something that is accentuated by his unrelenting motor and drive.
The main knock on Barnes is that if he has a bad night in terms of shooting, he will not be able to help his team in many other ways. He has the potential to become a lockdown perimeter defender, but he is not as physically strong as he should be heading into the draft.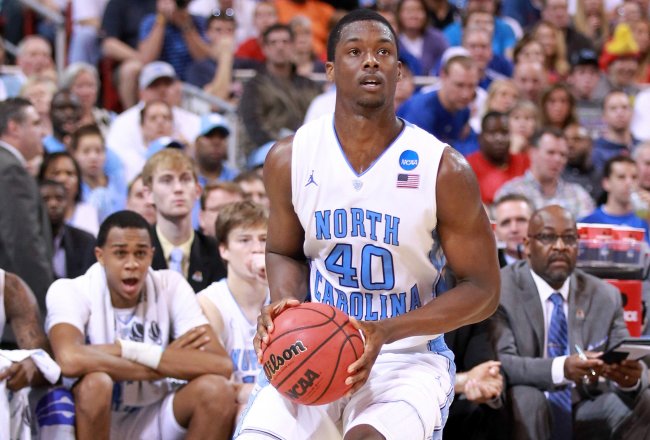 Andy Lyons/Getty Images
Kidd-Gilchrist is already a lockdown defender and will be able to shut down numerous positions right off the bat. His quickness will allow him to shut down faster, smaller guards. His size, strength and length will allow him to guard small forwards and smaller power forwards.
He also holds a slight rebounding edge over Barnes. Even in the star-studded Kentucky lineup that included Davis and others, Kidd-Gilchrist averaged 7.4 rebounds per game in his only college season. Barnes pulled down 2.2 fewer boards per games.
It isn't just the numbers, either. Kidd-Gilchrist is visibly more explosive and aggressive on the boards than the occasionally passive Barnes is.
Who will be the better NBA player?
Barnes is more of a scorer and would better suit a team that already has a few pieces in place and could use a jump-shooting wing player to complement a few other guys.
Kidd-Gilchrist is a better pick for teams who are looking for that essential cornerstone in their starting five. His work ethic is unparalleled in this draft, his motor is almost unheard of and his attitude would change the culture of a losing team.
This article is
What is the duplicate article?
Why is this article offensive?
Where is this article plagiarized from?
Why is this article poorly edited?