Portugal vs. Spain: 3 Factors That Make Spain Impossible to Stop
June 25, 2012

Alex Livesey/Getty Images
The Iberian Peninsula rivalry will take the field in the Euro 2012 semifinals, and Spain will be the victors over Portugal.
Both teams have some of the best players in Europe—including Xabi Alonso, Fernando Torres and Cristiano Ronaldo—but Spain seems to have a little something up their sleeve that will lead them to victory.
Let's breakdown Spain's game and take the top-three reasons why they are impossible to stop.
Previous Experience
Spain and Portugal last played each other in the 2010 World Cup with Spain winning 1-0.
It was a bit of a surprise that Spain was able to do so well considering striker Fernando Torres was still struggling from knee surgery, but with him healthy and playing extremely well in Euro 2012, we can expect even more from Spain's star striker against Portugal this time around.
Another reason why Spain was able to take down Portugal was because they were able to contain Ronaldo. Ronaldo tried two long free-kicks and although one slipped by Iker Casillas in goal, it was quickly picked up by Gerard Pique showing how strong Spain's defense is.
You can bet that Portugal will want revenge for their World Cup loss, but with Spain healthy and undefeated so far in Euro 2012, you can expect them to win.
Killer Midfield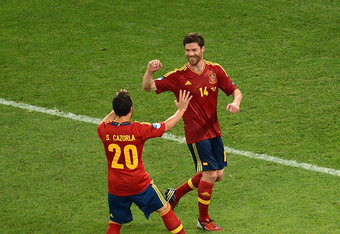 Jasper Juinen/Getty Images
It was Spain's experimental midfield that led them to victory over the French in the Euro 2012 quarterfinals, thanks to their "false-nine" scheme.
By moving one of their strikers to midfield, Spain can feature six midfielders, which definitely highlights Spain's strengths.
Due to the quick and controlled footwork of Xabi Alonso, Xavi Hernandez and Sergio Busquets, Spain dominates the center of the field and has control of the ball almost more than any other team.
With David Silva, Cesc Fabregas and Andres Iniesta in attack roles, the Spanish are constantly pressuring the opposing defense, even if they go up a goal. Needless to say, you can expect no lulls from the Spanish offense in the semis.  
Strong Defense
Although the Spanish midfield is in control of the ball for most of the game, their defense still needs to be top-notch for the rare 30 percent of the game when Spain's opponent is on the attack.
Spain's defense led by goalkeeper Iker Casillas and defender Gerard Pique will have to work a little bit harder against Portugal if they want to stop Ronaldo. However, they Spaniards should take comfort knowing they have shut down the Real Madrid forward before. Still, they will have to double-team Ronaldo if they want to keep Portugal at bay.
Portugal will definitely be a tougher match than France for Spain, but if they can continue to employ the same high level of play they have throughout Euro 2012 thus far, they will surely advance.