8 Detroit Lions Most Likely Headed for the Practice Squad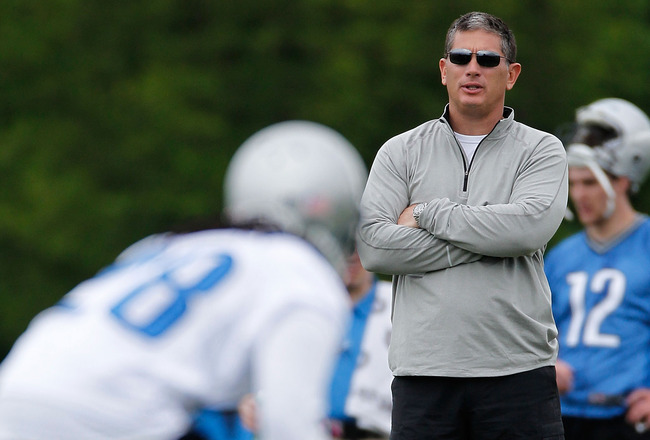 Gregory Shamus/Getty Images
Ah, the practice squad. The weekday warriors who regularly represent the eight least respected players of a team's roster.
Except that they're not actually on the roster. They just practice with the team, hence practice squad. It's complicated.
But I digress. Each team's practice squad is like a pirate's buried treasure; it's a hiding place for unimaginable amounts of value just waiting to be discovered. And more often than not, it isn't actually there.
Still, practice squads are always interesting, just like looking for buried treasure. More often than not, practice squad players are buried because nobody else wanted them, and not even the team that picks them up is convinced. Generally, they stick around a year or two, and once the team is certain they won't develop into something greater, they cut ties.
But every once in a while, you get a James Harrison or Jason Peters. Once in a while, the practice squad houses a late bloomer, one of those "just give me a chance, coach" types who shows up and puts in his dues before blowing everybody's socks off.
The practice squad is a constant source of interest because we're always looking for that special player who just needs an opportunity.
And now that the Lions are a good football team with a relatively deep bench, the talent level on the practice squad is likely to increase with that of the rest of the team, which means maybe the Lions will find that diamond in the rough on the team.
And maybe it'll be one of these guys.
Patrick Edwards, WR, Houston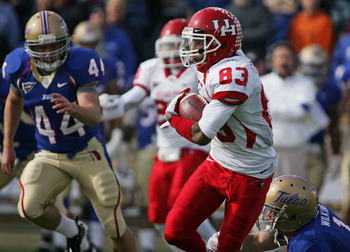 Brett Deering/Getty Images
Patrick Edwards projects to basically the exact same positions as Ryan Broyles.
Edwards is a little guy, about 5'9", and his role on the team would be, at best, approximately the same as second-round pick Ryan Broyles: a quick possession receiver out of the slot who was productive in college.
That's why he isn't very likely to make the roster despite an impressive early showing in minicamp. Edwards has much of the same skill set as Broyles, but lacks some of the same explosiveness.
But if the Lions can stash him on the practice squad for a year or two, he could be next in line for Nate Burleson's roster spot. They're very happy with his production thus far, but the last WR on the roster is likely to be a guy like Maurice Stovall, who plays exceptionally strong special teams.
Because of his lithe frame, I don't expect Edwards to be a special teams stud, but he's too good to let away. The practice squad was built for guys like that.
Rodney Austin, G, Elon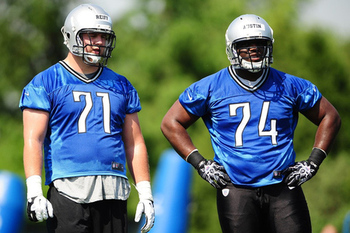 Photo Credit: Andrew Weber-US PRESSWIRE
Based on the Lions' recent drafts, you could conclude that they aren't aware of the gaping deficiency they have at guard.
Based on the undrafted players they pulled in (including four offensive linemen), I'd say they probably are.
The Lions pulled three guard-eligible players into the 90-man roster since the draft ended. I give Elon's Rodney Austin a slight edge over Pat Boyle and J.C. Oram because of his size and raw athleticism, but it's basically a toss-up between the three of them based on how well players perform in training camp.
Based on the way the Lions use their offensive line, I wouldn't expect more than one or two reserve guards to make the 53-man roster, and only one to make the practice squad.
I see the most upside in Austin, but I'm far from confident in that assessment. Ultimately, one of the three aforementioned UDFA guards will almost undoubtedly make the practice squad; it's just a matter of who shows strongest in training camp. Should be an interesting battle.
Jonte Green, CB, New Mexico State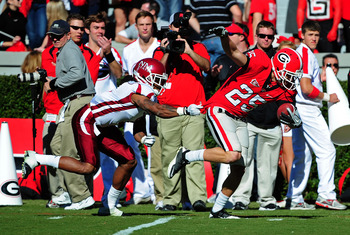 Scott Cunningham/Getty Images
This is a risky proposition because Jonte Green has upside, and it's likely that somebody gives him a second look if he ends up stashed on a practice squad.
But seriously, without completely overloading at the position or trading someone, where does Green go?
Chris Houston and Aaron Berry (legal trouble aside) are in, obviously. Jacob Lacey was just signed this year and should be a strong nickel/dime corner, with Alphonso Smith jockeying for position with him in that position.
Then there's Bill Bentley and Chris Greenwood, the two cornerbacks picked before him in this year's draft class. Bentley is coming along as expected, and Greenwood is a raw player with off-the-charts measurables. Both are too valuable to put on the practice squad.
That's six cornerbacks. Do the Lions have room for a seventh? They didn't last year. So the next guy on the chopping block would seem to be Jonte Green, who has done fine in camps so far, but appears to lack the top-end potential of Bentley and Greenwood.
Green's ability to make the roster will be based on his value on special teams, but if he can't make a case for himself there, he's certainly worth trying to keep around, especially considering the Lions' investment of a draft pick in him.
Stephfon Green, RB, Penn State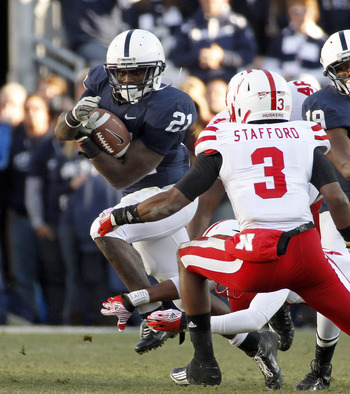 Justin K. Aller/Getty Images
Think of Stephfon Green like a new lease on Aaron Brown.
Like Brown, Green is a little guy with a lot of speed and some character issues. He would basically be Jahvid Best insurance (also like Brown in 2010).
But with the rampant uncertainty throughout the entire running back position, it would not hurt the Lions in any way to keep Green around as a potential fresh set of legs. Green has speed in abundance, and that's something no offense can get too much of.
Of course, Green is far from a sure thing himself. He was once booted from the Penn State football team for some reason or another, and he isn't exactly the most polished player; he's just fast. Regardless, the Lions can find a way to use that speed in the highly likely event that one of the existing running backs ends up injured.
Of course, until that happens, he's a good, young candidate for the practice squad.
Ricardo Silva, S (2nd-Year Player)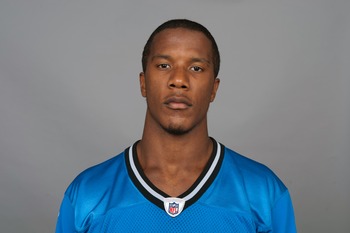 Handout/Getty Images
Ricardo Silva was, perhaps, the Lions' preseason defensive MVP. He flew around the field making plays, forcing fumbles and just creating general defensive havoc.
And then he sat on the practice squad for 12 games, and nobody in the NFL gave him a second look before the Lions activated him late in the season due to injuries. He played in four games last season, which makes him eligible for the practice squad again this year.
I might have given Silva a dark horse shot at making the final roster at the shaky safety position, but then the Lions went out and signed a starting-quality safety, making that whole battle a lot more complicated.
Still, Silva showed rare playmaking ability last preseason, and he should be a frontrunner to stick around while the Lions wait for the verdict on Amari Spievey.
Ronnie Sneed, LB, Kentucky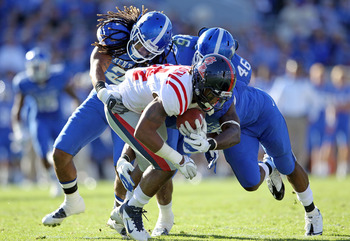 Andy Lyons/Getty Images
Ronnie Sneed seems like the type of guy who could make a name for himself of special teams. And perhaps nowhere else.
He's not an outstanding talent physically, but he's a hard worker and a solid tackler. There's basically no way he makes the roster with the starters set and Tahir Whitehead and Travis Lewis impressing as rookies, but if he impresses with his work ethic, he could earn himself a practice squad spot as a potential special teams replacement.
This is the route Zack Follett took to get onto the team in 2009. After a rough training camp, he was cut, signed to the practice squad and became a key special teams contributor for the time he was available.
Sneed, with Follett's level of work ethic and intensity, could will himself into that kind of a role, but he will have to beat out some reasonably talented (perhaps even more talented) players to do it.
Still, it's not in me to count out a hard worker, so I'll give him the nod here.
Austin Wells, TE, Northern Iowa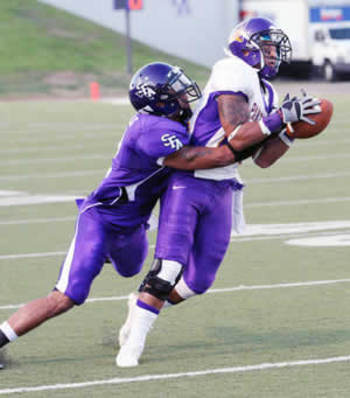 Photo Credit: John Krueger (Shelby County Today)
The Detroit Lions really like using tight ends in the offense. As a result, they almost always have a tight end on the practice squad.
Austin Wells seems fit to continue that trend, and he has additional value in his ability to play H-back. That may not be a position that comes into play very often for the Lions, but when a guy is fighting to make the roster, the more positions he can play, the better.
Ultimately, the Lions are set at tight end. Brandon Pettigrew and Tony Scheffler don't figure to go anywhere anytime soon, and Will Heller hardly ever plays as it is.
Even in the unlikely event that Wells finds himself grooming for Heller's roster spot, I don't imagine it having much impact. In other words, Wells seems like a good candidate for the practice squad, and not much more.
R.J. Archer, QB, Georgia Force (AFL)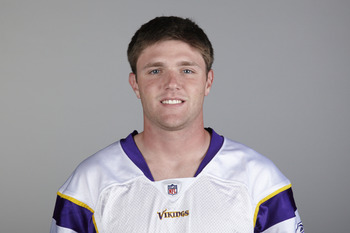 Handout/Getty Images
This is what R. J. Archer looked like as an undrafted free agent for the Minnesota Vikings in 2010.
Two years in the Arena Football League later, he's making waves as competition for Kellen Moore in OTAs. Now, I fully expect Moore to end up making the roster and Archer to be simply competition in theory.
But if he impresses in camp, he's technically still eligible for the practice squad in his third year as a professional. Maybe the Lions decide he's worth keeping around in case Moore doesn't work out? He has played on the same approximate level as Moore this year, and it might be worth keeping him around just to see where his upside takes him.
It's not like an unheralded Arena League quarterback has never worked out in the NFL, right?
Keep Reading

Detroit Lions: Like this team?