NBA Draft 2012: Why Austin Rivers Will Be the Next Great Superstar
June 27, 2012

Mike Ehrmann/Getty Images
The next great superstar.
It is a concept that is labeled on talent with potential to succeed at the highest level.
The NBA chews up and spits out those who are unwilling to adapt, and the list of draft-day busts is extensive, so the pressure is always on during draft day. 
All talent scout have their eyes set on finding the next great athlete, and when they do, executing to fullest extent to make sure that their club goes out of the way to acquire this player becomes a top priority.
This Thursday marks the pinnacle of talent scouting when franchises finally get to execute on all of the laborious research collected through recruiting—as they sift through a talented draft class, in hot pursuit of the next superstar.  
The guy many—including the team sitting with the first overall pick in the New Orleans Hornets—believe will emerge as the real gem of this year's class is Kentucky's freshman big man Anthony Davis.  
Ultimately I feel that while Davis will have a great career (even perhaps culminating with superstardom) if he is correctly utilized in a point role, it shall be Duke's Austin Rivers that will emerge as the sleeper-turned-superstar from this year's draft class.
The son of Boston Celtics coach Doc Rivers, Austin was already considered a top-rated prospect out of Winter Park High School, but will an inconsistent year at Duke, which ended with a disappointing first-round loss to Lehigh, damage his draft stock? 
At 6'5" and 203 lbs., Rivers has added some of the necessary bulk to compete in the bump-and-grind NBA circuit, and he has shown this past season at Duke he can be a go-to guy for a team to build offense around.  
His strengths stem from his excellent ball-handing skills, which allow him to use plenty of hesitation moves and ankle-breaking crossovers to throw the defenders off guard.
Rivers excels at creating his own shots, and he got into the habit of stopping on a dime and hitting a pull-up jumper, yet another move in his repertoire that builds the separation he needs to create a scoring opportunity.
It seemed as though in the beginning of the season he was struggling to adjust with being given the keys to the offense, but he picked it up as the season went along and actually finished as the team's leading scorer at 15.5 points per game.  
As he states in his combine interview, he doesn't really believe it matters exactly where he gets taken, but rather who is picking him.
He isn't quite big enough to compete as an NBA shooting guard, but he has the perfect opportunity to embrace a Russell Westbrook-type role as another point guard that has the ability to take the ball strong to the hoop.
Guys that create their own shot always have the opportunity to achieve success—look at Westbrook and Chicago's Derrick Rose.
Austin Rivers has the same body type and a similar skill set to both of these stars, and should he be asked to embrace the point role, he could have the opportunity to dominate and put up big numbers as a scoring threat.
Granted, after watching him play last season, there are still are aspects to his game that hold him back, including his inconsistent intensity on the defensive end.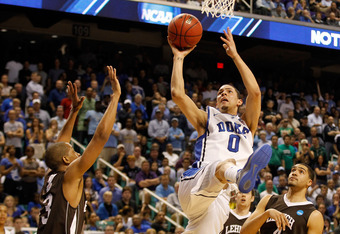 Streeter Lecka/Getty Images
He, like most prospects, has some parts of his game that need fine tuning, but Austin is a known gym rat who will do whatever is necessary to perfect his craft.
Rivers got rather carried away with his play at times last season at Duke, when he often tried to tackle too many bigger post defenders while trying to take the ball strong to the hoop.  
He also seemingly got locked into tunnel vision at times while controlling the ball, and he drove recklessly at the hoop in attempts of creating a high-percentage shot many times—and this did not succeed well as he shot just 49 percent at the rim through the first 19 games of his short college career.  
With that being said, given the opportunity to gain valuable knowledge and experience from being mentored by legendary Duke coach Mike Krzyzewski on a nightly basis (even if it was just for one short season) is a perk many do not receive.
However, will his draft day stock be hyped up thanks in part to one real significant shot that also happened to be absolutely incredible?
One shot can't possibly make or break NBA-ready talent. Austin Rivers is clearly still very raw, but that highlight reel shot from deep right over the 7' Tyler Zeller showcases Rivers' talent and his ability to just flat out score, no matter the situation. 
The New Orleans Hornets look to have all but wrapped up Anthony Davis with the No. 1 pick, but because they are cleaning house and looking to rebuild, they also hold the 10th pick formerly held by the Minnesota Timberwolves.
By trading away both their former star in Chris Paul to the Los Angeles Clippers and the drafted talent that emerged during Paul's prolonged absence two seasons ago in the Darren Collison trade to the Indiana Pacers, they will most likely utilize the draft to bring in another young gun that could mesh with Davis and create some draft restructuring magic. 
Rivers is without a doubt still young enough to be considered a work in progress, and even after he gets drafted, it will take a season or two of adjusting into a role that fits his strengths. Many predictions, including the mock draft of HoopsHype, have Rivers being scooped up at the 11 spot by the Portland Trail Blazers.
This could happen to be a very likely scenario due to Portland's two main guards in swing-man Jamal Crawford and point guard Raymond Felton both potentially on their ways out of the Rose City. Crawford is in the midst of testing free agency, and he seems to be looking to cash in on one last big payday at 30. And Felton is also putting himself out there as a free agent, and he claims he wants to play in an up-tempo offense, similar to how he was utilized by the New York Knicks two seasons ago—although he says returning to the Trail Blazers is a possibility.  
If Rivers can land with a team like the Trail Blazers, he will be able to fit into an offense that features All-Star LaMarcus Aldridge, and in turn he will be eased into the offense and not be asked to carry the brunt of the scoring load.
My predictions for Rivers' rookie season if he lands with Portland at No. 11 have him recording an impressive campaign for a 20-year-old with around 13 points per game to go along with three rebounds and two assists.
That performance will also land him a spot on the exclusive NBA All-Rookie first team.
From there, the potential for Rivers will skyrocket as he has now gained the necessary confidence a full rookie season brings. A bright future erupting into superstardom could happen should Austin Rivers be correctly utilized to produce in the 2013 season. We will just have to wait until tomorrow night when these athletes' dreams come true and they are selected by an NBA franchise.